Standiford '97 leads defense of embattled Maine family program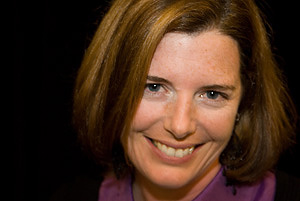 Maine news outlets highlighted the leadership of women's advocate Sarah Standiford '97 in recent stories about a new study of Maine families who receive welfare support from the state's Temporary Assistance for Needy Families program.
View stories:
The study's context is Maine's current debate over proposed welfare restrictions, which first became an issue during the 2010 gubernatorial campaign, won by Republican Paul LePage, who focused particular attention on TANF in his inaugural address. According to the MPBN report, "Republicans…think [there] is significant fraud and abuse in a system they believe encourages some Mainers to rely on public assistance instead of going out and finding a job."
The Maine Legislature will consider various bills addressing welfare and programs like TANF, including proposals to impose time limits on eligibility, tougher residency requirements and drug testing for recipients.
Standiford, executive director of the Maine Women's Lobby, the report's co-sponsor, told media at a Jan. 26 Statehouse news conference that the study brings "real information and credible analysis to the debate about TANF."
While the program has been called out "by legislators in this building and in the news and opinion pages," said Standiford, who in recent weeks has also publicly encouraged Gov. LePage to ensure gender diversity in his cabinet selections, "much of today's debate has been driven by…anecdotes and stereotypes — not credible information."
Writing in the Press Herald, the study's authors, Thomas Chalmers McLaughlin of the University of New England and Sandy Butler of the University of Maine-Orono, say that "our research shows that this program is focused on young children, single moms and families dealing with disability. They are among the most vulnerable people in our community and need help not because they don't want to work, but because they are caught in the turbulence of a global economic recession, wages that can't make ends meet, fractured families and abuse."
Leave a Reply
This is a forum for sharing your thoughts about the preceding post with the public. If you have a question for the author, please email the Bates Communications Office at communications@bates.edu.