Matter of Facts: Olin (then) vs. Garcelon (now) time-lapse movies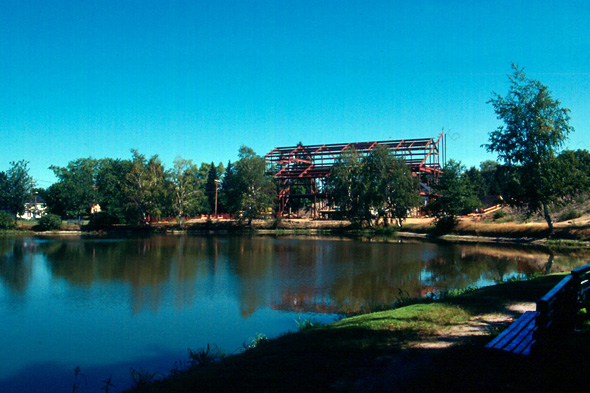 In the 1980s, lecturer Gene Clough famously created a time-lapse film of Olin Arts Center's construction. Last fall, the Digital Media Studios created a time-lapse of Garcelon's renovation.
Back then, the setup featured an electric device that wound the film camera and pushed its single frame button — while the modern setup featured a digital camera hooked to an iMac with software controlling nearly everything. But if the two tool sets were quite different, says Colin Kelley of the Digital Media Studios, "at their mechanical hearts they were doing the same thing — one with film, the other with a hard drive."
Project Length
Then March 26, 1985–Jan. 10, 1987
Now May 28–Oct. 9, 2010
Camera Location

Then Third floor, Lane Hall
Now Second floor, New Commons
Camera

Then Paillard BOLEX H-16 Reflex camera; Kern Vario-Switar f/2.5 lens
Now Canon EOS Rebel XS hooked to iMac (2GHz, Intel Core Duo, 2GB RAM)
Photographic Format

Then 16 mm Eastman Ektachrome VNF 7240 color reversal film
Now JPG still images used to create 1280×720 ProRes movie file
Power Source
Then Spring-wound camera; AC-powered time-lapse mechanism and Tork time clock; battery-operated alarm (loud beep) signaled power failure with instructions to call Clough.
Now APC-brand uninterruptible power supply
Remote Control of Camera
Then None
Now Access via Bates network; specifics kept secret for security reasons
Image Frequency

Then One taken every 6 minutes
Now One every 7 minutes
Quality Control
Then Setup in Registrar's office ('nuff said); to ensure clear shooting, Clough installed a motor drive that opened a single window pane for each image
Now Setup in locked closet; password-protected computer; sign on setup said, "Do not touch, move, or turn off any equipment"
Editing Tool
Then Maier-Hancock hot splicer
Now Content editing and crossfades with Final Cut Pro; exported to DVD  (standard-def MPEG-2) and Vimeo (high-def MPEG-4); finished product sped up 300 percent
Image storage
Then Film stored in Clough's office
Now Xsan (Apple), a digital production and storage network at Bates
Image Processing
Then Film processed by Boston lab that went out of business halfway through the project; second lab completed job
Now Images fed to iMac then exported weekly to campus network; Compressor software used to import and transcode JPEG images for video editing software
Total Images
Then 47,000 frames, 1,200 feet of film
Now 28,000-plus images
Privacy Issues
Now Camera location noted on website and positioned to keep passers-by unidentifiable and residences out of focus
Presentation

Then Movie projected at dedication on Oct. 11, 1986, and elsewhere
Now Shown on flat-screen TV during Oct. 8, 2010, dedication; also embedded in Bates website and shown on campus digital signage
Leave a Reply
This is a forum for sharing your thoughts about the preceding post with the public. If you have a question for the author, please email the Bates Communications Office at communications@bates.edu.