A night of wild music: Cutting-edge guitarist, drummer to perform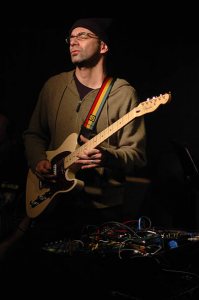 Under the tantalizing billing of "Wild Music for Guitar and Percussion," guitarist-composer Cristian Amigo and drummer Gustavo Aguilar perform at Bates College at 7:30 p.m. Friday, March 4, in the Olin Arts Center Concert Hall, 75 Russell St.
The concert is open to the public at no cost, but reservations are required through the Bates ticketing website, www.batestickets.com. For more information, contact olinarts@bates.edu or 207-786-6135.
Amigo is an American player, composer and producer who explores the spaces between Western art musics — classical and jazz — and popular music. Known as an acoustic and electric guitarist with an improvising bent, Amigo writes and performs avant chamber music; electronic music; music for opera, theater, film and performance pieces; and American roots music.
"During any given performance" by Amigo, Time Out New York commented, "Messiaen grapples with Led Zeppelin while Perez Prado teaches Stravinsky to mambo."
A percussionist and composer, Aguilar has honed his musicianship for almost two decades. His commitment to combining notated and improvised elements has earned him the reputation as an "intuitive, methodical mystic." His music has been called "beautiful, introspective and passionate," "thought-provoking and thoroughly fresh."
View Comments