---
Portland Press Herald reviews Rohde '89 tale of Taliban captivity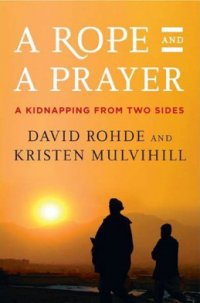 The Portland Press Herald reviews A Rope and a Prayer, the book by David Rohde '89 that tells of his capture by the Taliban in Afghanistan in November 2008. The harrowing story begins when a Taliban commander proffers an interview invitation to Rohde, a New York Times correspondent. "I knew meeting with the Taliban was perilous," Rohde writes. But he told himself "not to be a coward, that the interview is a risk worth taking…. Many other journalists have done the same thing."
But Rohde and his companions are captured, beginning seven months of captivity during which their captors demand a $5-million ransom and the release of Taliban prisoners. The book, co-written by Rohde's wife, Kristen Mulvihill, also illuminates U.S. efforts to free the captives, with a domestic cast of characters including The New York Times legal counsel, the FBI, an Irish national with Taliban contacts, Hillary Clinton, Gen. David Petraeus and the late diplomat Richard Holbrooke.
Rohde eventually escaped on foot. A member of the Bates Class of 1989, Rohde completed his studies at Brown University. View story from The Portland Press Herald, Feb. 27, 2011.
---
Categories:
Alumni and friends
,
Bates People in the News
,
Global perspectives
,
Impact
,
War in Afghanistan
.
---
Contact Us