A selection of recent mentions of Bates and Bates people in the news media.
Bonney Science Center
A cover story by Mainebiz about the new Bonney Science Center explains how the cutting-edge facility fits within the college's $75 million, equity-driven drive to improve STEM facilities and education.
Mainebiz reporter Laurie Schreiber writes that "Bonney's design approach — with versatile spaces that promote interaction and teamwork — reflects a 21st-century pedagogy that leaves behind the conventional lecture-followed-by-lab model and instead encourages hands-on student engagement, innovation, inclusivity and transparency."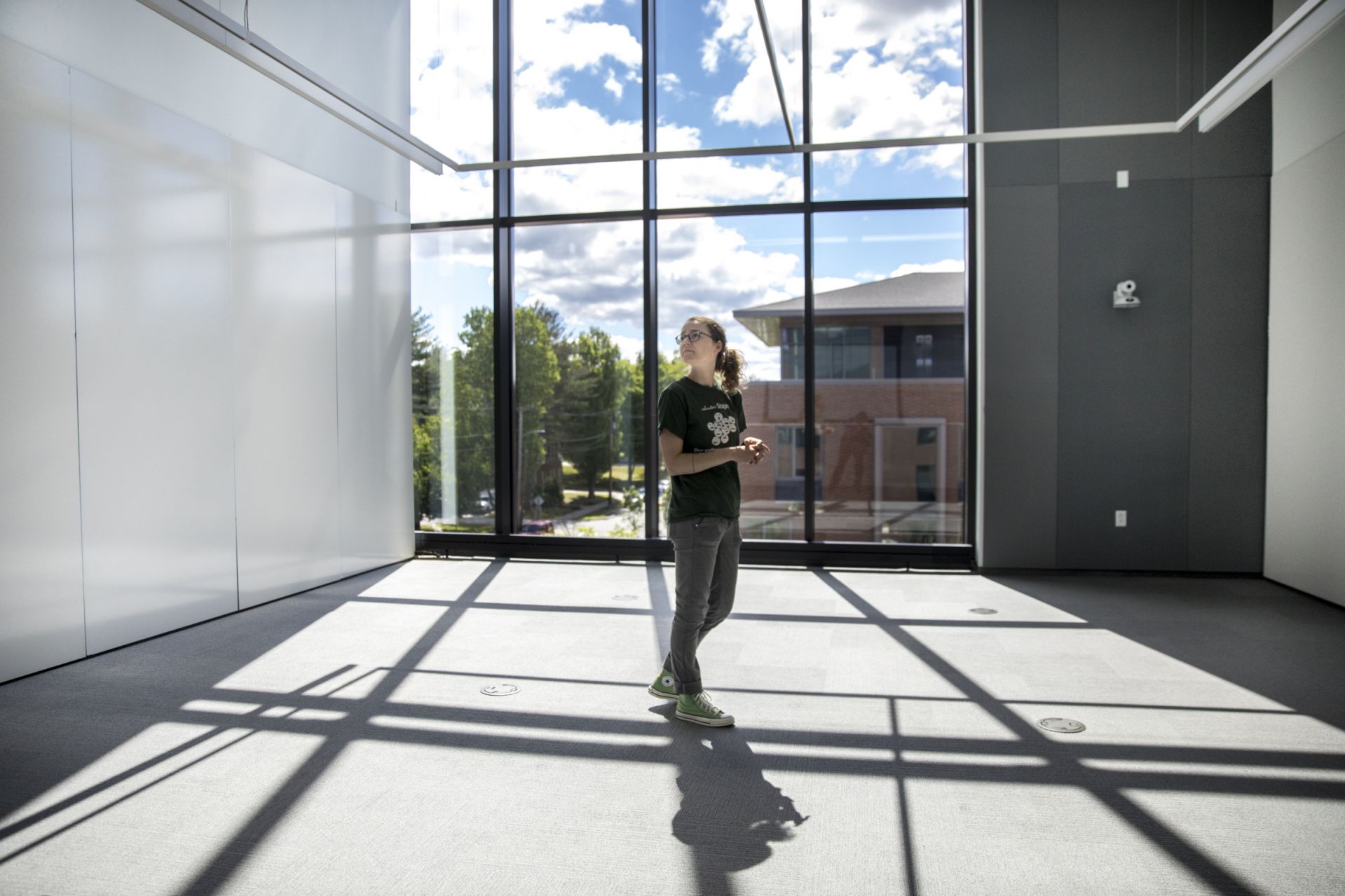 Schreiber reports that the Bonney Center is part of a sweeping effort to revamp and modernize the college's STEM spaces, including Carnegie Science Hall and Dana Chemistry Hall, that "touches nearly 174,000 square feet" of Bates STEM space, with a keen focus on building and sustaining a sense of community and mutual support among faculty and students.
In terms of achieving greater equity in STEM teaching, the Bonney building is "a leveler," explains Bates President Clayton Spencer. "Bonney will allow us to optimize excellence as it's understood now, which is to be inclusive with a wide range of interests and backgrounds, and to give students early experience" in science research.
Dean of the Faculty and Vice President for Academic Affairs Malcolm Hill tells Schreiber that "you can't overlook the fact that facilities like this are a clear signal about our serious commitment to doing intellectual scholarly work at a high level.
"Our scientists on the faculty, who are nationally recognized scholars in their own right, have a new facility that they can do their work in. That fosters a sense that this is the place you want to be, and helps us as we think about recruiting the next generation of faculty to the campus."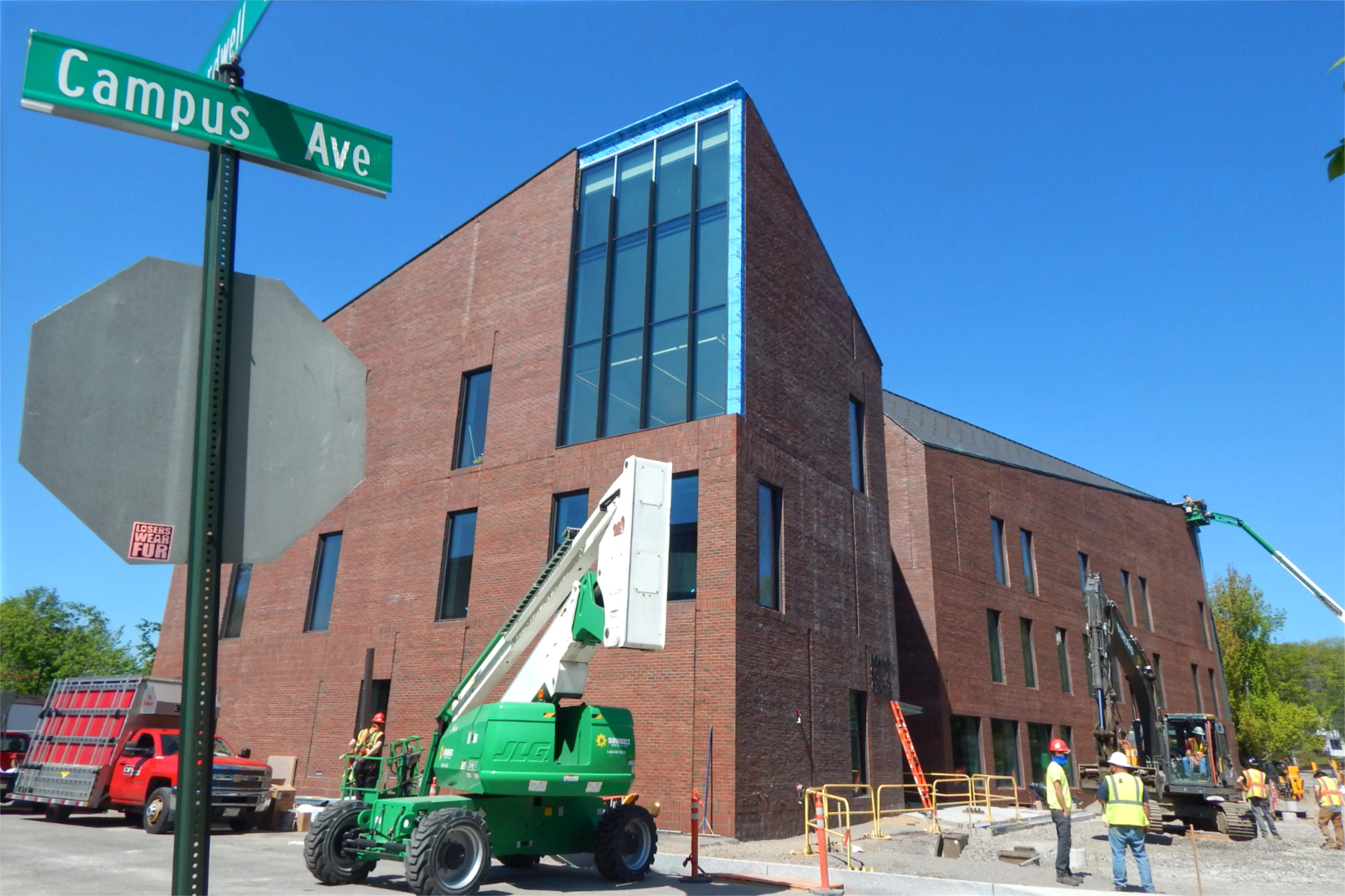 In his editor's note, Peter Van Allen puts the investment into the context of recent Lewiston economic development.
"Lewiston is seeing a surge of investment. Maine's second-largest city has historic buildings, raw space and ample room for growth. The ingredients have been in place, but now the city is cooking up something special," he writes. "Bates College is investing millions of dollars in STEM education, led by President Clayton Spencer."
Read the story: "Science on display: Bates College's new STEM center is designed for the 21st century," Mainebiz, June 14, 2021
Katie Burke '03
The Boston Globe checks in with Katie Burke '03, chief people officer at HubSpot, for a story about the look and feel of post-pandemic in-person work spaces. For one, meetings will likely be a lot shorter, with people less willing to sit together in rooms for long periods.
More broadly, Burke says that businesses must think both about "the workspace we want to go back to" and "the workforce we want to create," versus "reacting to the things that have changed overnight because of COVID-19."
Stephen Engel, Politics faculty
Professor of Politics and Faculty Fellow in Student Affairs Stephen Engel was a guest on WOSU Public Media's All Sides with Ann Fisher, tackling an array of LGBTQ+ related topics as Pride Month celebrations returned with gusto after a quiet 2020 due to the pandemic.
Engel, who is coauthor of a new book, Disrupting Dignity: Rethinking Power and Progress in LGBTQ Lives (NYU Press, 2021), spoke about using the return of Pride as an opportunity to embrace it with fresh perspective, welcoming the concept of "living extra." Engel's coauthor is Timothy Lyle, an assistant professor of English at Iona College who taught at Bates in 2014–15.
Within Engel's field of constitutional law, the concept of dignity has become a cornerstone of gay rights, but it's important to remain "a little bit skeptical" of what the word implies and even dictates.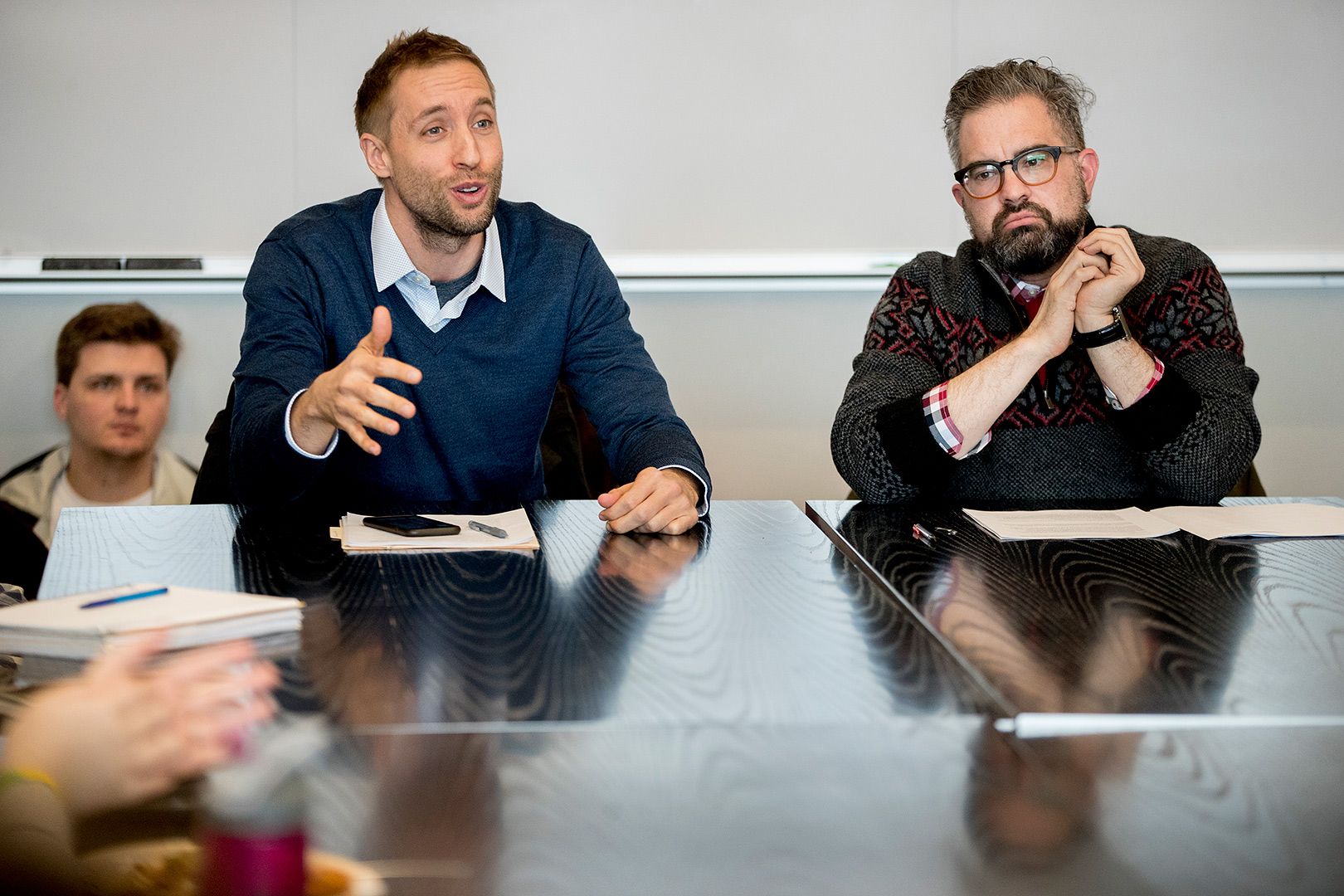 "Dignity often connotes a kind of strength, a quietness," he said, but the LGBTQ+ community shouldn't shy away from living loudly. "In our search for rights recognition we have often been compelled to silence," he said. "To kind of treat our equality as sameness to the norm as opposed to embracing our full humanity."
Jim Athearn '70
The Vineyard Gazette profiles Jim Athearn '70 and his family, owners of Morning Glory Farm, "a community fixture" on Martha's Vineyard, writes Maia Coleman.
The farm, Coleman says, "is responsible for a good percentage of the island's local food resources, and preserving large swaths of land from development — all governed by basic principles of farming and a guiding philosophy of fairness."
Athearn and his wife, Debbie, are now turning farm operations over to their children. And while farm operations adapt and change, the family piece of the puzzle stays the same.
"The community has been telling us every year they want this to be happening," Debbie said. "The customers wanting us to do it is the positive reinforcement that we get. It's the driving force."
Andrew Baker, History faculty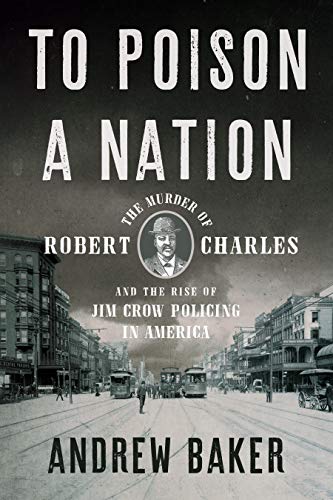 "Stunning," is how Book Trib reviewer Claudia Keenan describes a new book by Assistant Professor of History Andrew Baker that "lays bare [the] legacy" of an infamous mass assault on a Black neighborhood in New Orleans in 1900.
To Poison a Nation: The Murder of Robert Charles and the Rise of Jim Crow Policing chronicles how Charles resisted arrest on a July night in 1900, wounding a police officer in the process, which prompted a three-day manhunt and white mob-led siege of Charles' neighborhood.
Charles killed seven white men before his own death in a bloody shootout, and the violence of his acts was then used for justification for continued attacks against the Black community. "As Baker leads the reader across a century, from the 1870s to the 1970s, he demonstrates how Jim Crow transformed itself in the modern era but never went extinct," Keenan writes.
Meanwhile Kirkus also weighed in on To Poison a Nation in June, describing its "intricate narrative" and calling it "a nuanced history of a Black man unable to improve his status in a racist world who was ultimately no longer willing to cower to white hostility."
Lisa Genova '92
Adrian Gomez of the Albuquerque Journal talks to best-selling author Lisa Genova '92, who appears in a new PBS documentary, Build a Better Memory Through Science.
Gomez notes that Genova has "captured a special place in contemporary fiction, writing stories that are equally inspired by neuroscience and the human spirit," through books like Still Alice, Left Neglected, Love Anthony, Inside the O'Briens, and Every Note Played.
Her first nonfiction book, Remember: The Science of Memory and the Art of Forgetting, was published in March.
For the vast majority of people worried about their memory, Genova has this advice: You can't recall a memory that you don't have. "What it boils down to for 99% of people is that we don't pay attention." We need to be more mindful and present. "You can't form a memory if it never enters the memory."
Myronn Hardy, English faculty
The Portland Press Herald's poetry column featured "Bluebells" by Lecturer in English Myronn Hardy.
Introducing the poem, Megan Grambling notes that the "beautiful lyric poem" reminds us that "springtime is not all ease and release: The transition away from winter and dark can sometimes have its difficult or bittersweet moments."
Brennen Malone '17
The New York Times praises Brennen Malone '17 in his role as Juicy, the Hamlet character in an update of Shakespeare that's set at a Southern barbecue.
Reviewer Jesse Green says that Juicy is "as unusual a hero as Hamlet was, but less for what he might become than for what he already is. Asthmatic and 'thicc,' he variously calls himself weird, an empath, and 'a big 'ole sissy'…. If he is thus a misfit in a world of over-armored men, he is also, in Malone's lovely, unpushy performance, sexy and sympathetic.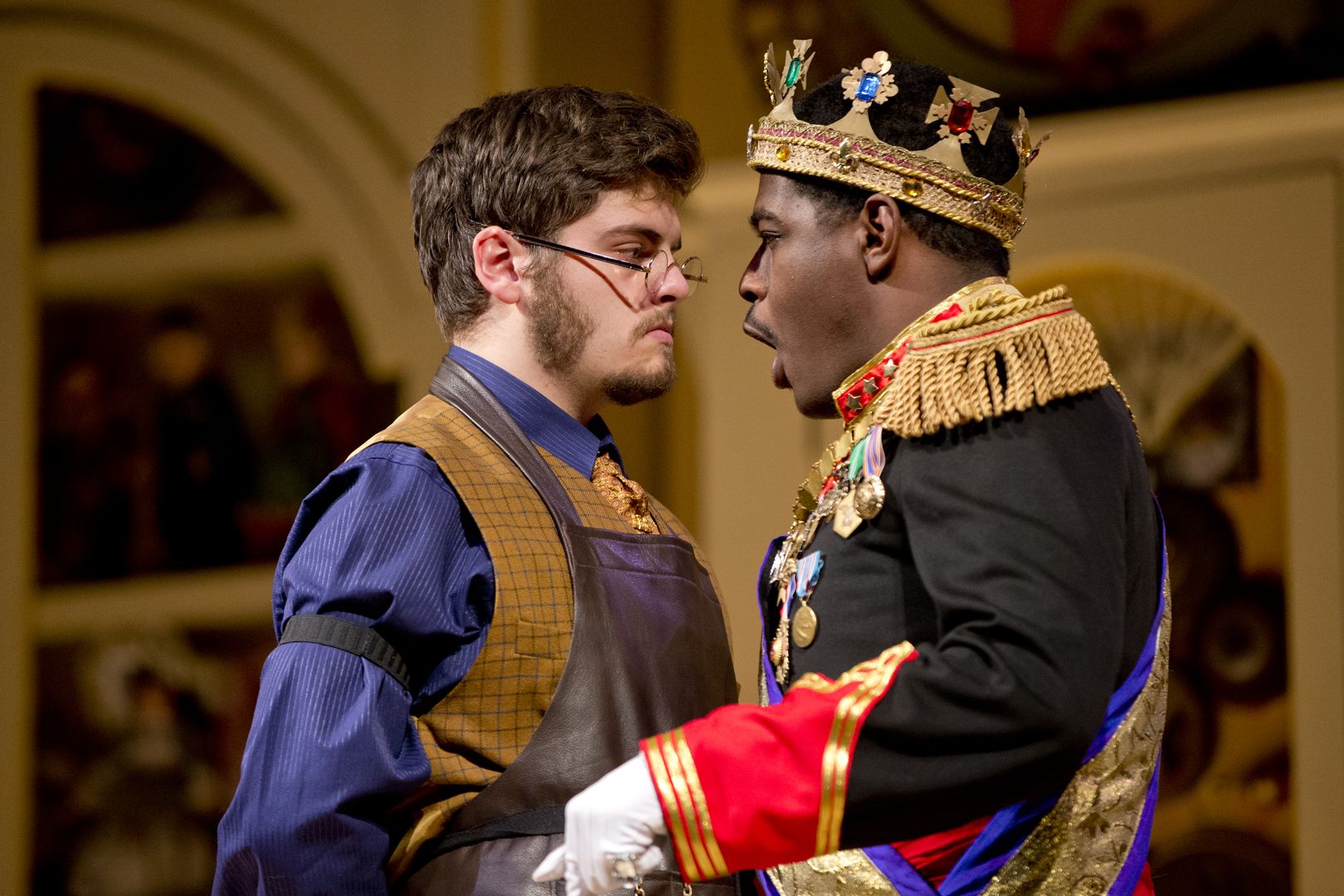 "Malone delivers Hamlet's 'what a piece of work is man' speech nearly verbatim but in such a conversational tone that you hear its ambivalence ("Man delights not me: no, nor woman neither") as if for the first time."
In this Southern, Black setting, "the larger social problem of violence against Black men need hardly be spoken," Green writes. "Juicy just assumes that stories like his family's must always end in death. 'Cause this a tragedy,' he says. 'We tragic.'"
Therí Pickens, English faculty
A Salon story, originally published on Undark, about the impact of COVID-19 on disabled Americans quotes Professor of English Therí Pickens.
Reporter Izz Scott Lamagdeleine writes that obstacles and oversights faced by disabled people, "are more pronounced for members of marginalized communities." For example, disabled people of color are reported to child welfare systems at a higher rate because they are experiencing both racism and ableism.
Pickens, who is the author of Black Madness :: Mad Blackness, a study of the relationship between Blackness and disability, says members of the Black community may be cautious to identify themselves as disabled because "Blackness in its inception in the U.S. has often been linked with disability as deficiency, so Blackness as disability."
Pickens also notes that disabled parents, along with Black and Brown communities at-large, haven't been prioritized for vaccines because of a cultural narrative surrounding the expectation of disability.
For "people like us who have a disability but are below the ages of 65 or 70," she said, "disability is not expected of us. It is assumed the elderly take precedence because we expect the elderly to be disabled, and that's a narrative that we understand."
Emily Kane, Sociology faculty
Clothing retailers are moving away from gendered clothing for very young children, but most still have a pink=girls and boys=blue approach, writes Jennifer Barton in InStyle.
"At a time when fashion (and everything else) is making strides toward inclusivity, acceptance, and a richness of expression to match the many ways humans express their identities, this progress is rare to find in the kids' section" of most clothing retailers, writes Barton.
For clarity, Barton turns to Professor of Sociology Emily Kane, author of The Gender Trap: Parents and the Pitfalls of Raising Boys and Girls.
Yes, it's troubling, Kane says, that many children "never get a chance to find out what interests or tendencies they might have if we start color-coding, sorting, and categorizing them before they even have any chance to tell us anything themselves."
Research by Kane and others, Barton writes, "points to everything from occupational segregation to wage gaps down the line as issues that are inadvertently reinforced by concepts like hyper-gendered clothing and toys.
"It's not too far-reaching to see how T-shirts branding girls as 'Cute' and boys as 'Boss' show the different values we place on women and men in our society."
Patricia Buck, Education faculty
During 2020–21, a group of Bates students mentored Lewiston Middle School students with a focus on racial equality, with an initial goal to introduce the concept of implicit bias into the school's curriculum.
"Conversations quickly turned to how Black students in middle school were more frequently called out for wearing hats and hoods in school than white students," writes Lewiston Sun Journal reporter Bonnie Washuk.
The group ultimately tackled the school dress code, building a case to eliminate a rule that prohibits hats and hoods in school. (Lewiston schools will consider a change this summer.) The Bates students helped the middle-schoolers make their case, but it was most rewarding to watch youngsters "take ownership and take over" the effort, says Associate Professor of Education Patricia Buck.
Bates student volunteers
Nearly 60 Bates students volunteered to tutor Lewiston High School students during 2020–21, a boon to the local school in a pandemic year that saw high school students struggle with remote instruction.
The tutoring was organized by the high school's Aspirations Program, named the 2021 Community Partner of the Year by the Maine Campus Compact. The compact is a coalition of 17 college campuses — including Bates — whose purpose is to "reinvigorate the civic mission of higher education."
James Hughes, Economics faculty
A Wallet Hub story about car insurance turns to Thomas Sowell Professor Emeritus of Economics James W. Hughes to explain the question of fairness in car insurance rates.
For example, is it fair that companies charge such high rates to insure a teenage male driver?
"I believe most people, when they stop and think about it, think that it is 'fair' for people to pay premiums commensurate with their risk of loss," Hughes says.
"Thus, teen boys pay more for insurance than a father of three. Is it perfect to group all teen boys as higher risks? No, as there are very safe teen drivers. But the errors there are thought to be fewer than charging one price for everyone."
Erin Reed '08
The Lewiston Sun Journal turns to Erin Reed '08, executive director of Trinity Jubilee Center, for a story about the mettle shown by new Mainers in their quest to find jobs, and the support services they now find.
Immigrants represent about 16 percent of the city's population, says reporter Kathryn Skelton. In their job searches, they get support from a number of agencies, including Trinity Jubilee Center, which helps about 400 people annually with work searches. Most come from the African nations of Angola, Democratic Republic of Congo, Djibouti, and Somalia.
"It's harder to get a job without connections, like someone saying, 'Oh, my cousin is a manager there, I'll put in a good word for you,'" said Reed. "But honestly with some of these immigrants, their work ethic is stronger than whatever barriers they're facing."
Hannah Sessions '99
Twenty-one years ago, Hannah Sessions '99 and Greg Bernhardt '99, both artists, founded Blue Ledge Farm in Salisbury, Vt., and began raising goats. Today, they care for some 200 animals, sell cheese across the Northeast, and "also both still make art," says Seven Days reporter Margaret Grayson, noting Sessions' recent show of oil paintings. (They're also parents of a Bates sophomore.)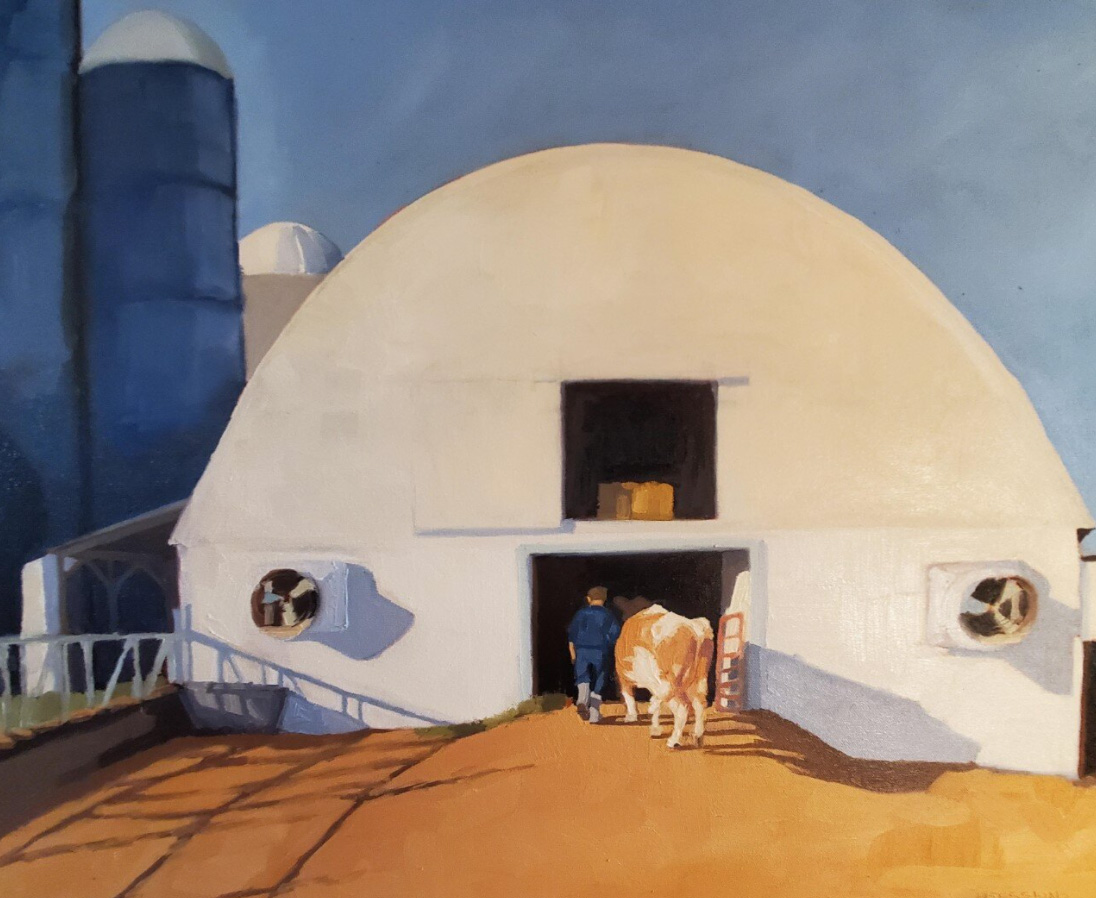 Sessions says that farming and creating art can complement one another, but "it's never easy" to do both. "I originally had my studio in the upstairs of one of our barns," she said. "And it was way too distracting. I heard the goats all the time." Now, she can't even see the goat barn from her studio, which works better.
"My actual time with a paintbrush in my hand is pretty small," she says. "But I'm thinking about it all the time. And I'm seeing things. I'm thinking, 'How would I paint that?' And so, generally, when I do sit down to paint, it's just almost immediately a flow state."
Elaine C. Hubbard '50
In the Globe Magazine's Connection column, writer Samanthan Shanley talks about her long relationship with her favorite aunt, Elaine Hubbard '50, who now has dementia and lives in a nursing home, and how Shanley now keeps in touch through regular phone calls. When they talk, "we meet wherever she is in time, reliving lush memories of the life she lived."
Erik Leibovitz '13
The New York Times' Mini Vows column describes how Erik Leibovitz '13, after meeting Dara Silverman online, asked her to not go out on a date with anyone else before they had the chance to meet in person.
Leibovitz's question, says Times reporter Vincent M. Mallozzi, is the kind "that could have made him yesterday's news." He needn't have worried. "Ms. Silverman said that she had fewer social options than Mr. Leibovitz could have ever possibly imagined," said Mallozi.
Silverman had just moved to D.C. "My furniture truck had not even arrived yet," she added. "I knew like one new person in my new neighborhood, the cashier at the CVS."
They were married on April 24 in Jupiter, Fla.
Adrienne Shibles '91
Adrienne Shibles '91 has become head coach of women's basketball at Dartmouth after 13 years at Bowdoin.
"The biggest reason I love coaching is to watch the improvement of the student-athletes day in and day out, not just as athletes but as leaders, as tacticians, as people," Shibles told The Dartmouth. "So I'm looking forward to really getting to know them, working with them and seeing that growth."
View Comments