A selection of recent mentions of Bates and Bates people in the news media.
Alexandria Onuoha '20
Boston's Black women activists walk a historic path and look toward the future — The Boston Globe
A story by Dasia Moore in The Boston Globe about young female Black activists quotes Alexandria Onuoha '20, director of political advocacy at Black Boston 2020.
Moore describes Black Boston 2020 as "an organization founded by Black college-aged women last spring [that] hosts programming and develops curricula for people of all ages. The group also advocates for policy changes at the city and state levels and has led protests against police brutality."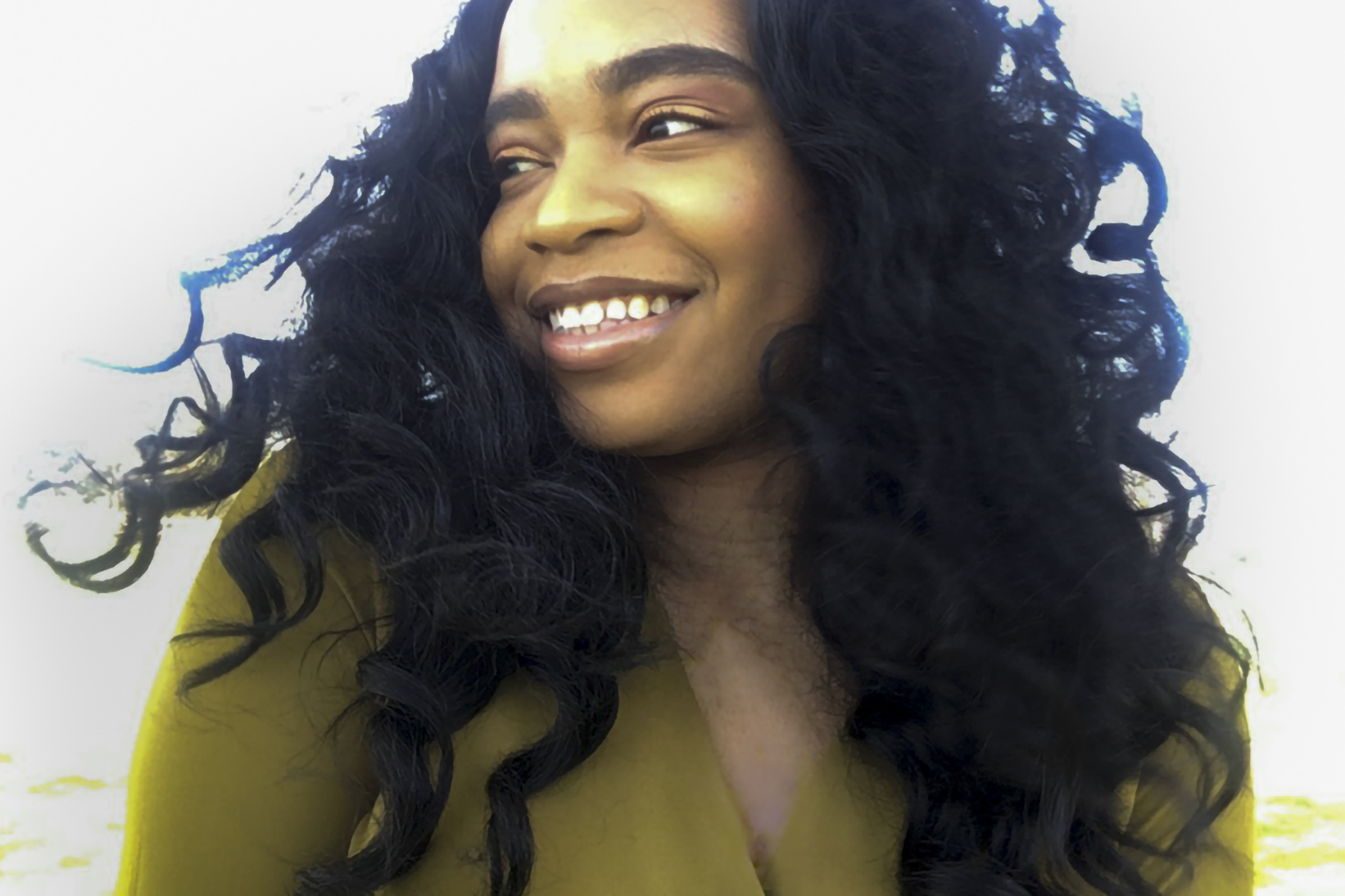 Onuoha, who gave the Senior Address last May at the Bates Commencement and is now a doctoral student in applied developmental psychology at Suffolk University, said, "It's very rewarding to know that you're part of something bigger and that there are also Black women that share the same values as you."
"Black Bostonian women have a history of getting things done," Moore says, outlining the achievements of Boston activists throughout history.
"Contemporary activists say they proudly carry on the legacy of these women and countless others like them who may not be as well known today as they ought to be, but who changed the history of this old, obdurate town."
---
Sue E. Houchins
The complicated racial history of the high school D.C. is renaming — The Washington Post
Associate Professor of Africana Sue E. Houchins was quoted in a Washington Post story about the ongoing project to rename the district's former Woodrow Wilson High School, whose namesake is now recognized as a white supremacist.
One name in the running is that of Edna Burke Jackson, the school's first female Black teacher who taught at the school from 1955 to 1976, enduring all manner of racism.
Houchins was a close family friend of Jackson's. "It's not that Edna was first — that's important — it's that Edna was an instrument of change, both for white students and for the few Black students who had to negotiate their way through that place," said Houchins. "That's reason enough" to name the school in her memory.
---
Six Alumnae Friends
Trivia Night garners big bucks for scholars — The Bedford Citizen
Since early in the pandemic, a group of Bates alumnae have Zoomed every Thursday night. "We've celebrated accomplishments, cheered each other on, and kept our spirits up during challenging times," says Jenn Lemkin Bouchard '99.
They used their friendship, smarts, and perhaps some experience from WRBC Trivia Night to win a trivia contest to benefit scholarships for graduates of Bedford (Mass.) High School.
On Feb. 6, the friends defeated 23 other trivia teams while raising money for CSF Dollars for Scholars, a volunteer community organization that provides college scholarships to local high school graduates.
---
Therí Pickens
Miya Ponsetto's apology interview for attacking teen over a lost phone reveals a pattern of behavior — The Washington Post
On Dec. 26, 2020, in the lobby of Soho's Arlo Hotel in New York, Miya Ponsetto assaulted Keyon Harrold Jr., a Black teenager she accused of taking her phone, then falsely accused Harrold's father of assaulting her.
In an oped in The Washington Post, Professor of English Therí Pickens looks at the incident and its aftermath, specifically Ponsetto saying, "I don't feel like this one mistake…define[s] me."
"Miya Ponsetto's story follows a pattern we've become familiar with when White women are caught on video engaging in racist behavior," writes Pickens. "She denies that she is racist; she apologizes, insisting that this behavior is out of character. Her denial coupled with an apology fuels a narrative of White women's racial innocence."
Ponsetto has tried to capitalize on the one-mistake narrative. Sometimes, invoking that narrative works, giving "people who stumble the courage to go out and succeed, conquer their fears." But beware the person who uses the narrative as a coverup. ""One mistake can define you — especially when it appears to be a pattern," writes Pickens, who quotes Maya Angelou: ""When people show you who they are, believe them the first time."
---
Dan Sanford
The words, terms, and phrases that reflect the events of our times — Maine Calling
Arriving quickly last winter, COVID-19 forced us to quickly get up to speed with the lexicon of a pandemic.
Dan Sanford, director of Writing at Bates and the college's Academic Resource Commons, talked to Maine Calling about how language responds to the need to communicate something new.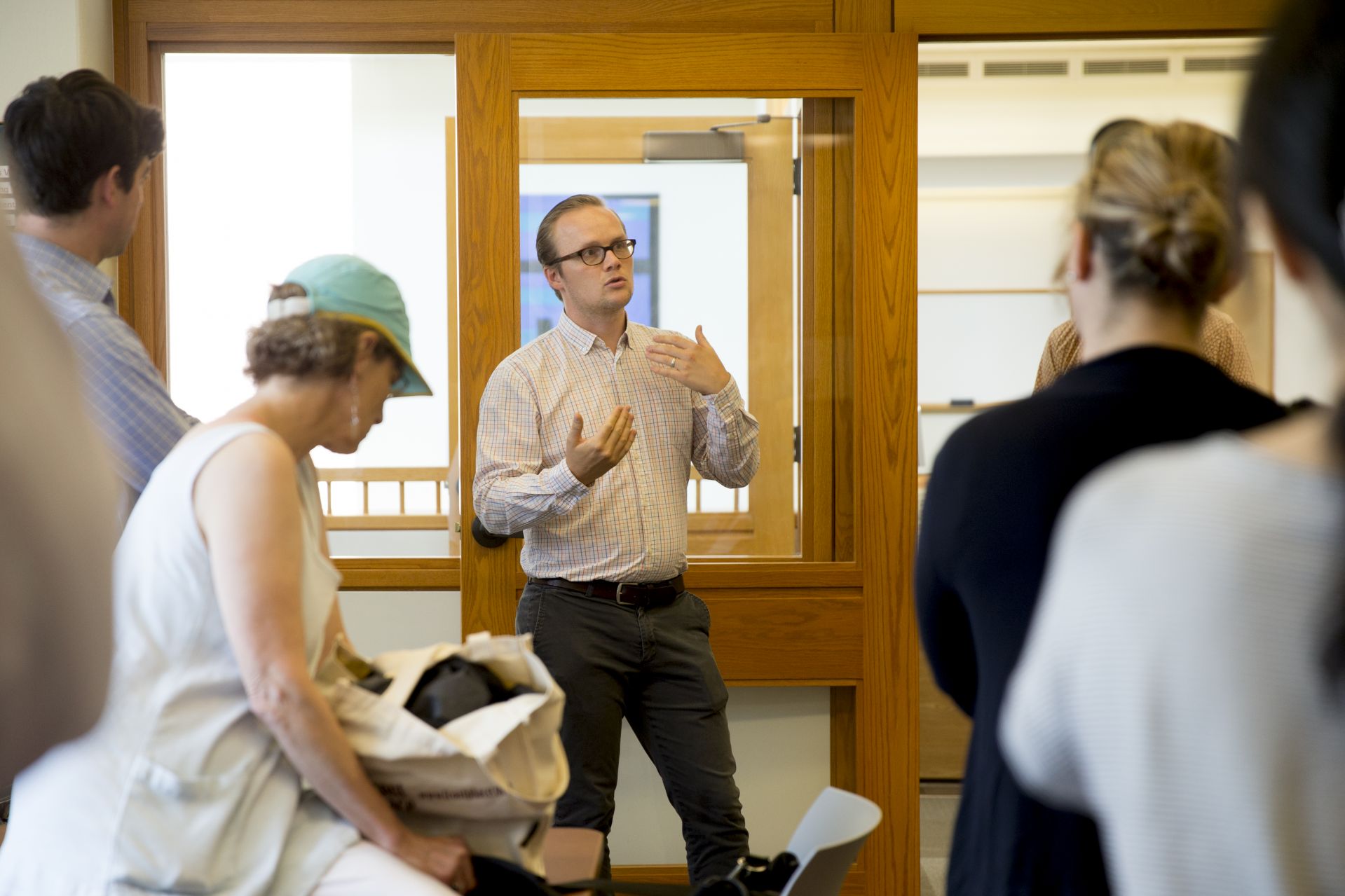 "We have three options," he said. "Borrow a term from another language. Coin a new term. Or repurpose existing language. The pandemic arrived so fast that I think what we've seen is a lot of repurposing existing words and existing language in English to describe it."
One example is the term "social distancing." Sanford says that he "can't think of a better example of a phrase that so quickly became so widespread."
A second term is "flatten the curve," which conveys a highly complex idea involving parabolic functions and probability distribution, but nevertheless "gives us a shorthand for understanding something that has a lot of nuance."
---
Noelle Chaddock
Work happening across Maine to forward greater racial justice — Maine Calling
Vice President for Equity and Inclusion Noelle Chaddock joined other state leaders on the Maine Public's radio program Maine Calling to talk about various efforts focused on racial justice.
At Bates, an emerging institutional goal "is to make sure that our students encounter curricular content that addresses race, racism, power, and privilege" in whatever field of study they choose, Chaddock said.
Bates is also looking at how it has told its origin story, often highlighting the abolitionist roots of founder Oren Cheney. What's less talked about is the college's early funding, from industrialist Benjamin Bates, whose mills used cotton grown by enslaved persons.
"We have had students on campus work with faculty to go ahead and really antagonize that origin story," Chaddock said. "Yes, it's aspirational, but I also find a lot of evidence that over the years folks have tried to meet that aspiration. I think it's really important in the truth, racial healing and transformation work that we're doing that we grapple with that truth and that we articulate that truth.
"And I've waited a long time to work in an organization where the president comes out and says 'We have not hit this mark yet, this is aspirational.' And President Spencer has invited all of us to come to the table for this heavy lift."
---
J.J. Cummings '89
USS Gerald R. Ford holds change of command ceremony — WTKR
J.J. Cummings '89 has concluded his service as commander of the Navy's newest aircraft carrier, USS Gerald R. Ford, reported television station WTKR and other media outlets.
Cummings oversaw a "monumental period for the first-in-class aircraft carrier," said reporter Todd Corillo, in helping the ship prepare for active duty.
With trademark irony, Cummings said that his mission was "simple" — he and his crew just had to "transition [Ford's] new technologies into proven, reliable operational capabilities. And with 12 at-sea periods and 200 at-sea days over the last 16 months, we got exactly what we needed."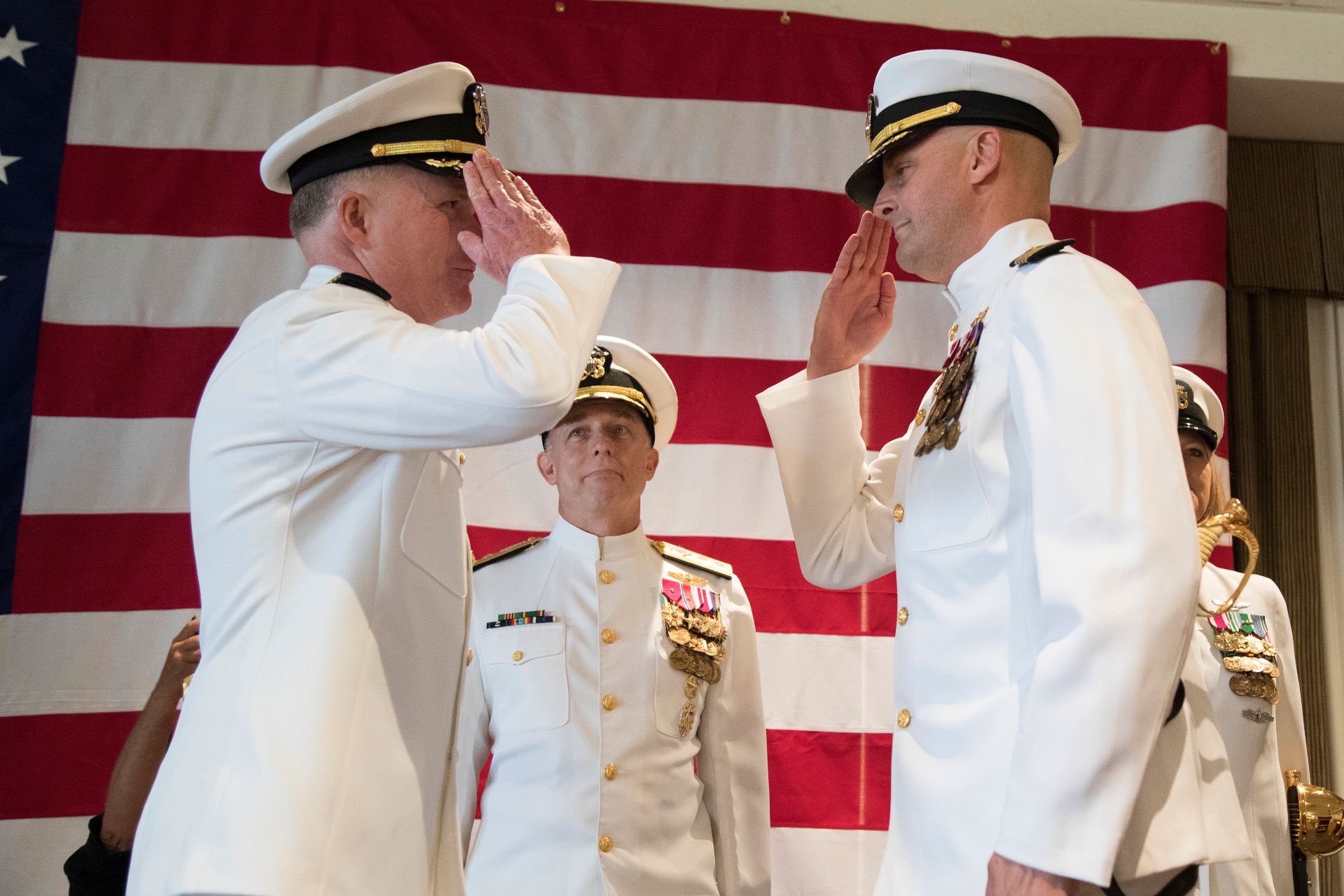 Rear Admiral John Meier, commander of Naval Air Force Atlantic who served as the first commanding officer of Gerald R. Ford, said, "I can't tell you how impressed I am with what you've done with the crew and your ability to value this crew and the quality of their work. If it weren't for your leadership, your preparation, and qualifying the youth, the future of naval aviation, we wouldn't be here, where we are today."
The change of command ceremony was held aboard the ship at Naval Station Norfolk, Va., on Feb. 12. Cummings is slated to begin his next assignment as Chief of Staff at U.S. Second Fleet in Norfolk.
---
Nathaniel Boone '52
Vermont celebrates Nathaniel Boone Day on Feb. 17 — Brattleboro Reformer
Newspaper columnist Don Keelan writes about the achievement of Nathaniel Boone '52, who endured Marine training in 1946 at Montford Point at Camp Lejeune, where thousands of Black Marines broke the Corps' color barrier in a time and place where desegregation was anything but welcome.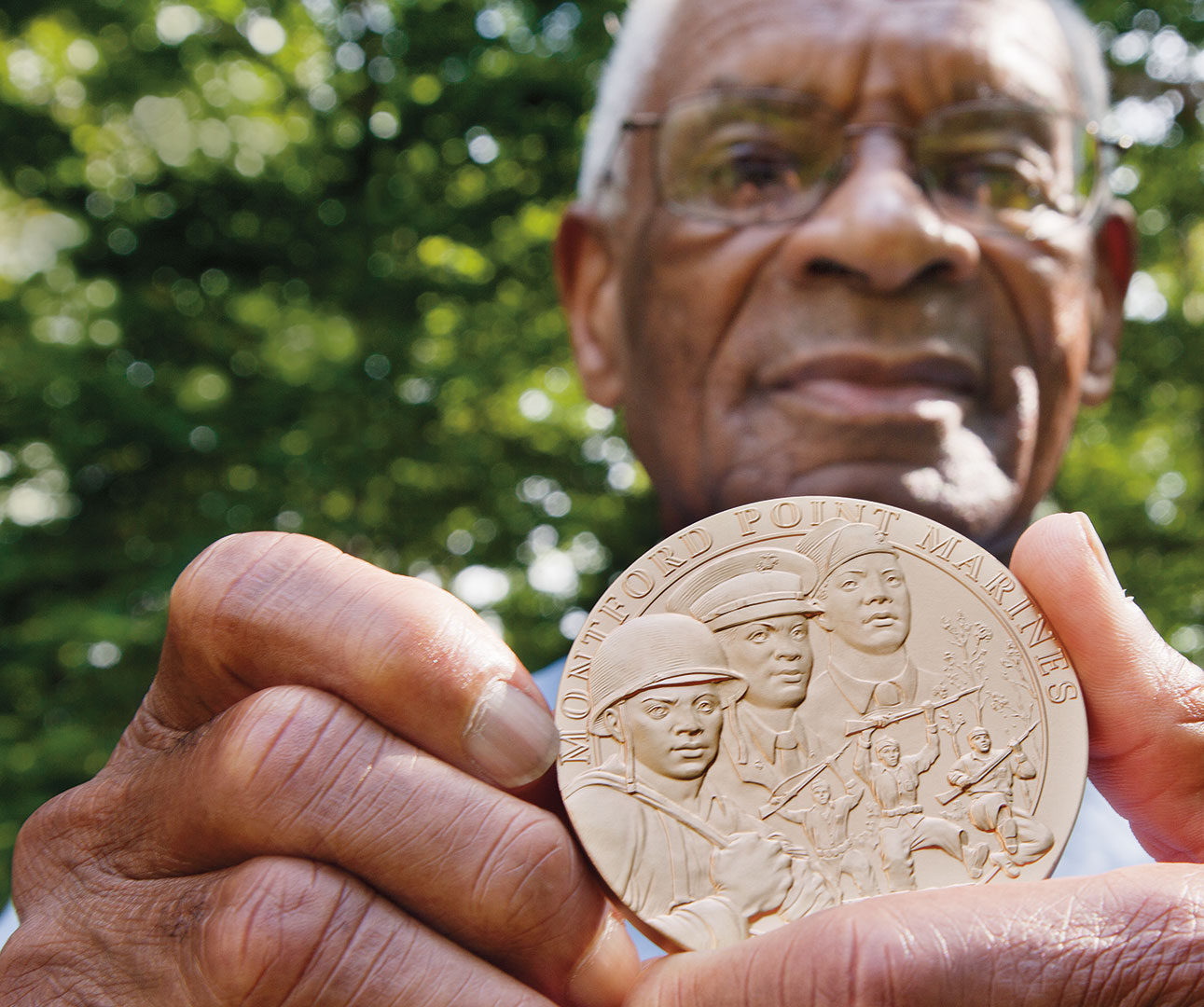 "Montford Point…was to the Marine Corps what Devil's Island must have been to its French inhabitants — made only worse for the trainees by having only white officers, many of whom would have preferred that the Corps stay all white," writes Keelan.
Boone once told Bates Magazine that nothing would deter him from becoming a Marine, "because the only way I could go to college was the GI Bill."
In 2017, Vermont Gov. Governor Phil Scott proclaimed Feb. 17 of that year as Nathaniel Boone Day. "As we celebrate Black History Month," wrote Keelan, "one can only be disappointed that despite the tearing down of segregation and discrimination barriers since Montford Point, we are still dealing with racism and other biases.
---
Whitney Soule '90
Whitney Soule named vice provost and dean of admissions at Penn — Penn Today
Whitney Soule '90 becomes vice provost and dean of admissions at the University of Pennsylvania effective July 1, according to Penn Today. Soule is currently senior vice president and dean of admissions and student aid at Bowdoin College.
"In our numerous discussions with Whitney, it became very clear that her vision and philosophy for admissions — along with her proven track record as a leader — will perfectly position Penn to carry forward our Penn Compact vision of ever-increasing inclusion, innovation and impact," said Penn President Amy Gutmann and Provost Wendell Pritchett.
Soule began her career at Bates, becoming associate dean and director of transfer admissions.
---
Sekerkhi Anderson '18
Local Hip-Hop artist Sec. wants more musicians to make it in D.C. — DCist
"Twenty-four-year-old Seker Anderson cuts an unassuming figure," writes Madeline Taub in DCist. "In person, the D.C. native, who grew up in Brookland, appears quiet behind the yellow-tinted round sunglasses that are a staple in his wardrobe. But on stage, where he performs alternative hip-hop under the name Sec., Anderson is electric."
Asked about what he often writes about, Anderson said, "The daily struggle, just trying to get through the day. I touch on politics, relationships, community problems, police violence, I like it to kind of all be one."
---
Jason Castro
How the brain responds to beauty — Scientific American
"We seek it in nature, art and philosophy but also in our phones and furniture," writes Associate Professor of Neuroscience Jason Castro in Scientific American.
He's writing about beauty, and the various theories that have tried to explain what makes an object aesthetically pleasing. Some scientists have suggested there's a "beauty center" in the brain that's activated when we see something. But recent research suggests no such single region exists, writes Castro.
"If we take this at face value, then the beauty of a face is not the same as the beauty of a painting. Beauty is plural, diverse, embedded in the particulars of its medium."
---
Hoi Ning Ngai
Building belonging across (virtual) borders — SWE Magazine
A story in SWE Magazine, a publication of the Society of Women Engineers, about the challenges and importance of creating a sense of belonging among employees extensively quotes Hoi Ning Ngai, associate director for employer engagement and business advising at the Bates College Center for Purposeful Work.
The story cites a study that says "high belonging was linked to a whopping 56 percent increase in job performance, a 50 percent drop in turnover risk, and a 75 percent reduction in sick days."
Belonging means that "people can bring their full selves to work and not feel they need to act differently between their workplaces and at home."
A workplace that fosters belonging "doesn't mean we have to wholeheartedly accept things we don't agree with," Ngai said. "We should be able to push back and challenge each other's thoughts and ideas."
Indeed, organizational cultures that "openly and consistently recognize individuals and what they have to bring to the table — and support productive discourse and debate among those individuals — are ones that will more likely retain them over time. Ultimately, it's in those environments that we simultaneously feel heard and experience growth."
---
Robert Broudo '71
Longtime Landmark School leader to retire — Salem Evening News
Robert Broudo '71 is retiring after three decades as head of Landmark School.
One of Landmark's first faculty members, Broudo joined the school shortly after his graduation from Bates as a psychology major. At Landmark, Broudo has served as teacher, supervisor, department head, houseparent, residential coordinator, founding director of the Outreach and Prep Programs, and head of the high school. He was elected president and headmaster in 1990.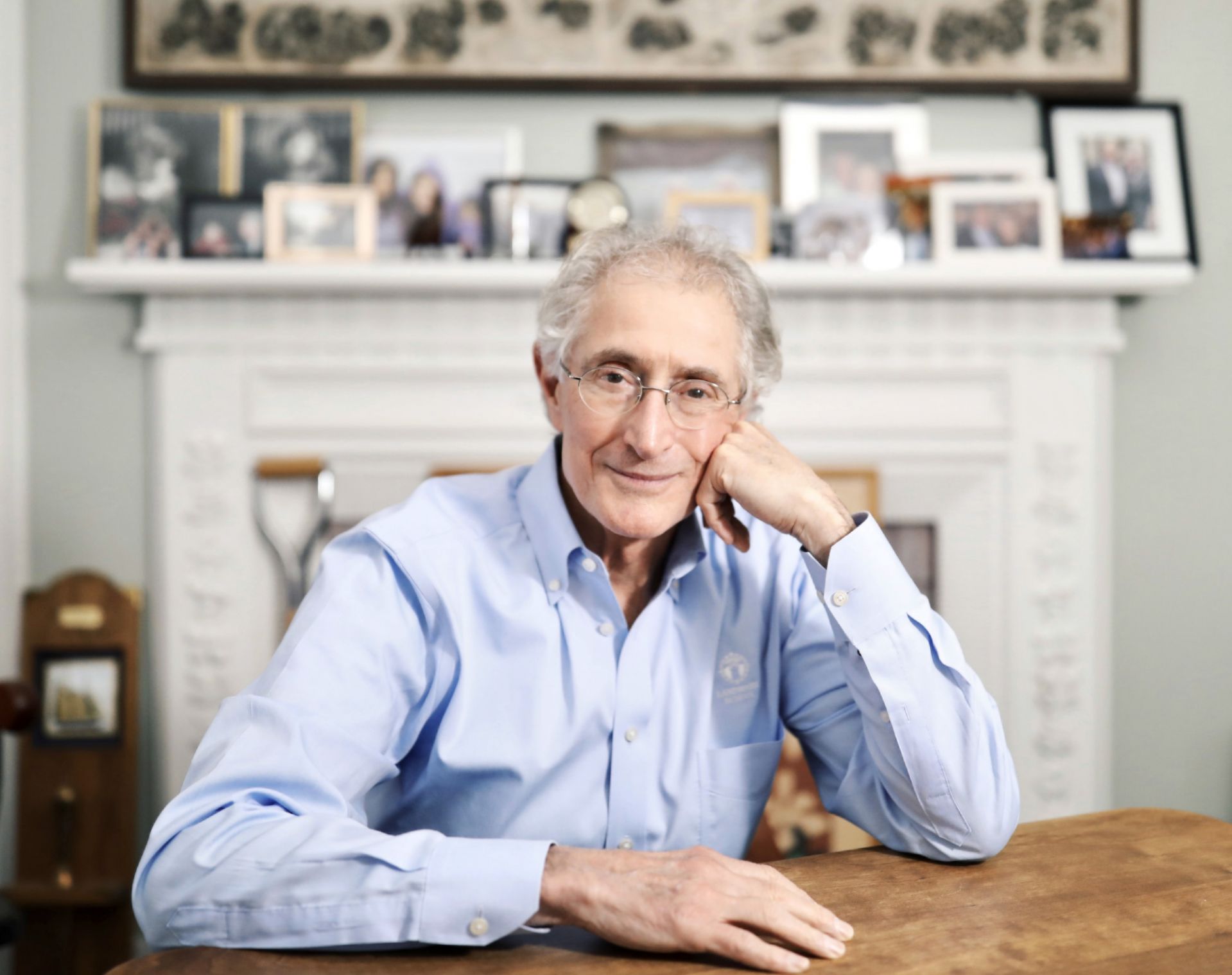 Landmark, which specializes in evidence- and research-based teaching for students with dyslexia and other language-based learning disabilities, celebrates its 50th anniversary this year.
"Helping to build this school into the respected institution that it is today has been the greatest honor of my life," Broudo said.
---
Bill Sweat '79
To court socially minded millennials, some wineries are investing in more than grapes — The Washington Post
In 2005, Bill Sweat '79 and Donna Morris founded Winderlea Vineyard and Winery in Dundee, Ore., with sustainability and social responsibility in mind, writes Dave McIntyre in The Washington Post.
In 2015, the business joined more than 3,000 companies worldwide — and  just the fourth winery — to achieve Certified B Corporation status, pledging to meet high standards of social and environmental performance.
Their business model is well-suited for the future of the wine industry, as the story reports that the emerging millennial cohort of wine drinkers, a group "which up to now has been more interested in craft beer, spirits and hard seltzer," is "beginning to spend more on wine."
Millennials are less interested in the "geeky aspects" of wine such as "grape blends, pH levels or point scores from critics," but more about a label's social responsibility.
---
Shayna Waldman '08
Inspirational Women: Shayna Waldman — We Are the City
Shayna Waldman '08 was profiled by We Are the City, a news and networking site for women.
Waldman is a development and production executive with The ATS Team, a production services company for the entertainment industry.
Asked what piece of advice she'd give to her younger self, Waldman replied:
"I experienced a lot of bullying in my earlier career, particularly from a very successful top executive producer in Los Angeles…and I wish I stood up for myself. The entire team knew about their behaviour and allowed it. I was not the only victim; it was the environment he created.
"But I think you learn with age and experience, so I try really hard not to be so hard on myself about it. Maya Angelou had better advice than I can ever give: 'Do the best you can until you know better. Then when you know better, do better.'"
---
Scott Williams '71
Historically mild January leaves Maine lakes with dangerously thin ice — Lewiston Sun Journal
Scott Williams '71 was quoted about the mild January that led to historically thin ice on southern Maine ponds and lakes.
Williams, executive director of the nonprofit Lake Stewards of Maine, had checked in with his group's 40 "citizen lake scientists" about ice-in dates, when a lake or water body first freezes over. It's been a highly unusual year, not just for thin ice but for how "the ice has gone in and then come out, it's come in, and then gone out again," said Williams.
View Comments