Bates Orchestra performs Beethoven's 'Eroica,' Strauss serenade for winds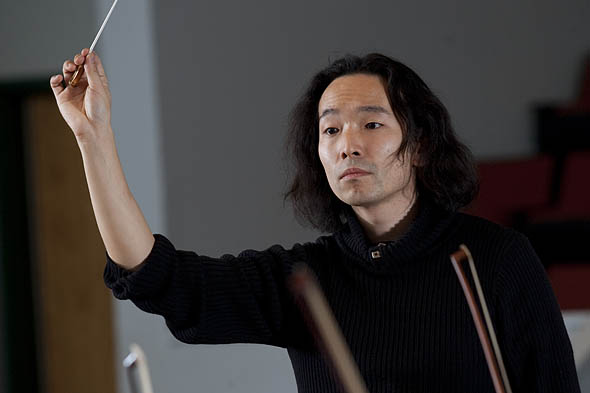 Conducted by Hiroya Miura, the Bates College Orchestra performs Beethoven's landmark Symphony No. 3 ("Eroica") and Richard Strauss' Serenade for 13 Wind Instruments at 7:30 p.m. Saturday, March 19, in the Olin Arts Center Concert Hall, 75 Russell St.
The concert is open to the public at no cost, but tickets are required and can be reserved by contacting 207-786-6135 or olinarts@bates.edu.
The Beethoven symphony and the Strauss serenade, says Miura, "are full of youthful energy from these two German composers."
The Beethoven symphony is a milestone in symphonic music, a work marking the transition from the formal strictures of the Classical period to the more emotional, organically unfolding style of the Romantic.
---
The Bates Orchestra concert comes just days before Miura premieres two of his own compositions at the JapanNYC Festival organized by Carnegie Hall, with Seiji Ozawa as artistic director, in March and April.  Miura's "Mitate" will be performed by the Juilliard Percussion Ensemble at Lincoln Center's Alice Tully Hall on Tuesday, March 29. Line C3, also a percussion ensemble, debuts his "Blowout" at LaGuardia Performing Arts Center on Saturday, April 2. Both concerts begin at 8 p.m. Learn more.
---
The Strauss serenade, meanwhile, is the earliest composition by this late-Romantic composer to endure in the repertoire. It's scored for flutes, oboes, clarinets, horns, bassoons, contrabassoon or tuba, and bass.
"Eroica," which Beethoven completed in 1803, was written as he was coming to grips with hearing problems that would culminate in total deafness.
"It was probably the first time in history that a symphony became so intensely personal and dramatic," Miura says, "and the 'Eroica' was by far the longest, and perhaps the most substantial, symphonic work of its time."
The work makes bold use of brass instruments, especially French horn, "and it's no surprise that the 'Eroica' was one of the most influential works for young Strauss, whose father was an orchestral horn player.
"It's also no coincidence that this serenade by the hand of 18-year-old Strauss is in the key of E-flat major, the key of the 'Eroica' and Strauss' later work 'A Hero's Life,' " Miura says. "I hope the audience will enjoy the virtual musical dialogue between young Strauss and Beethoven in these two works."
View Comments