'Post-Human World' series concludes with multimedia dance piece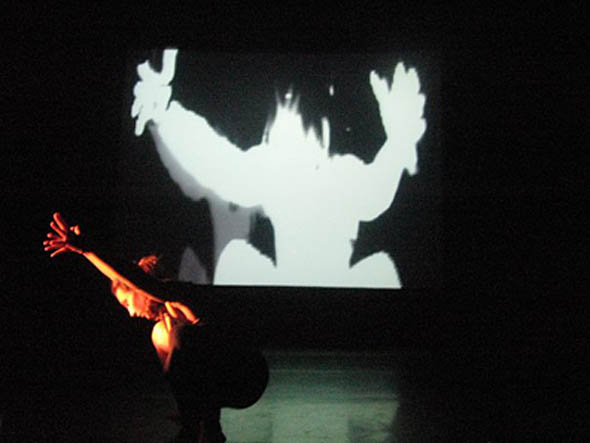 Rachel Boggia, acting director of the Bates dance program, presents a dance incorporating interactive video at 7 p.m. Monday, May 16, in the Plavin Dance Studio on the second floor of Merrill Gymnasium, 141 Russell St.
The performance is open to the public at no cost. For more information, contact dbegin@bates.edu or 207-786-8296.
Titled "In the Very Eye of the Night," the piece is an 11-minute solo created by Marlon Barrios Solano and performed by Boggia. Solano, a Venezuelan dance and new-media artist, teacher and researcher, conceived this piece as a highly structured improvisation responding to video projections of the live dance.
Boggia will perform and discuss the piece. The event concludes the series "Race in a Post-Human World," an examination of technology's impacts on concepts of social categories. The series has been sponsored by the Bates College Lectures Committee.
The dance is accompanied by the music of John Zorn, an American musician who composes avant-garde and experimental work. The title of Solano's piece comes from the last film made by 20th-century avant-garde filmmaker Maya Deren, whose voice is also heard in the soundtrack.
The violently fluctuating projections in the dance create a disconcertingly unstable landscape navigated and shaped by the performer. The shifting relationship between performer and environment are juxtaposed with Deren's comments on gender and time, creating an intriguing conversation between biology and technology.
Boggia will discuss this relationship after the performance.
She is a visiting assistant professor of dance at Bates, and has been acting director of the college's dance program during the 2010-11 sabbatical of associate professor and director Carol Dilley.
Boggia, who has been on faculty at Wesleyan University, Dickinson College and Ohio State University, specializes in dance documentaries, multimedia performance and multidisciplinary collaborations with scientists. She has performed professionally in the work of Risa Jaroslow, Vanessa Justice and Karl Rogers.
View Comments