William C. Carey '82 appointed to Board of Trustees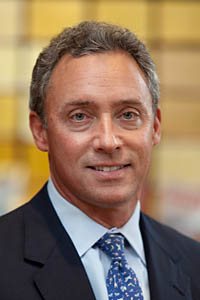 Bates College President Elaine Tuttle Hansen has announced the appointment of William C. Carey '82 of Lincoln, Mass., to the college's Board of Trustees.
"Bill Carey brings to the board a wealth of experience in business and finance as well as a keen appreciation of the value of higher education and a thorough knowledge of Bates," Hansen said. "The college will benefit greatly from his range of strengths."
Carey is a member of the board of Financial Research Corporation, an asset management market research firm in Boston owned by Mercatus Partners LLC. He has also served on the boards of directors of Fidelity Charitable Services, the National Defined Contribution Council/SPARK , the Employee Benefit Research Institute, and Yankee Publishing.
Previously he was the national executive of the institutional retirement group for Bank of America. Prior to that, he spent 14 years with Fidelity Investments, including serving as president of Fidelity Institutional Retirement Services Company and Fidelity Registered Investment Advisor Group (now know as Fidelity Institutional Wealth Services).
Carey and his wife, Scarlett Halsted Carey '82, are members of the Mount David Society, and he currently serves as the society's co-chair. The Mount David Society recognizes Bates Fund donors who make the College a top priority in their annual philanthropy.
Carey received his bachelor's degree in economics from Bates and is a member of the College Key. He, his wife, and their three children live in Lincoln, MA.
View Comments