Student endeavors shine brightly at 10th annual Mount David Summit
• Click the thumbnails below to view the slide show. Images  by Phyllis Graber Jensen, except as noted.
"Mount David allows us to begin a dialogue on something very important to us," sociology major Drew Gallagher '11 said, shortly after his Mount David Summit presentation on the demands placed on family caregivers.
Pausing to chat while people hurried down a Pettengill Hall corridor to their next MDS event, Gallagher continued, "the most important part of my thesis is sharing it with others. The moment you start your thesis, you begin thinking about sharing it."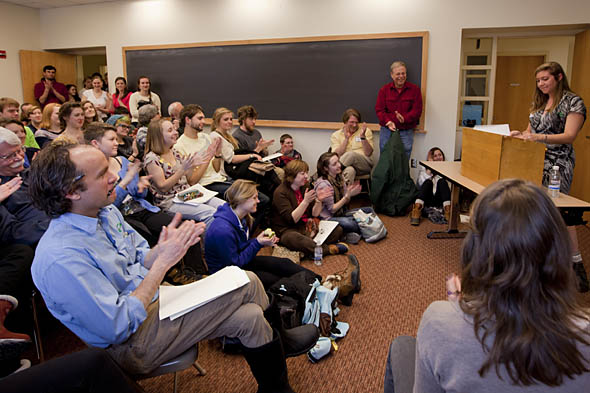 Hundreds of dialogues filled the air in Pettengill the afternoon of April 1 for Bates' 10th annual summit, a thought-provoking, pride-stirring exposition of student academic work offered in poster talks, exhibitions, film screenings, readings and panel presentations like the one featuring Gallagher and three other sociology students.
---
More from the Summit:
---
Following music by the college gamelan orchestra, installed on high in a second-story landing overlooking Perry Atrium, President Elaine Tuttle Hansen offered brief remarks welcoming attendees to this gathering that, she said, "reflects the very core of our commitment to the liberal arts."
Hansen paid special thanks to Dean of the Faculty Jill Reich, calling her "a champion of faculty scholarship, pedagogy and learning." Reich, who steps down as dean this summer for a sabbatical and a return to the classroom, first conceived of the summit a decade ago. At her final summit as dean, she called the event her "favorite day of the year" — a gathering that has simply grown and grown, from some 50 student presenters in 2002 to seven times that number this time around.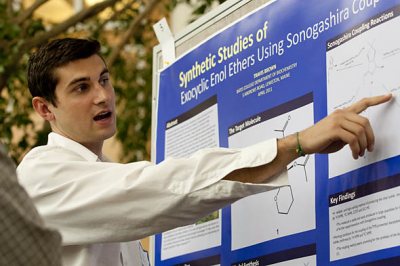 As always, the summit made a beehive of Pettengill Hall. The Perry Atrium walls were embellished with evocative images taken around the world during study-abroad experiences. The sprawling space was packed with visitors listening to students give research-poster presentations on everything from antibiotic resistance in bacteria to Zimbabwean independent media.
Senior biology major Devon Stetson, for instance, described how the rising public wariness of childhood vaccinations stems, in part, from a widespread ignorance of how vaccines work. He explained how his approach to his project was changed — and his interest in it piqued — when the top two results in a preliminary Google query on the topic were sites advocating against vaccinations.
Meanwhile, in classrooms throughout the building, audiences flocked to presentations of student research, original fiction, translations of Russian poetry and documentary films. Some sessions were standing room only, such as a women and gender studies panel whose topics include birthing practices in the Andes, feminist interventions among sex workers and an examination of the WSG field as practiced at Bates.
A bird's eye view of one of the general poster sessions held in Pettengill Hall's Perry Atrium.
In the sociology panel, the discussion was pithy and the mood buoyant as moderator and sociology professor Francesco Duina challenged, laughed with and encouraged the presenters. Thanks to Hannah Mack '11, about 35 listeners gained insight into why the Tamils of India were able to achieve political agency while those of Sri Lanka, recently defeated in the battlefield by that island's Sinhalese majority after decades of insurgency, were not.
Elsewhere, Gina Crotty '11, an art and visual culture major, was among students outlining their museum and gallery internships, both at the college's own art museum and at off-campus operations ranging from New York's Frick Collection to Lewiston's own Gallery 5.
Crotty, who described herself as one of the last of the old-time slide filers, related how her experiences on campus as a museum intern and visual resources assistant have prepared her for positions at major institutions out of state, such as Boston's Museum of Fine Arts — whose offer for a summer internship had arrived that very morning.
Nice coincidence for her summit debut.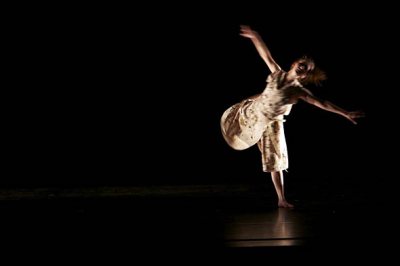 Following three afternoon sessions in Pettengill, where attendance was brisk despite an April Fools snowstorm, the summit continued into the evening with a performance by the Bates College Modern Dance Company.
"It's part of the culture now."
Not only has the summit gotten bigger — much, much bigger — over the years, commented Assistant Dean of the Faculty Kerry O'Brien, but it has found its place in the cycle of the academic year. For seniors, it's one of the milestones of the winter semester: Gala, thesis, Mount David.
"Students are more part of the audience than they were at the beginning," O'Brien said. "It's part of the culture now. There's more of a buzz among students about attending it. And the presenters are more invested in it."
View Comments