Campus Construction Update: April 18, 2011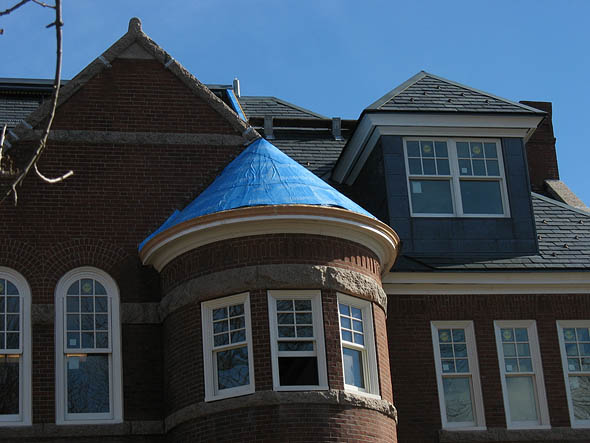 Like cars and telephones, buildings are catching up rapidly to their human masters in the realm of intelligence.
The renovated Roger Williams and Hedge halls, for instance, will wisely empower their occupants to stay comfortable without wasting energy.
For instance, the faculty and staff who will inhabit the buildings indicated early on that they wanted to be able to open their windows, explains project manager Paul Farnsworth. It's not a common amenity in modern office buildings. However, he says, "if people open their windows at the wrong times, they'll swamp the cooling system." So the buildings will have smart climate-control systems that can compare the humidity and temperature inside and out, and determine when it's OK to open up.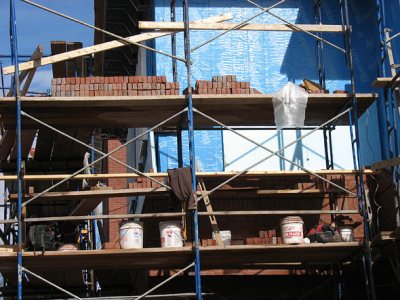 A system of indicator lights in the hallways will glow green at those times. In addition, with Bates being dedicated to sound environmental stewardship, similar indicators on the building exteriors will assure passers-by that energy isn't being squandered when they see open windows. In fact, given the rejuvenating power of a sweet May morning, open windows may even be generating energy — the occupants'.
Hedge and the Bill will also turn room lighting on and off, thanks to infrared motion sensors that kick in when they detect a human-sized blob of heat. The point is to save electricity by not illuminating empty rooms.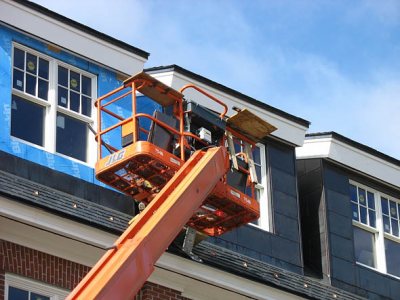 Those sophisticated controls, as well as the lighting fixtures themselves, have been installed in Hedge and will be "adjusted once all the furniture's in," says Farnsworth. They need to be calibrated just so: "You don't want them to wait until someone's fully in the office before they turn on, but you also don't want people just passing by in the hall to turn them on."
In a similar vein, Jim Bauer, director of network and infrastructure services for Bates, has a crew wiring up the telephone and fiber-optic closets in Hedge. Among other functions, the fiber optic network enables Facility Services to regulate and monitor the building's temperature control system.
Also inside Hedge, plank flooring is down in much of the office space, and carpeting of other rooms begins this week on the second floor. Doors, stored until now in Portland by general contractor Wright-Ryan Construction, are being hung. The bathroom partitions are installed. And, as Farnsworth notes, "There's a guy in there who's going crazy with shelving. There's a lot of it to do." It turns out that installing shelves is a specialized trade of its own.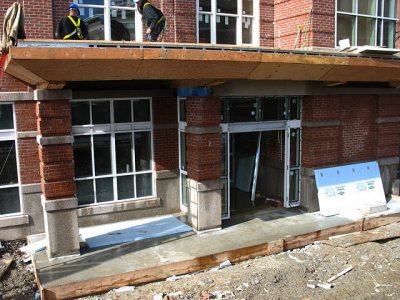 On the outside, the entrance facing Alumni Walk is nearing completion, with the outer doors installed and the waterproof rubber membrane for the awning next on the list. Ironically enough, "that's been several times delayed by rain," Farnsworth points out. The copper cladding on the dormers and the last bit of slate roofing should be finished soon.
Over at Roger Williams, it's forward in all directions. Workers are covering the roof with slate and the new office pavilion with brick. The decorative braces under the soffits on the original section of the building are all installed. Except for plywood that's covering a few places where materials are occasionally loaded through, the glass walls on the new stairtower are complete. Inside, wall framing and drywalling, electrical and plumbing installation, and bathroom tiling are all going full tilt.
Finally, Farnsworth notes that two mechanical excavators are grading the site around Hedge. "They've excavated in front of Hedge in preparation for building the patio and the retaining walls there, and they'll work their way around the building," he says.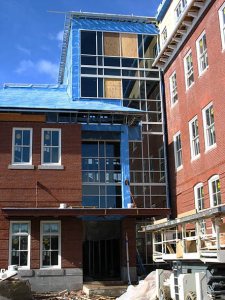 "That's a good sign of spring."
Can we talk? Campus Construction Update welcomes your questions, reminiscences and comments about campus improvements. Please e-mail staff writer Doug Hubley at this E-mail, stating "Construction Update" in the subject line.
View Comments