May 4 speakers look at political cartoons and globalization's impacts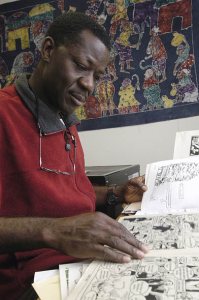 The interpretation of African political cartoons and the impacts of globalization on working people are at issue in two presentations Wednesday, May 4.
Tejumola Olaniyan, a professor of English at the University of Wisconsin-Madison, presents the lecture On Bigness: Wealth, Power and Body Size in African Political Cartoons at 4:15 p.m. in Bates College's Keck Classroom, Pettengill Hall (G52).
Presented in conjunction with the "Considering Africa" general education concentration at Bates and with the participation of the Africana Club, the event is sponsored by the anthropology department. For more information, please contact 207-786-6933.
Bates also presents a community forum for local labor leaders and Latino immigrants in an event starting at 5:30 p.m. in the IBEW 567 Hall, 238 Goddard Road, Lewiston.
The program includes a dinner at 5:30 p.m., followed by a screening of the documentary "Morristown: In the Air and Sun" from 6 to 7 p.m. and a discussion with labor and civil rights activist Fran Ansley from 7 to 8.
Open to the public at no cost, this event is presented as part of the Harward Center for Community Partnerships' Public Scholars Symposium, and is sponsored by the Western Maine Labor Council and the Maine Fair Trade Campaign. For more information, please contact 207-786-6202.
View Comments