Renowned activist, comedian Dick Gregory to appear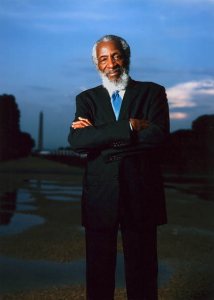 Dick Gregory, the African American comedian who transcended show-business success to become a prominent activist for social justice and civil rights, performs at Bates College at 7 p.m. Monday, May 23, in the Olin Arts Center Concert Hall, 75 Russell Street.
Sponsored by the Bates Program in African American Studies and the Multifaith Chaplaincy, the event is open to the public at no cost, but reservations are required. Please contact 207-786-8272.
Gregory was one of a handful of black comedians who broke from the minstrelsy tradition to redefine the role of African American comedy. Throughout his career, he has used satire to comment on current political and race issues, turning his incisive humor and fame to good advantage in the civic arena.
Today, the 78-year-old Gregory is also recognized as an entrepreneur with expertise in nutrition, but his focus remains on social and racial justice.
Born in St. Louis, Gregory began performing comedy in the 1950s while serving in the Army. His show-business breakthrough came in 1961 with a successful stint, playing to primarily white audiences, at Chicago's Playboy Club. That led to a three-year Playboy contract that brought Gregory national recognition.
"Gregory was, in his words, 'the first flatfooter' — no dancing, no shuffling — to play white clubs, a break with the singing and dancing routines of his black predecessors," New York Times reporter Bruce Headlam wrote in 2009.
Engaged in social justice issues even in high school, Gregory later became deeply engaged in the civil rights movement. He took part in voter registration drives and sit-ins to protest segregation in the South. When local governments in Mississippi stopped distributing surplus federal food to poor blacks in areas where the Student Nonviolent Coordinating Committee was encouraging voter registration, Gregory chartered a plane to bring in tons of food.
His autobiography Nigger (written with Robert Lipsyte; Pocket Books) appeared in 1963 and became the No. 1 best-selling book in America. Over the decades it has sold more than 7 million copies. Gregory explained his choice for the title in the forward to the book: "Whenever you hear the word 'Nigger,' you'll know they're advertising my book."
His other books include a subsequent autobiography, Callus On My Soul: A Memoir (with Sheila Moses; Kensington, 2003).
He has marched, spoken and fasted to support causes ranging from the Vietnam War to world hunger. Among other initiatives, in 1992 he began a program called Campaign for Human Dignity to fight crime in St. Louis neighborhoods.
In Iran he fasted and prayed to persuade the Ayatollah Khomeini to release the American embassy staff who had been taken hostage in 1979. On Sept. 10, 2010, he undertook a hunger strike to protest U.S. government reports about the Sept. 11, 2001, attacks. He intends to maintain the protest until his 80th birthday, in 2012.
A vegetarian and nutritional consultant, Gregory's interest in food issues bore fruit in 1984 when he founded Health Enterprises Inc., a company that distributed weight-loss products. In 1987 he introduced the Slim-Safe Bahamian Diet, a powdered diet mix, which was immensely profitable. That year Gregory made headlines with his public effort to help Walter Hudson, a 1,200-pound man, lose weight.
He has homes in Washington, D.C., and in Plymouth, Mass., where he lives with Lily, his wife of 50 years. He performs about 200 shows a year.
View Comments