Clean Sweep raises more than $16,000 for local nonprofits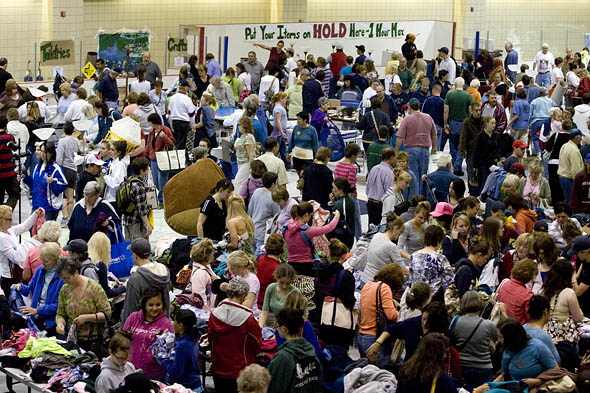 The 11th annual Clean Sweep, Bates College's green "garage sale" of appliances, furniture, electronics and other goods donated by departing students, raised $16,540 in proceeds that will be divided among 13 local nonprofit organizations.
A popular community tradition, the June 18 sale filled the college's Underhill Arena, drawing some 800 bargain-hunters from Lewiston-Auburn and the region.
The event is a win-win-win for shoppers, the environment and local nonprofit organizations. The shoppers turn up treasures that would otherwise have gone into the waste stream. Sale proceeds help support nonprofits that, in exchange, supply volunteers to help staff the event, as well as other logistical support. How large a share of proceeds each nonprofit receives is determined by the number of volunteer hours, trucks and tables it provides.
This year's volunteers put in nearly 1,200 hours of effort, says Julie Rosenbach, sustainability coordinator at Bates, a college known for both "green" initiatives and active engagement in the community.
"We had great volunteers who worked to get all the goods out of the dorms around campus as students left for the year, and to turn the arena into a well-organized community yard sale," she says.
"Many of the organizations have been involved with Clean Sweep for years. The volunteers love working on it, and it shows." She adds, "With the success of the sale year after year, more and more organizations call to find out how they can participate." Rosenbach plans to establish an application process for next year.
Located in Lewiston except as indicated, the nonprofits taking part this year were: the Caleb Garden Club; Common Ties Mental Health Services; First Universalist Church, Auburn; the Justice, Ecology and Democracy Collective, Greene; Life Center; Lots to Gardens; Maine Fair Trade Campaign; Maine People's Alliance; New Beginnings, Inc.; the Share Center, Auburn; Somali Bantu Community Association; TriCounty Mental Health Services; and the Trinity Jubilee Center.
Bates is one of a number of colleges and universities nationwide that benefit both local nonprofit organizations and the environment by selling useful possessions donated by students as they depart at the end of the academic year.
View Comments