Lewiston-Auburn announces '350.org' climate-change awareness efforts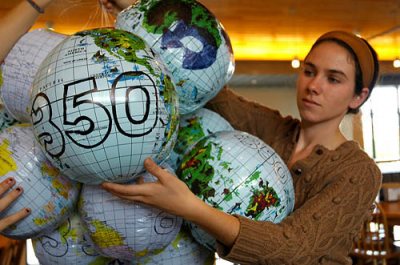 As climate activists worldwide take part in an International Day of Climate Action on Saturday, Oct. 24, Kennedy Park in downtown Lewiston will be the focus of local efforts supporting the cause.
Organized by the 350.org campaign, young people, environmentalists, faith groups and others around the globe plan all manner of activities to enlist public support for effective measures against climate change caused by human activity. So far, more than 1,400 actions in more than 100 countries are planned.
Specifically, the day of action is designed to influence the outcome of United Nations climate talks in Copenhagen that culminate in December.
---
See video of the Bates Energy Action Movement climate-change demonstration on Oct. 19.
---
Bates College's Harward Center for Community Partnerships and office of sustainability are working together to coordinate local efforts ranging from a parade of 350 bicyclists to musical performances to art displays.
The grassroots organization 350.org was founded by a group including author Bill McKibben, who wrote one of the first books on global warming for the general public. The "350" name comes from a 2008 report in which scientists, included noted climate researcher James Hansen, suggested that 350 parts per million is the safe upper limit of carbon dioxide in the atmosphere. (According to the 350.org Web site, the atmospheric concentration of CO2 hit 390 ppm in 2007.)
In Lewiston, participants in the day of action will gather in Kennedy Park between 1 and 4 p.m. More than a dozen organizations are involved, including Bates College, the Downtown Education Collaborative, Stanton Bird Club, Lewiston Public Library, students from Central Maine Community College and parishioners from Trinity Episcopal Church.
Attractions will include performances by local musicians, artwork by Bates and local elementary school students, speakers and presenters offering information on issues such as home winterization and wildlife protection. The event is described by organizers as very kid-friendly.
Much more information on 350.org appears at the Web site www.350.org. For more information on Lewiston events, please contact event coordinator Ryan Dean at this ryan.e.dean@googlemail.com.
The arrival of the bike parade will kick off the proceedings at the park. Cyclists wishing to take part are asked by the event organizers, the Bates Energy Action Movement (BEAM), to register via e-mail at this 350bike@gmail.com, including name, address, age and telephone number.
Riders will gather at the college at 11 a.m. Riders are encouraged to decorate their bikes. BEAM hopes to line up 350 cyclists. As an added incentive, the Bates bookstore has donated door-draft stoppers for the first 50 registrants.
Dean, a member of the Bates class of 2009, has developed a 350.org project called "Bird's Eye View." From Oct. 24 until December, people around the globe will create huge rooftop installations of recycled or reused materials that, seen from overhead, form the number 350. These installations will be photographed and disseminated all over the world.
Such installations will be created at Bates and in Providence, R.I.; Brooklyn, N.Y.; Berlin, Germany; Istanbul, Turkey; Osaka, Japan; Copenhagen, Denmark; and Vicenza, Italy.
Also at Bates, first-year students are a focus of attention related to 350.org. It's typical for the college to engage first-years in a topical program, and this year's "Changing the Climate through Art and Action" involved summer reading assignments and orientation activities linking art and activism.
Coordinated by the offices of the dean of students and residential life, on Oct. 24 students will present a variety of action projects and artworks developed for the day of action.
After Oct. 24, student organizers will continue to propagate the day's mission with events both on and off campus, including lectures and public awareness campaigns designed around the 350 theme.
View Comments