Ana Brzezinska '11, Fulbright teaching assistantship recipient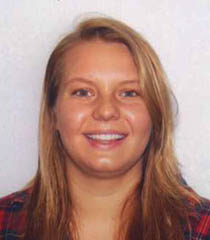 Ana Brzezinska '11 has received an English Teaching Assistantship from the Fulbright U.S. Student Program. These grants support recipients in positions as teaching assistants abroad who work with local students on their English language skills and knowledge of the United States. As the same time, the teaching assistants pursue individual research.
Brzezinska will teach English in Germany and also research the experiences of the Turkish immigrant population, which was the topic of her senior politics thesis at Bates.
Studying in Germany in 2008-09, Brzezinska experienced the difficulties that language barriers create for people in a foreign land. This inspired her to volunteer in an English-as-a-second-language program upon her return.
"I saw my ESL students' eyes opening to the new world around them," she says. "They had faced the same obstacles to communication that I had faced in Germany, but as the summer progressed, I could see a marked difference in the way they interacted among themselves and with me.
"They could now make plans for the future."
Brzezinska's Fulbright-supported research will explore the emergence of immigrant cultural centers, interactions between immigrants and local populations, and the influence of Turkish culture on German society. She hopes to supplement her work with university courses.
View Comments