New students find the appeal of green at Orientation
As Bates orientation activities began on Saturday, there was plenty of business at the sign-up desk for the annual lobster bake for new students — no surprise — but there was also a steady stream of traffic to the nearby table offering an overview of the wide range of environmental sustainability activities available at Bates.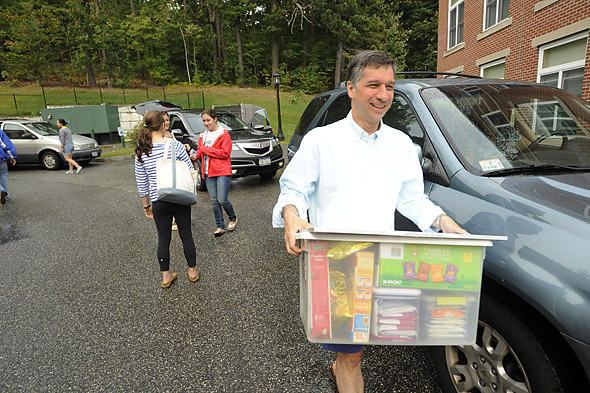 Julie Rosenbach, the college's sustainability coordinator, made materials available about the Bates Bike Co-op, the EcoRep program, Zipcars on campus, the Environmental House, the EnviroLunch series and the ever-popular annual Trashion Show. "Everyone loves that," she noted.
She also offered a stack of  handy tote bags made of recycled fabric for students to carry their growing piles of orientation materials in. Those were going quickly.
Rosenbach said that seniors Miriam Pena and Ethan Emerson, who were running the lobster bake registration, were very helpful in also urging those who visited their table to check out Rosenbach's. But it was evident from the number of visits and the interactions between Rosenbach and the students that opportunities to help address environmental needs had their own strong appeal.
"We have had steady business, and that's great," said Rosenbach.
View Comments