Towering nearly 10 feet high, the stilt-walking student modeled a giant braided cardboard costume topped by a massive, gaping mask.
That was certainly notable. But the hundreds who attended the 23rd edition of the Bates Trashion Show also erupted in cheers when the kilted Highlander model jumped onto the stage in a breastplate made of old plastic name tags.
These were just a few of the creative and recycled homemade garments — and two of the winners — featured in this year's Trashion Show. Produced by the student EcoReps in conjunction with the annual Harvest Dinner, the event promotes recycling and reusing by showcasing outfits created from reclaimed campus trash by students, faculty, and staff.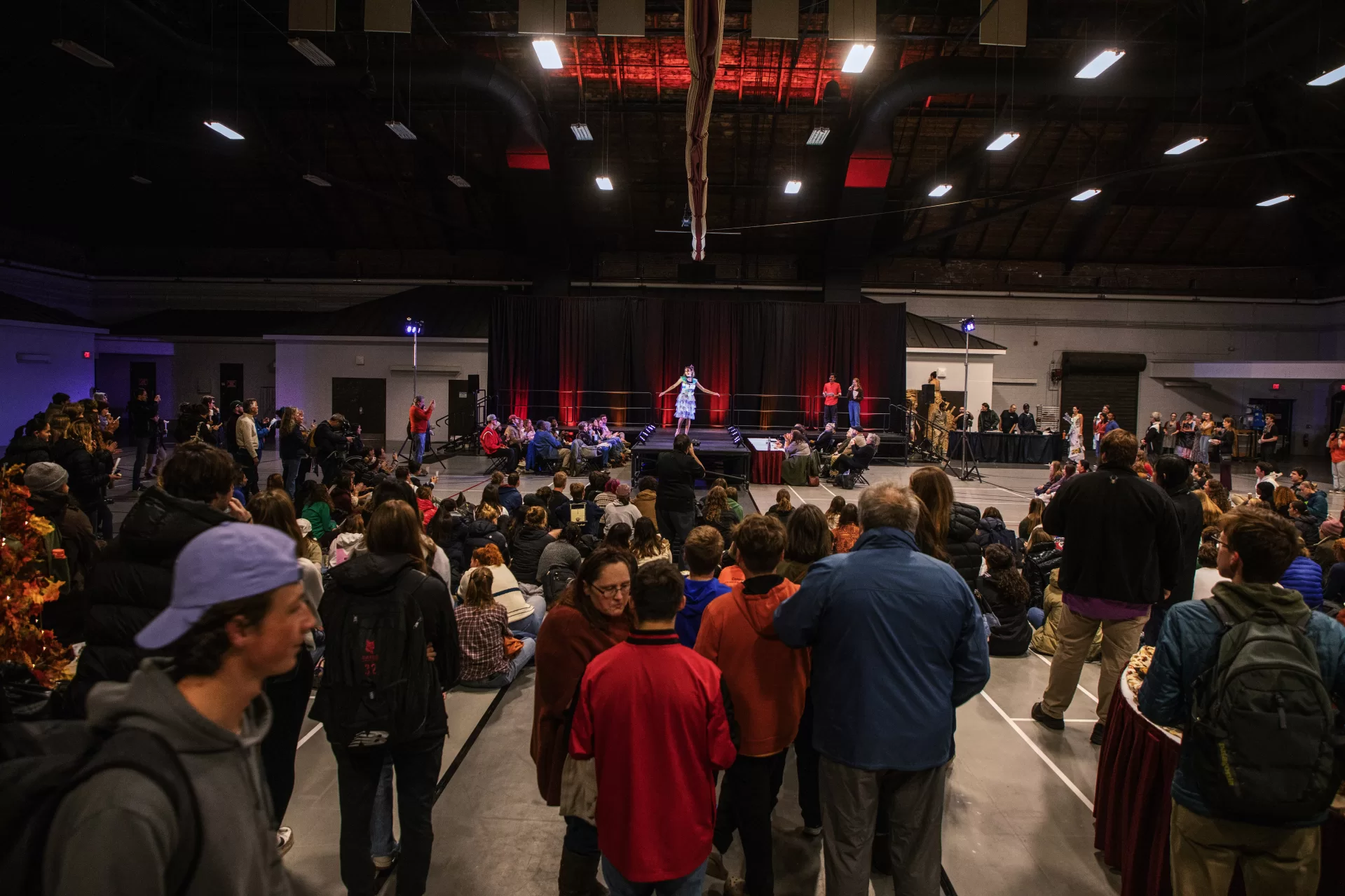 Held on Nov. 15 in the Gray Athletic Building, the 2023 edition brought in one of the largest fields with nine teams of designers and models comprising students, faculty, and staff.
Sloan Phillips '25 of Evergreen, Colo, created the winning design with their woven cardboard skirt, massive headdress, and gloves that were modeled by a stilt-savvy and dance-happy Miguel Angel Pacheco '24 of Caracas, Venezuela.
More than 300 Bates faithful who watched Pacheco parade around the runway like a giant cardboard creature loved it. Many approached him after the show to ask how he got into his garment.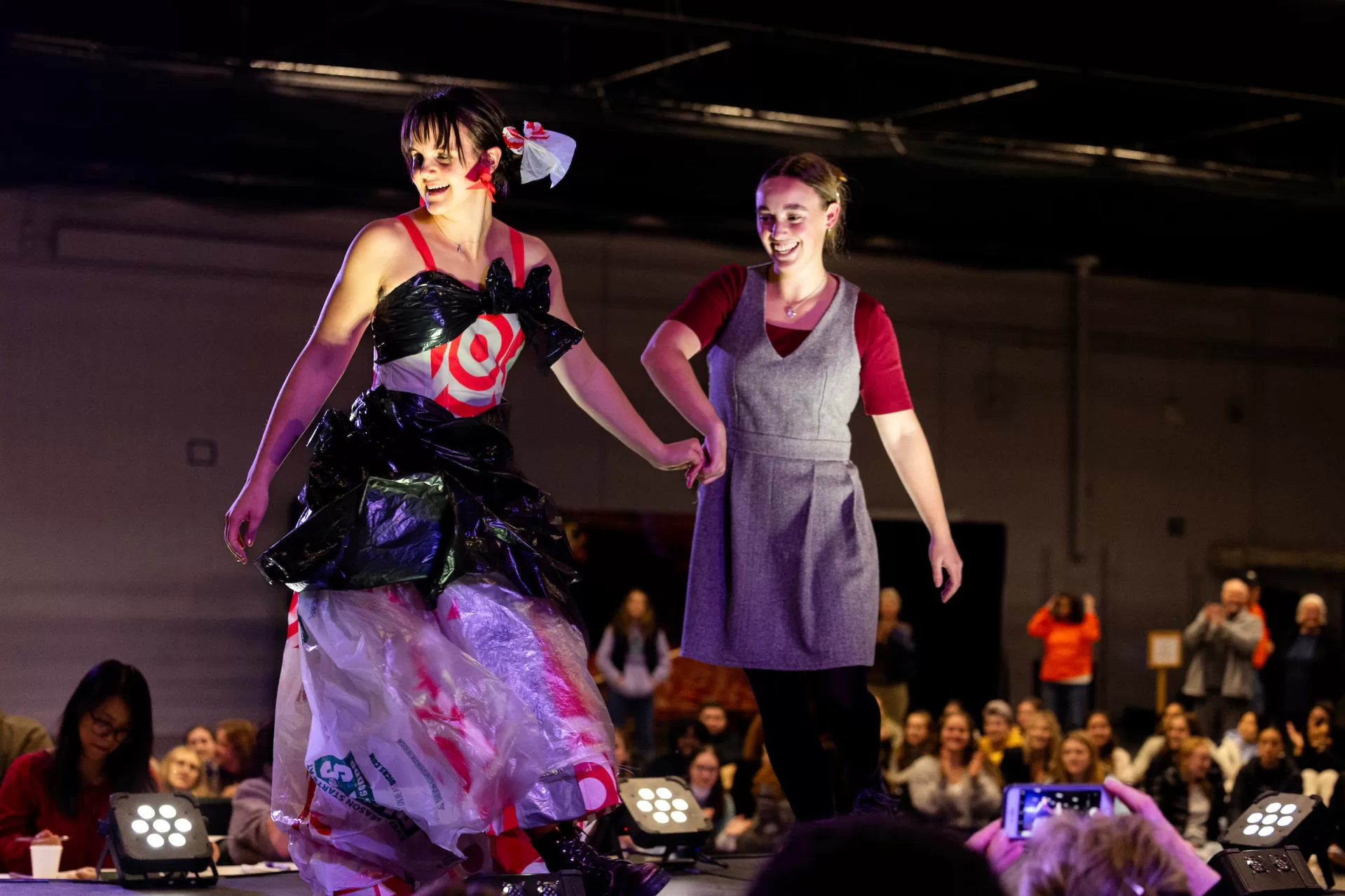 "We had a ladder. It's a process," Pacheco said looking down as he responded from behind his massive mask.
President Garry W. Jenkins appeared shortly before the 6 p.m. start, with his husband, Jon Lee, both of them happily milling in the post-Harvest-Dinner crowd, ready to take in this year's crop of recycled outfits made of such repurposed materials as shopping bags, newspaper, event ribbons, even a trash can cover.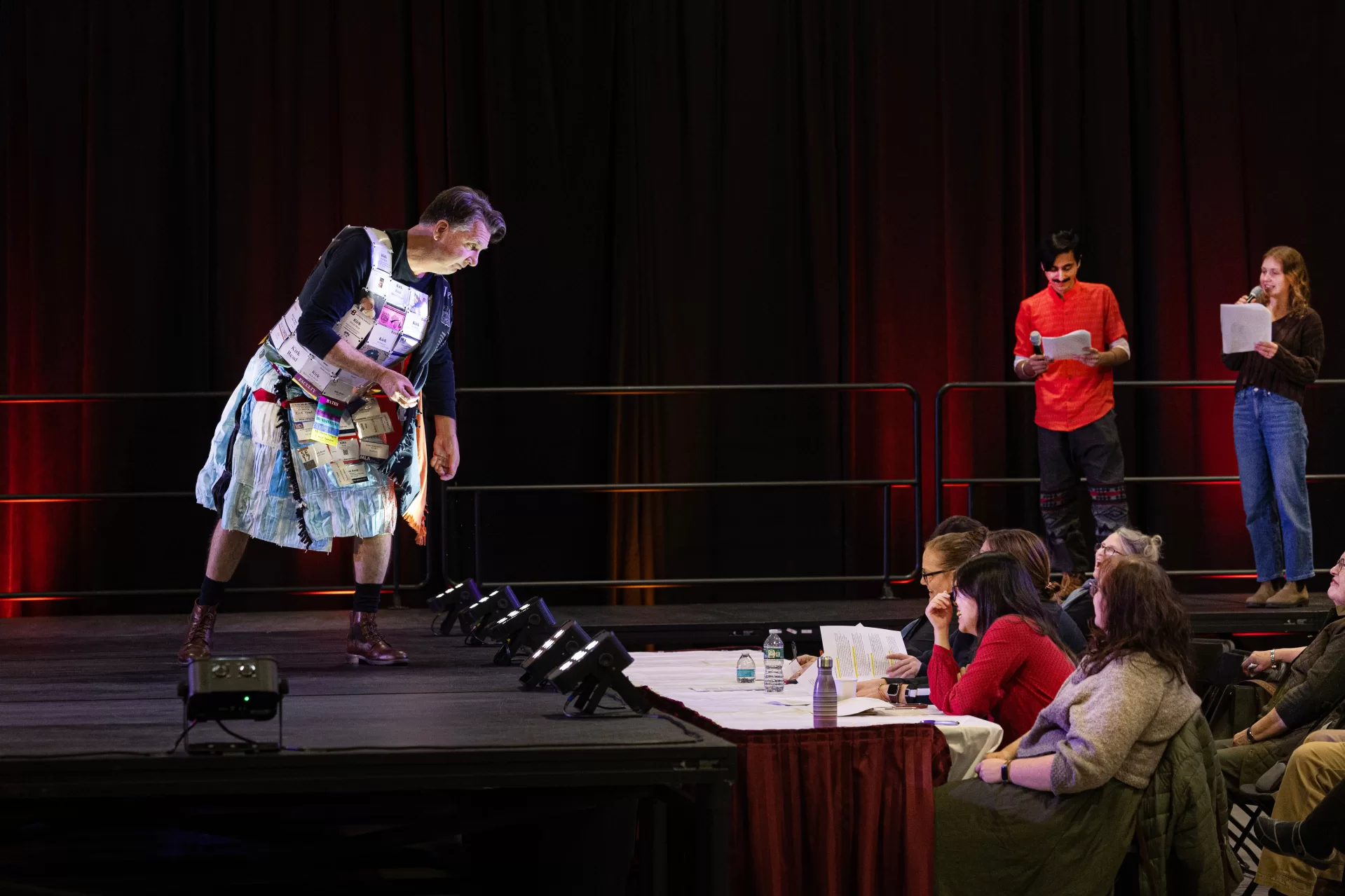 "It's a great tradition at Bates. I'm excited to experience my first Trashion Show, which is a great way to highlight the sustainability efforts at Bates — and also the students' creativity, which is really inspiring," Jenkins said.
While Phillips and Pacheco took top honors, second place went to designer Ashley Taylor '27 of Lexington, Mass., and model Annie Menden '26 of Helena, Mont. Designer Kerry O'Brien, a retired assistant dean in the Dean of Faculty Office, and model Kirk Read, professor of French and francophone studies, took home third-place honors.
There were five judges this year: Assistant Professor of Politics Seulgie Lim, Visiting Lecturer in Russian Cheryl Stephenson, Alison Montgomery, the head women's basketball coach, Jackie Luckhardt, the assistant women's basketball coach, and Robin Graziano, a retail operations associate in Dining, Conferences, and Campus Events.
The show was a collaborative production hosted by Bates EcoReps, Bates College Student Government, and Bates Dining Services. The Trashion events team were EcoReps Aneeza Ahmad 25' of Sharon, Mass., and Davina Kabantu '24 of Portland, Maine. The emcees were Student Government co-presidents Rebecca Anderson '24 of Booone, N.C., and Dhruv Chandra '25 of Kolkata, India.
Many other teams entered costumes that were silly and elaborate, or simply unexpected. Here's what this year's designers and models brought to the runway:
Redefining Beauty
Designer: Sloan Phillips '25 of Evergreen, Colo.
Model: Miguel Angel Pacheco '24 of Caracas, Venezuela
Signature Use of Trash: Cardboard boxes — on purpose
What the Designers Say: Phillips wanted to convey a message about society's constricted view of gender — that they said was like a box. So Phillips sought to redefine cardboard boxes by shredding and weaving them into something beautiful: a giant skirt, arm bands, and mask complete with huge lashes.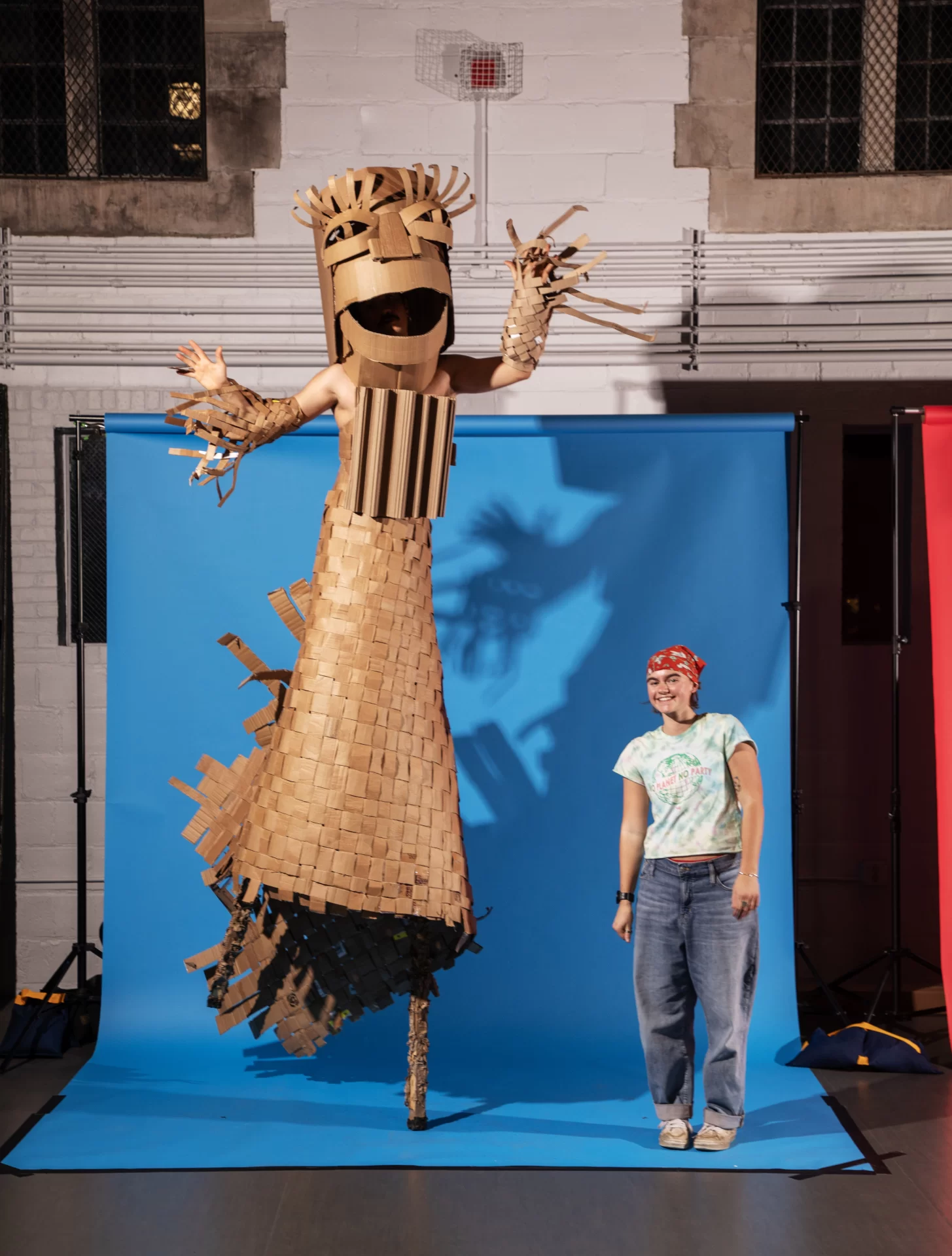 "My experience as a trans person in our society is that it doesn't allow many trans people to be fully themselves. So the cardboard box is metaphorical — the fact it's shredded, because by shredding it, you redefine it," Sloan said.
Then they wanted the outfit to move through the gym high up on stilts, to deliver their message in a powerful way. Pacheco — who has clowning, stilt-walking and other street-performance talents— was only too happy to oblige.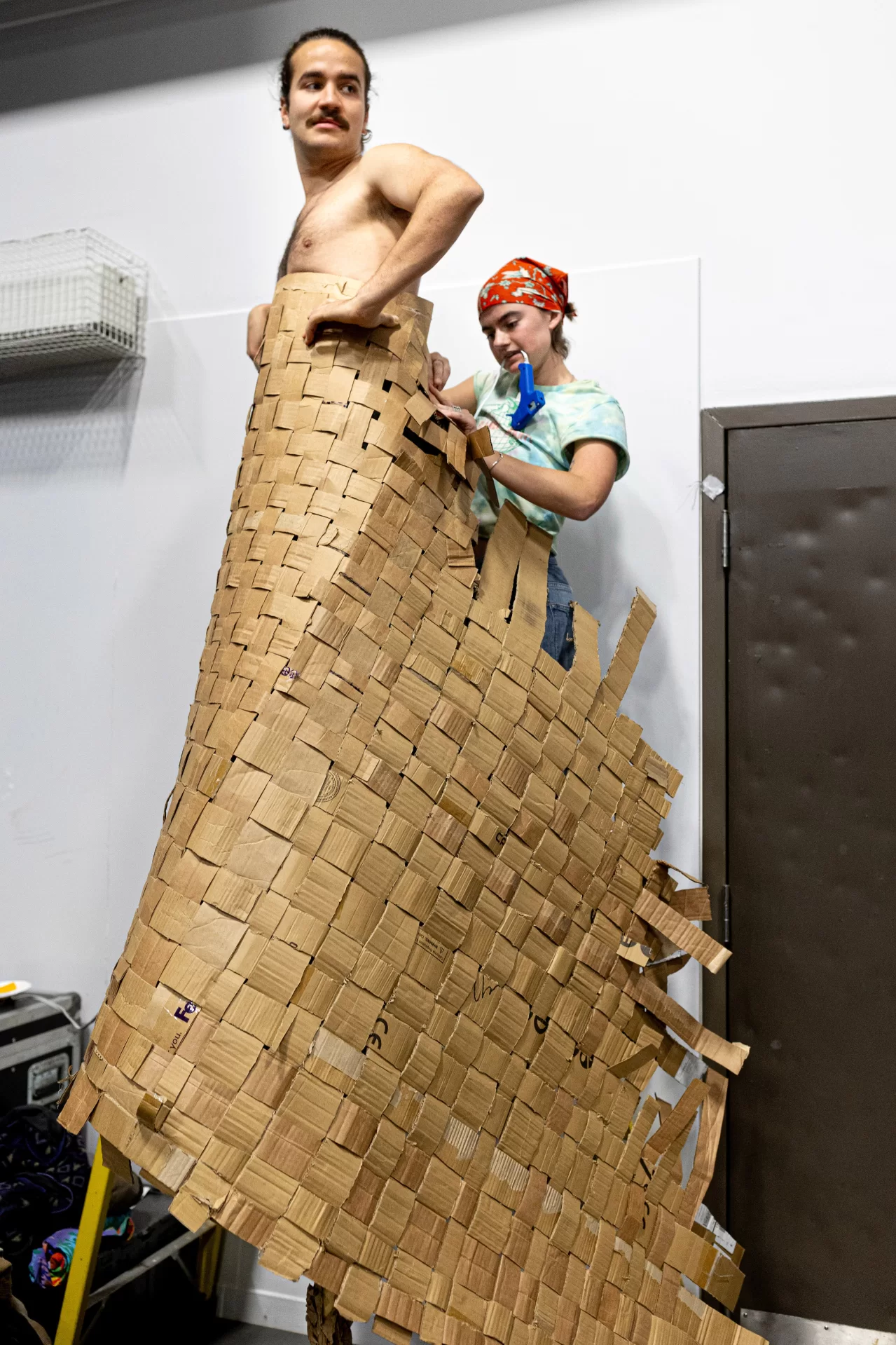 "Part of my inspiration was the desire to outwardly express the feelings of monstrosity projected onto a trans body," Phillips said. "The trans body is viewed as inherently unnatural in the mainstream. I wanted to create an outfit that outwardly projected the feelings projected onto a trans person — and also to create something beautiful."
Here are portraits of each of this year's nine portraits, photographed against red and blue backdrops set up in Gray Athletic Building during the show.
Flowers and Folds
Designer: Ashley Taylor '27 of Lexington, Mass.
Model: Annie Menden '26 of Helena, Mont.
Signature use of Trash: Newspapers and magazines
What the designer said: When her cross country season ended and indoor track had not yet begun, Taylor was looking for something creative to do.
"I wanted to do something to entertain myself. I sew a lot and I feel like paper looks cool when it's folded in a certain way. And I like to read and write a lot. So I thought incorporating words and stories into my garment would be cool," Taylor said.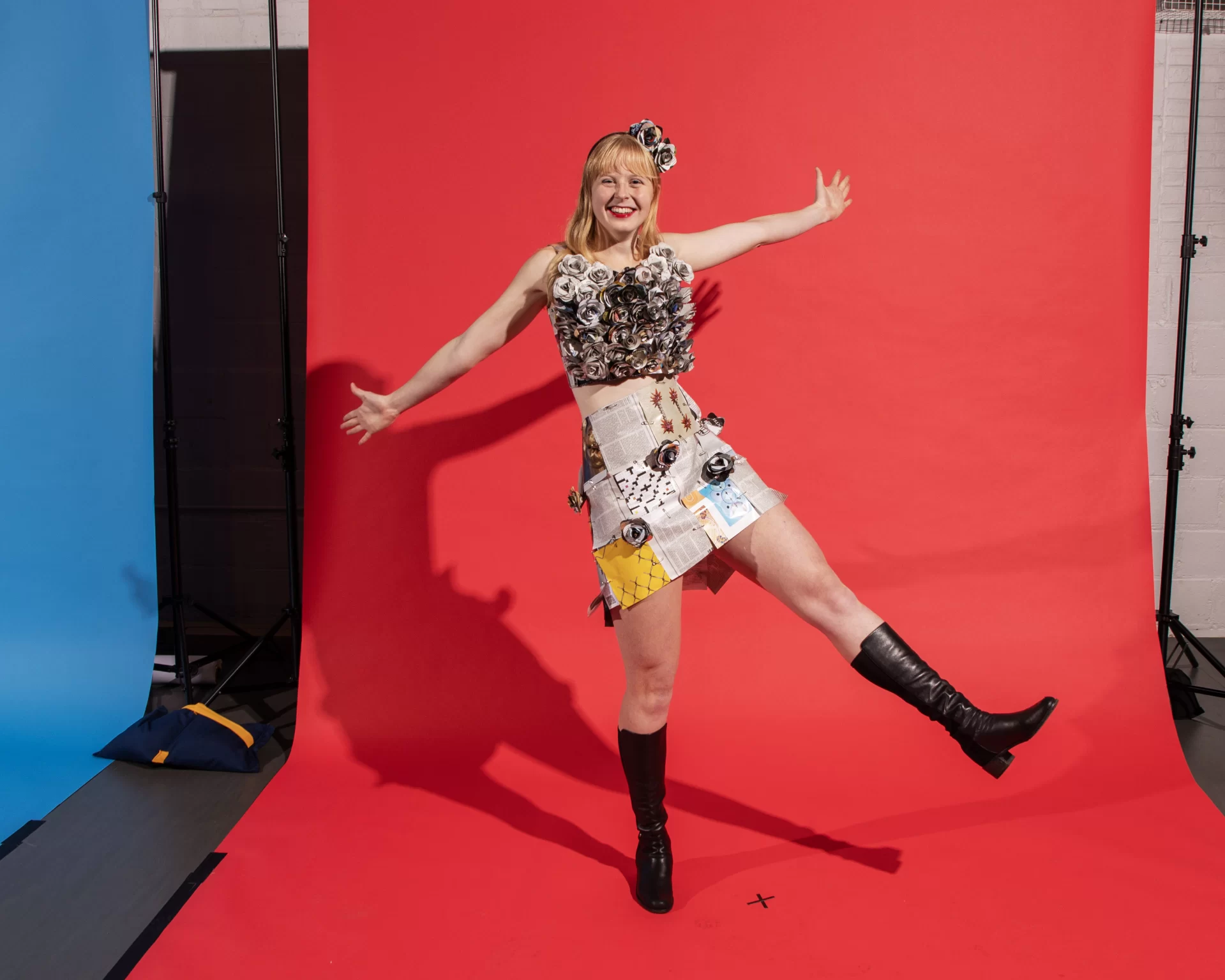 She wanted to illustrate the awe-inspiring joy that stories can bring to people. Knowing her parents recycled piles of newspapers and magazines, Taylor asked them to mail them to Bates, because both are filled with stories. She turned the recycled pages into 30 to 40 paper roses folded together and arranged side by side on the garment top. For the skirt, she arranged squares from newspapers and magazines into a checkerboard pattern, adding a similar checkerboard design to the back of the top. She threw in a floral headband for good measure.
Return of the Highlander
Designer: Kerry O'Brien, former assistant dean in the Dean of Faculty Office
Model: Kirk Read, professor of French and francophone studies
Signature Trash: Plastic name tags from the many events and conferences Read has attended
What the Designer Says: After a year off, the "Fashion House of Read–O'Brien" returned to the show with a touch of history to help them claim third place.
O'Brien did the research to make their Scottish Highlander outfit historically accurate, a nod to Read's 50 percent Scottish heritage. Read provided the materials, chiefly his collection of more than 100 name tags saved from the past 32 years of various campus events and and academic conferences. Those were fashioned into the breastplate of his Highlander outfit.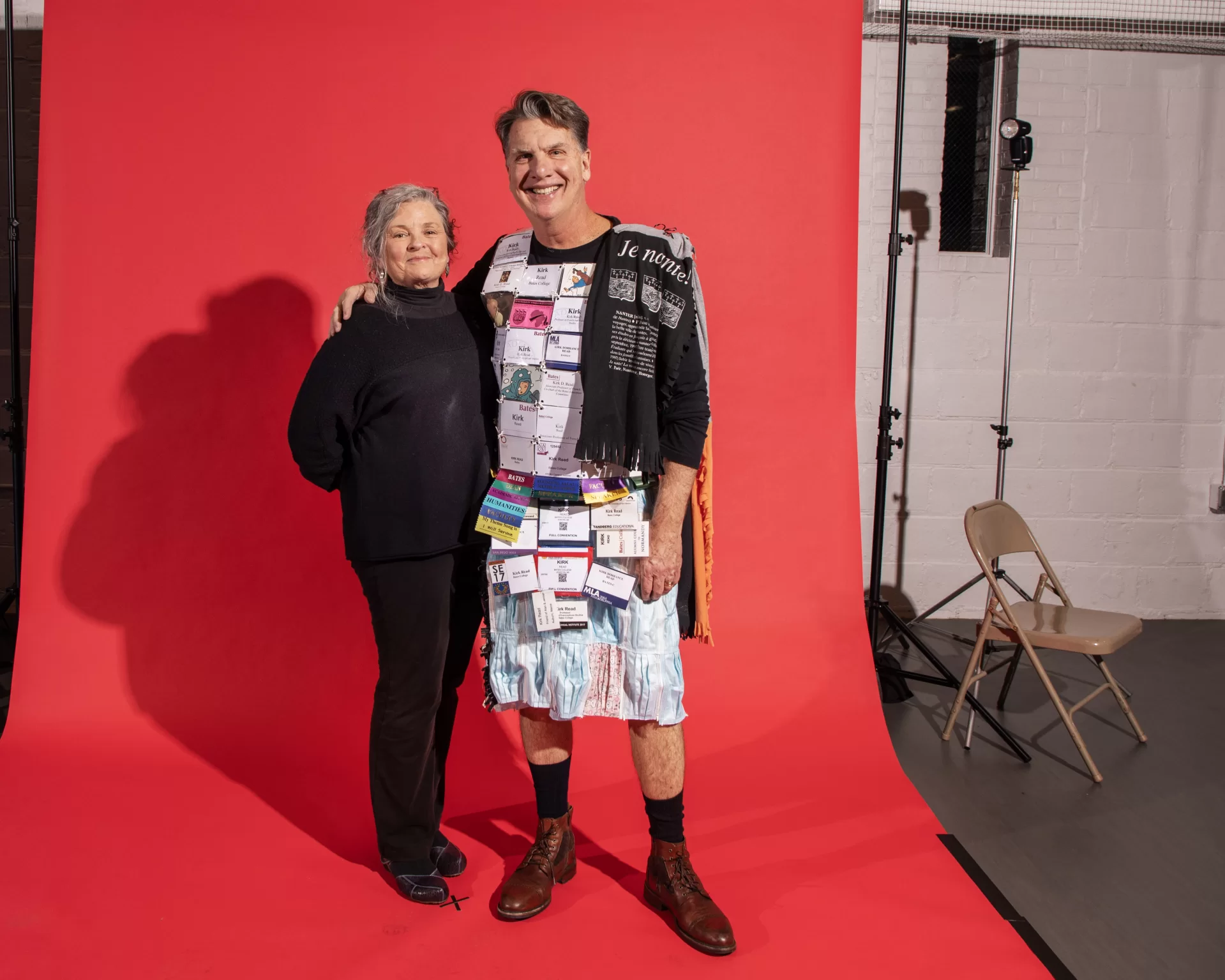 The skirt was made of used (but washed) COVID masks, one of the designer's favorite materials. O'Brien did all the research to assure the kilt, belt, and warrior sash were authentic (or as authentic as a Highlander outfit made of trash can be), but said that her former colleague conceived the entire idea: "He's the visionary, just like Christian Dior."
Holding Out For a Hero
Designer: Ana Fowler '24 of Westfield, N.J.
Model: Ana Fowler
Signature Use of Trash: Recycled paper Purposeful Work banners
What the Designers Said: When Fowler, who works in the Center for Purposeful Work, saw her employers throwing out old banners, she decided to turn those banners into an advertisement to make other students aware of the Purposeful Work job shadow deadline of Nov. 29.
So she created a superhero costume by gluing together the old banners and fashioning them into a jumpsuit and cape. She added a paper mask.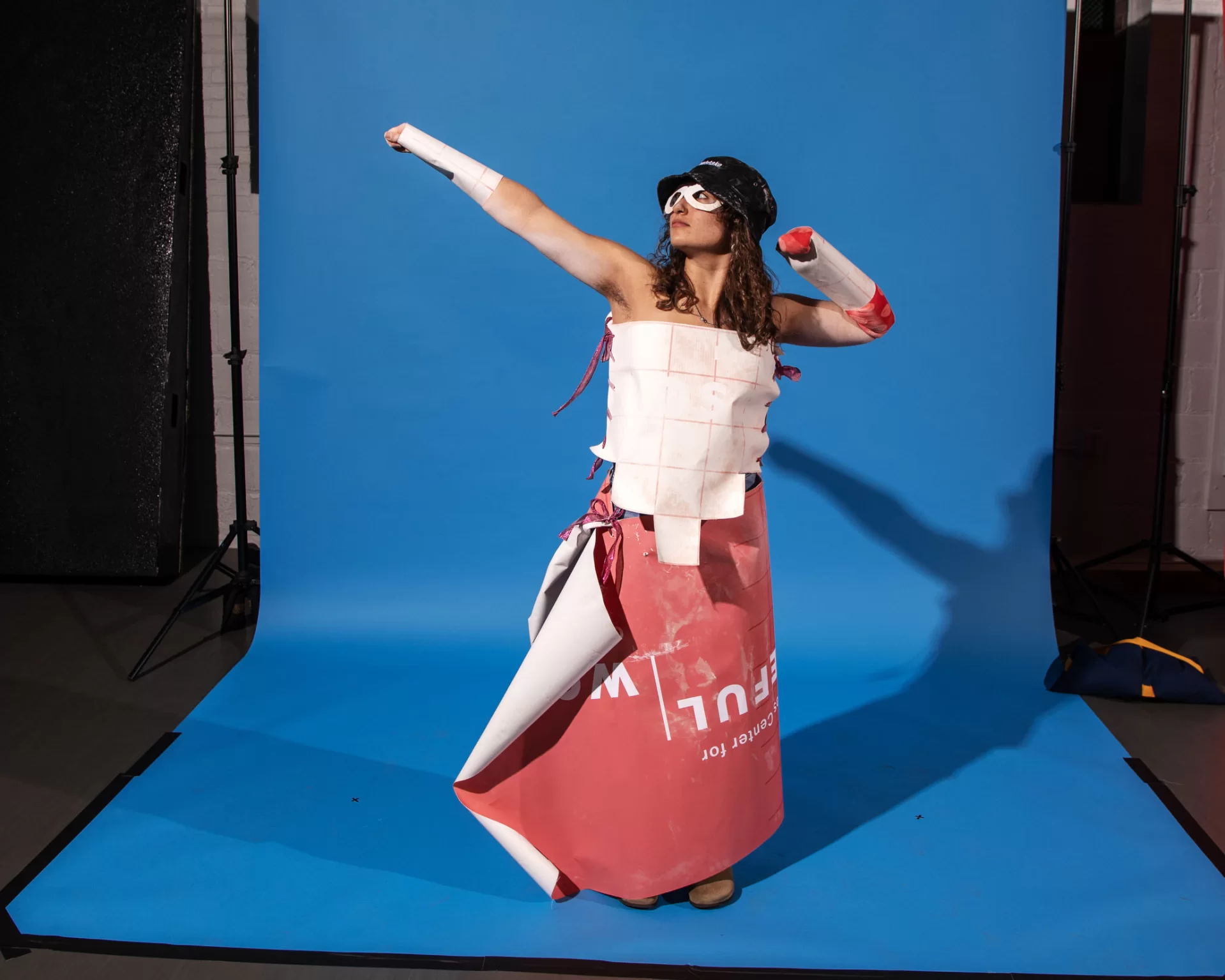 If there was any doubt Fowler portrayed a superhero on the runway, she added a song to make it obvious: Bonny Tyler's "Holding out for a Hero." The audience went nuts.
"I really wanted to shed Purposeful Work in a more silly light, to make it more approachable," Fowler said. "I want to get the word out and to encourage people to go. I have several friends who have used job shadowing and it was a pretty crucial part of their job-search journey."
Getting Carded
Designer: Sarah Smith '26 of Severna Park, Md., and Janney Halperin '26 of Meredith, N.H.
Models: Izzie Sandoz '26 of Portland, Ore.
Signature Trash: Plastic cards (think Dunkin gift cards and metro cards)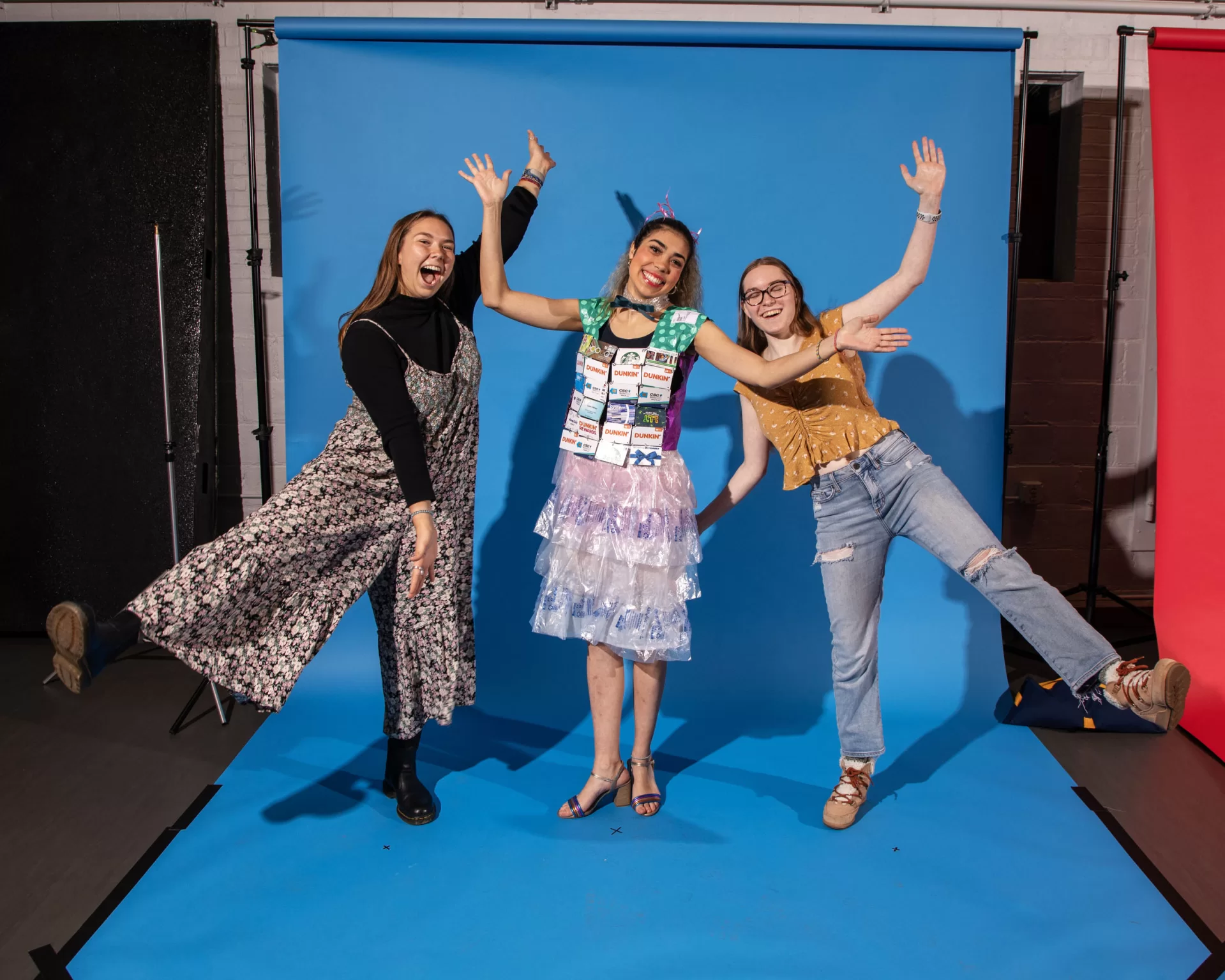 What the Designers Say: Bates recently did away with laundry machines that used plastic cards, and Smith put those old cards to good, collecting them for her Trashion outfit. She added old Dunkin gift cards to create the top; then made the skirt out of plastic bags complete with tiered pleats. She added ribbons from Bates events to elevate her gown.
"I already save and recycle packing material anyway," said Smith, who is an EcoRep. "Honestly, I wanted to see how many discarded items I could put to use in a cool way. I enjoyed the whole process."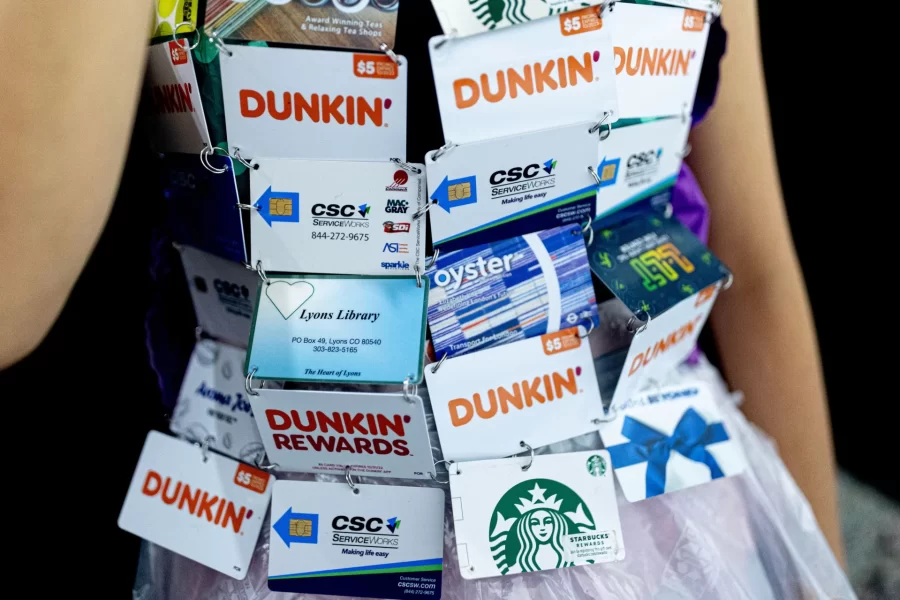 Stitcher's Swan Song
Designer: Grace Acton '24 of Harvard, Mass.
Models: Adelle Welch '25 of Livingston, Mont.
Signature Use of Trash: Plastic shopping bags and shipping materials
What the Designers Say: Acton is doing her senior thesis on historic dresses, so she used that research to help inform her Trashion entry.
She copied the dress design called "Swan" created by Charles James, a mid-20th century designer known for unique gowns sought after by the rich and famous. Acton used Target bags and stitched them into a flowing gown, calling her collection of recycled materials this year "the culmination of my Trashion Shows."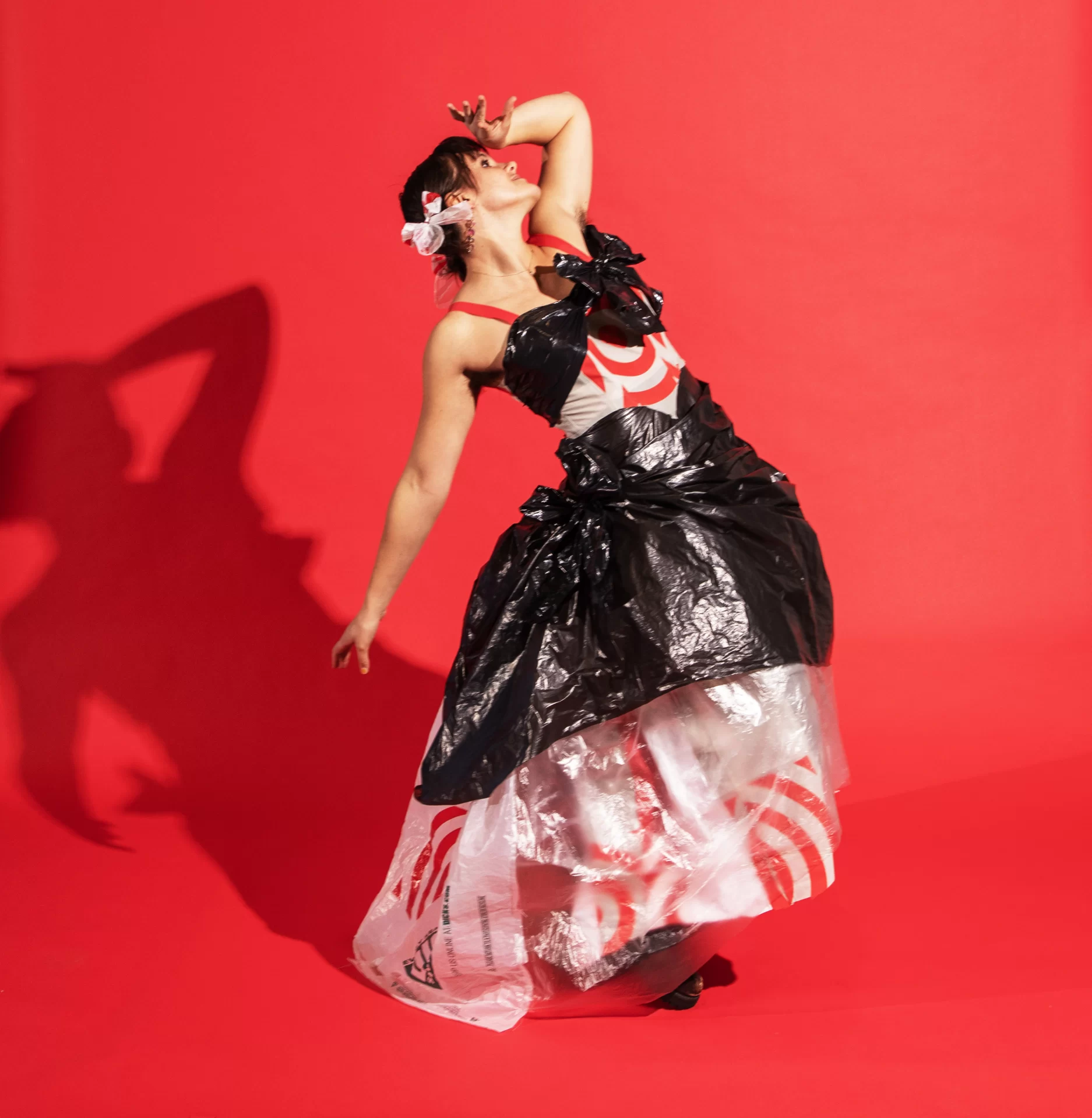 "It's a ball gown that's really sculptural. I started working on it in earnest last week but I've had the idea in mind for longer," Acton said.
There Will Be Blood
Designer: John Campana '26 of Plymouth, Mich.
Model: Hannah Kothari '26 of Houston
Signature Trash: Newspapers
What the Designers Say: Campana was taught to use a sewing machine by his grandmother, is a voracious reader of Vogue magazine, and a big fan of RuPaul's Drag Race. So it was only a matter of time before Campana jumped into Trashion. When he finally did this fall, he put blood (literally), sweat, and tears into his project.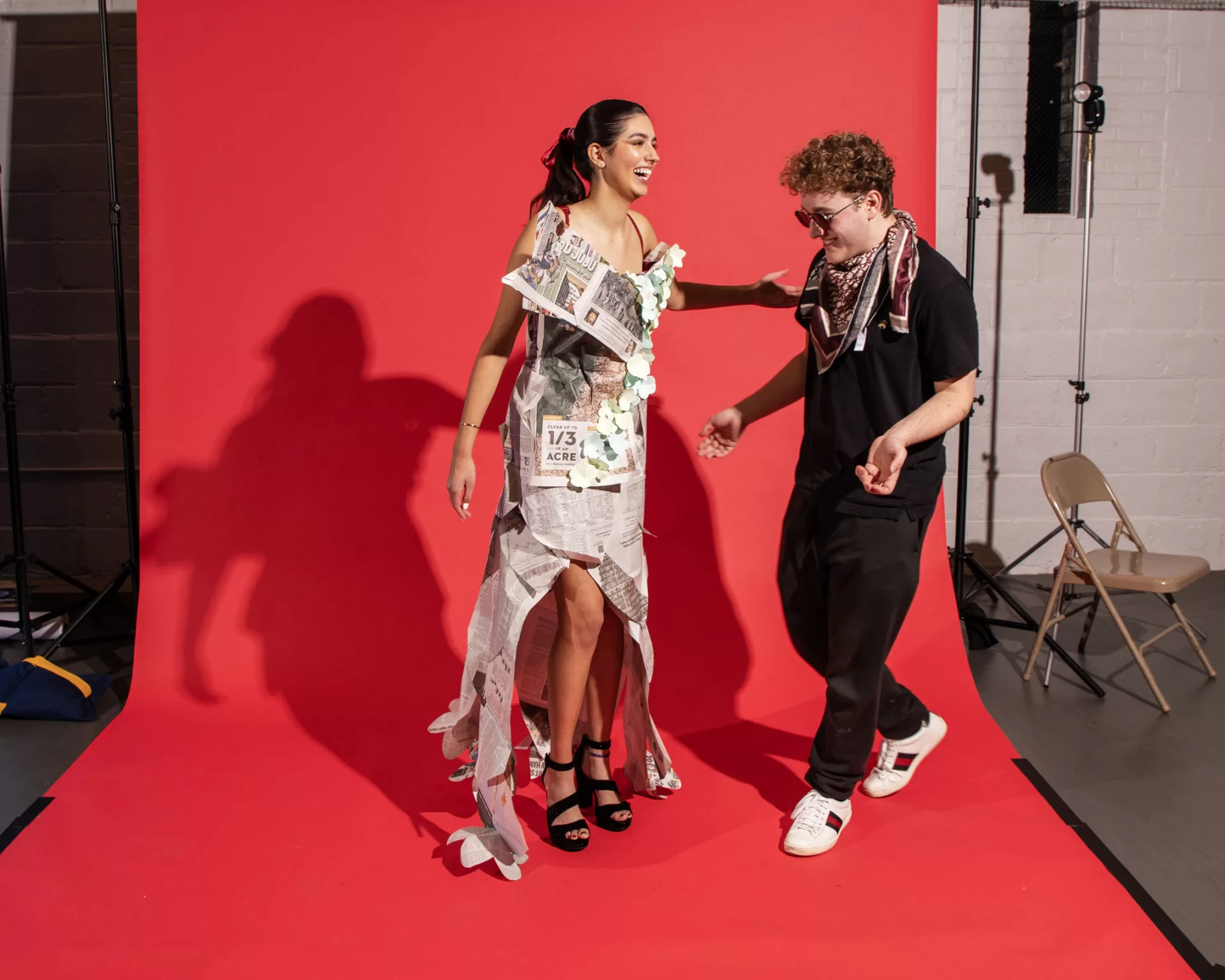 While creating his Christian Dior–inspired gown, Campana cut his arm while using an X-Acto knife. It's nothing a trip to Central Maine Medical Center and six stitches in his forearm couldn't fix.
For his model, Campana had a ringer: Hannah Kothari, aka Miss Gulf Coast Teen. As a former pageant contender in Texas (a state that likes their pageants), Kothari knew how to present Campana's long, strapless floral newspaper dress in stunning fashion.
"I've never seen her do a walk before, so I'm excited to see it happen, her doing the runway, a little Cindy Crawford," said Campana, who danced from the gym floor as Kothari strode slowly up and down the runway.
A Family Affair
Designer: The class of "Family Stories," a First-Year Seminar taught by Kirk Read, professor of French and francophone studies
Models: Julia Anderson '27 of Chevy Chase, Md., and Simon Wilson '27 of Missoula, Mont.
Signature Trash: Lewiston Sun Journal newspapers and a tattered copy of Monica Woods' book When We Were the Kennedys: A Memoir From Mexico, Maine
What the Designers Say: After the Lewiston tragedy of Oct. 25 altered the semester in unimaginable ways, Read wanted to bring some spontaneous community bonding into his classroom. So he suggested they enter the show as a class.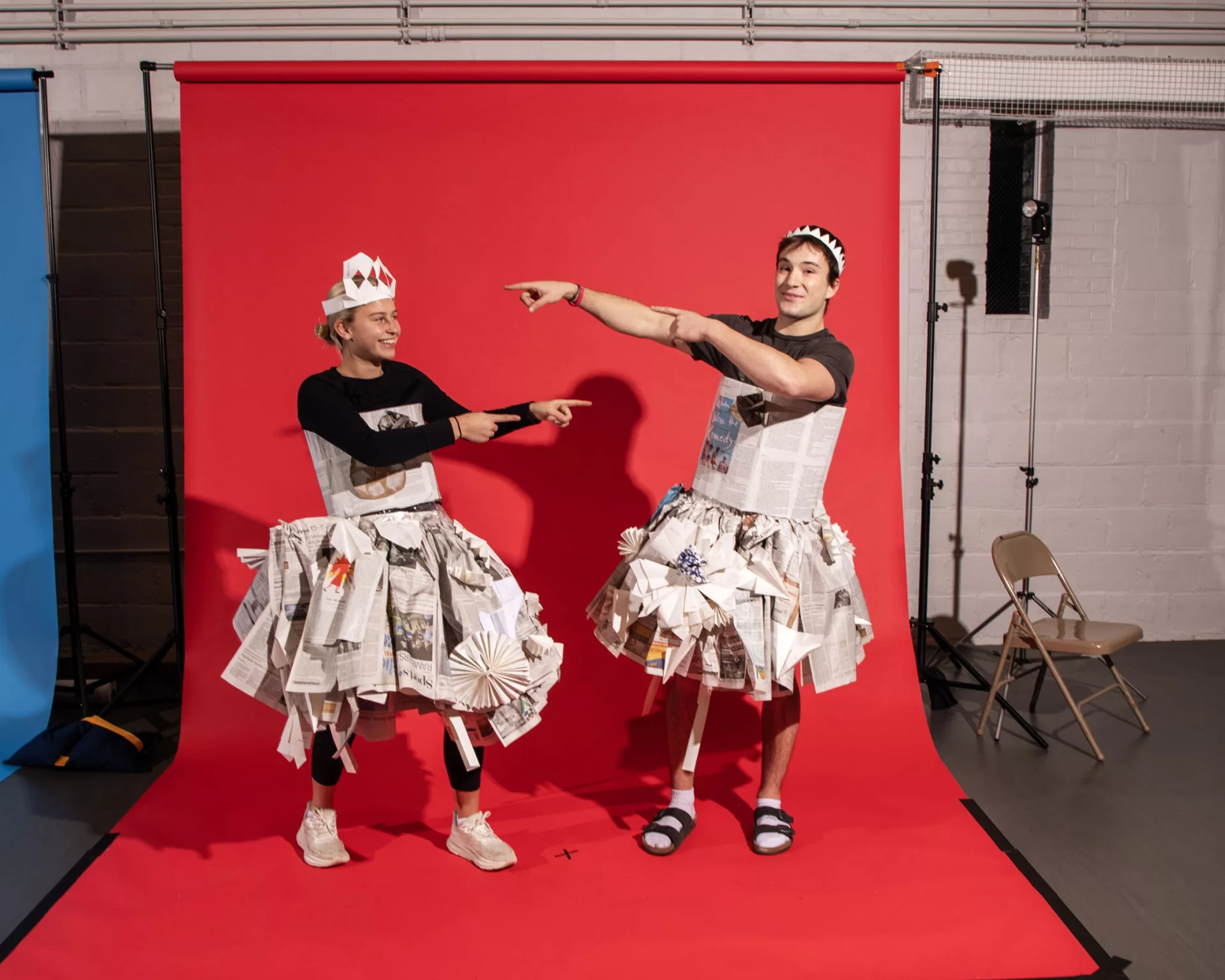 Collectively they decided to make a garment using pages from an old, tattered copy of a novel they had read for class, Monica Woods' When We Were the Kennedys: A Memoir From Mexico, Maine, a story about profound sadness as well as how families and neighbors can pull together.
The 16 students in the class also fashioned recycled paper into paper airplanes that represented how the class was made up of students from around the world who all came together at Bates.
"It's one big journey. We're all intertwined. It's one big family here," Anderson said.
Trash Can-Do Attitude
Designer: Cheryl Lacey, director of Dining, Conferences, and Campus Events
Model: Christine Schwartz, associate vice president for Dining, Conferences & Campus Events
Signature Trash: Polyester trash can cover
What the Designer Says: Lacey and Schwartz, who started the Trashion Show tradition in 2000, featured in their entry a new piece of recyclable material: trash can covers.
The new polyester covers recently replaced the plastic disposable trash can covers, helping to eliminate waste. The new covers come in black, red, and blue. Schwartz wore a black cover as a dress, topped by a knitted top made of recycled materials.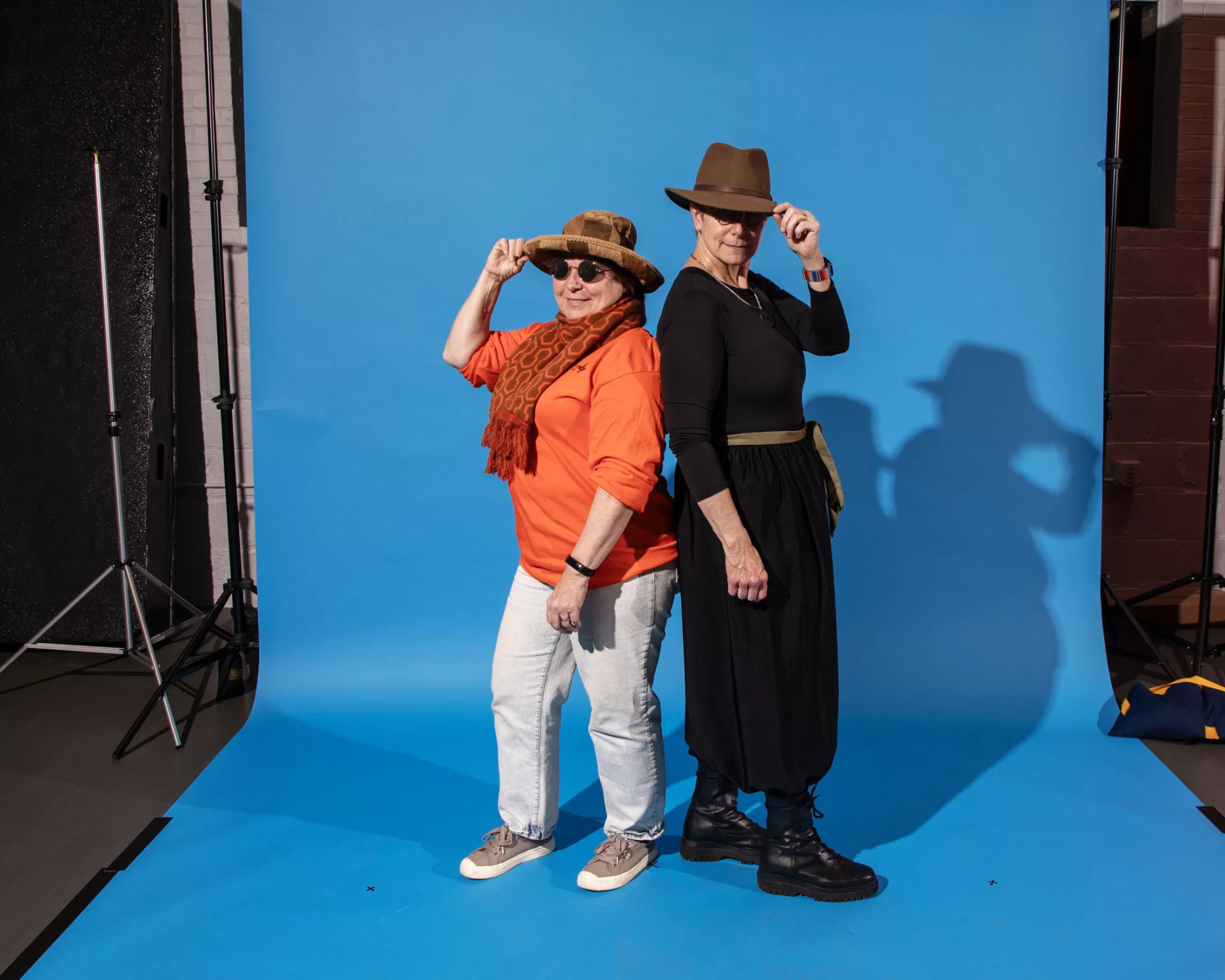 "It can be a dress, it can be a bubble dress, it can be a skirt. From trash to fashion, you decide which way you use it. The possibilities are endless," Schwartz joked.
Lacey quipped that more household items like the trash can covers could be repurposed for fashion.
"In reality, decomposing clothes in the landfill creates greenhouse gas emissions. So we're taking an item that's meant to be used in different ways and bringing it to the fashion runway," she said.