Olin Arts Center introduces 'Flash' concerts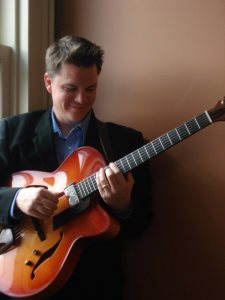 As the Olin Arts Center celebrates its 25th anniversary this year, the Olin Concert Hall has instituted a new music series to stand alongside the college's long-running Noonday Concerts.
With traditional Noonday Concerts still taking place in the concert hall at 12:30 p.m. on selected Tuesdays, the new "Flash" concert series is intended to provide a more casual experience, with events popping up at diverse locations and unexpected times.
The series commences with a jazz quintet featuring Bates faculty members at 4:10 p.m. Friday, Sept. 16, at the Florence Keigwin Amphitheater, situated between Lake Andrews and the Olin Arts Center, 75 Russell St.
Next in the Flash series is a performance by jazz guitarist Sean McGowan at noon Tuesday, Sept. 20, in the Fireplace Lounge in the New Commons Building, 136 Central Ave.
Meanwhile, the next traditional Noonday entry takes place at 12:30 p.m. Tuesday, Sept. 27, in the Olin Concert Hall, as Sylvia Berry performs works by J.C. Bach and Mozart on a fortepiano built by Rod Regier of Freeport.
All these concerts are open to the public at no charge. For more information contact 207-786-6135 or this olinarts@bates.edu.
The Bates jazz quintet consists of drummer Steve Grover, pianist Tom Snow, guitarist John Smedley, bassist Nate Therrien and saxophonist David Wells.
Grover has drummed with Eddie Gomez, Marvin Stamm, Jerry Bergonzi, Chris Potter, Herb Pomeroy, Mick Goodrick, Hal Crook, Tony Malaby, Greg Tardy, Jeff Coffin and others. He has performed as bandleader on a variety of CDs and is also known as a composer — his Blackbird Suite won the Thelonious Monk Institute of Jazz/BMI Jazz Composers Competition in 1994. Grover teaches at Bates and other Maine colleges.
Snow is a pianist and the director of the Bates Jazz Band. He has recorded on the Telarc and Origin labels and has three CDs as a leader: Northern Standard Time (1997), Christmas at Mast Cove (2001) and Some Other Time (2007). His career has included wide-ranging tours to Australia and throughout the United States with noted Irish tenor John McNally.
Smedley, a physics professor at Bates, is a jazz guitarist known for performances solo and with the Three Point Trio and other combos. A specialist in atomic physics, he also teaches musical acoustics and the physics of electronic sound for non-science majors, and offers a jazz guitar course that provides a historical survey of the genre and individual instruction on the guitar.
Therrien is a New Hampshire native and freelance musician. He has performed in concerts and radio appearances domestically and abroad, playing at such venues as Boston Symphony Hall and the Library of Congress. He has shared the stage with jazz greats Clark Terry, James Williams, Rufus Reid, Branford Marsalis, Sam Rivers and James Moody. Recent projects include Jose Duque's Zumba Tres, the original rock group the Douglas James Trio and the Nate Therrien Quartet.
Wells has recorded or performed with Rosemary Clooney, Bob Mintzer, New York Voices, John Handy, Mark Levine, Scott Amendola and funk pioneer Zigaboo Modeliste. He was a featured soloist in the PBS documentary Swing It, and has performed in the United States and abroad. He teaches saxophone at Bates, at the University of Maine at Augusta and in private practice, and directs the award-winning Westbrook High School jazz combo.
Maine native McGowan combines diverse influences and unconventional techniques to create a broad palette of textures for solo fingerstyle guitar. His first recording, the self-produced River Coffee, won the 2002 Best Independent Release of the Year Award from Acoustic Guitar magazine. Music from the CD has been featured on the BBC's "Great Guitars" radio program, and has been published in Japan's Acoustic Guitar magazine and Mel Bay's Master Anthology of Fingerstyle Guitar, Vol. 3. McGowan frequently contributes lessons and articles to Acoustic Guitar, Guitar Teacher and Jazz Improv magazines.
McGowan is an assistant professor of music performance at the University of Colorado Denver. He has served as an artist-clinician for the Maine Arts Commission since 2000 and has taught guitar at the University of Maine and Bowdoin College.
Berry specializes in Viennese music of the late 18th and early 19th centuries. She appeared frequently in the Utrecht Early Music Festival Fringe Series in the Netherlands as a soloist and a chamber musician, and has also given solo recitals in the U.S. and Italy. She is also active as a writer, most notably penning extensive liner notes for fortepianist Bart van Oort's Complete Keyboard Works of Mozart, a 14-CD set released by Brilliant Classics in 2006.
View Comments