Presentation to examine humanitarian work at U.S.-Mexico border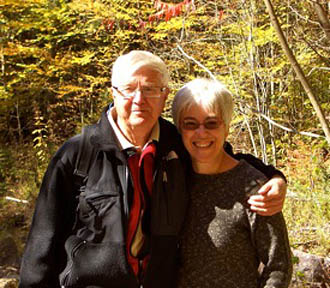 Participants in an effort to provide humanitarian aid to Mexican migrants entering the U.S. will describe their work in a Bates College event at 4:15 p.m. Wednesday, Oct. 5, in Room G65 of Pettengill Hall, 4 Andrews Road (Alumni Walk).
Claudia Aburto Guzmán, associate professor of Spanish at Bates, leads this Public Works in Progress presentation titled Representations of Trails of Compassion: Volunteer Work at the U.S.-Mexico Border.
Joining her are geologist Ed McCullough and social artist Debbi McCullough, both volunteers with the Tucson Samaritans, a group that renders humanitarian aid to migrants in distress in the border region near Tucson, Ariz.
The Public Works in Progress series comprises presentations by Bates faculty, staff and students about community projects and their significance. The series is presented by the Harward Center for Community Partnerships, which facilitates collaborations between Bates and the community at large.
The presentation is open to the public at no cost. For more information, please call 207-786-6202.
The Harward Center has supported Aburto Guzmán's research into cultural expressions, such as fiction or visual art, that address border tensions. Working with the Samaritans since 2006, she spent two years volunteering, photographing, researching and observing events at the border.
Her research formed the basis for her advanced course "Gendered Experiences in America's Borderlands," which reviews ways in which migrants' border crossings are reflected in documentary and fictional writing, film and still photography.
Ed McCullough, a geologist retired from the University of Arizona, maps the trails used by migrants and plots locations where migrants have died en route. The maps are used by volunteers who provide food, water and first aid to those who have been hurt, abandoned or gotten lost while attempting to cross the border.
Debbi McCullough uses migrant artifacts found in the desert to fashion mixed-media art intended to raise consciousness of what's happening at the border. The McCulloughs will discuss the role of volunteers in saving lives and in disseminating information about the migrant crossings that is overlooked by the mass media.
View Comments