Parents & Family Weekend dance concert showcases work by guests, students, faculty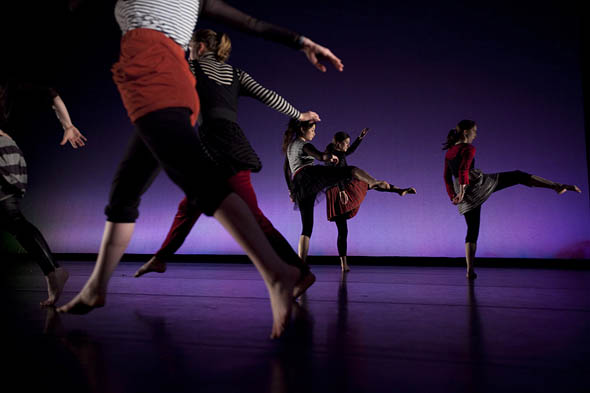 The Bates College Modern Dance Company offers its annual Parents & Family Weekend dance concerts at noon Saturday and Sunday, Oct. 1 and 2, in Schaeffer Theatre, 305 College St.
The performance is open to the public at no cost. For more information, please call 207-786-6161.
Choreography resulting from artist residencies at the college is prominent on the program. World music and dance specialists Kwame Ross and Michael Wimberly, who have just completed a two-week residency, created a piece that reflects African dance performance practices while showcasing the talents of the students involved in the project. The piece will be supported by live music from a student band.
"It is a true celebration of the diversity of the student body and the power of collaboration between live music and dance," says associate professor Carol Dilley, director of the dance program. Fifteen dancers and six musicians will perform in the piece.
Midway through her residency, New York choreographer Kendra Portier will preview a work still in development with the dance students and likely to be premiered during the college's fall concert in November.
A member of the Bates faculty, jazz dance instructor Debi Irons presents a piece supported by music commissioned from, and performed live by, composer Philip Jackson.
Student choreographers will also offer dances, including the Dynasty Step Team, the popular Bollywood Dance Club and Isaiah Rice, a first-year student from Dallas who will perform a solo hip hop piece that he created.
Finally, the Sunday program includes a special performance by Bates alumni who are professional dancers in New York City. Choreographed by Tony Award-winning choreographer John Carrafa, a member of the college's class of 1976, the piece is intended as a gift to a former Bates classmate who is ill.
View Comments