Trading piano for pen, Glazer releases book
Frank Glazer, a pianist of international renown whose performing career dates back to the late 1920s, has released a book.
A Bates College artist in residence since 1980, the 97-year-old Glazer wrote the just-published A Philosophy of Artistic Performance (With Some Practical Suggestions). The book is a collection of aphorisms and advice that Glazer has been amassing since the 1930s.
The publisher is XPress Literary Publishing of Portland. Costing $16.99, the book is sold through the Bates College Store. For more information, please call 207-786-6121 or visit the bookstore website.
Glazer's intention for the book is to offer younger pianists and other musicians a set of tools that will enable them, he explains, "to help them find and evolve their own feelings about the art in in music, instead of the mechanics of it.
"The mechanics of it anybody can teach, but the art is between the lines," he says. "It's invisible. Just like detectives use ultraviolet light to read invisible ink, our insight is the ultraviolet light we use to find the art."
Among the aphorisms in the book:
"Play it as you understand it, / but try to understand it as it is."
"Compete against a standard of excellence, / not against another person."
"Flow does not mean fast, / and slow does not mean static; / Fast can be static, and/ slow can flow."
Glazer traces the impulse behind the book to his studies with the influential pianist Artur Schnabel in the early 1930s. After a Schnabel performance, Glazer asked the older artist what he should study in his quest to attain real artistry.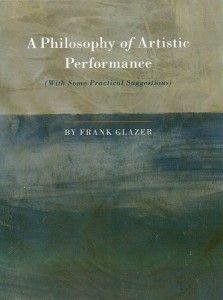 "You won't find it in books, only in life," Schnabel replied.
"Now, more than three-quarters of a century later, I know the truth of Schnabel's remark," Glazer writes in his introduction. "One cannot know how the process will evolve, but what will help is an attitude that fosters the process: having an open mind, an abiding love of life and, not least, the capacity for work, be it ever so solitary."
Glazer sees the book as a legacy to his students and other young musicians. But there are useful lessons here for nearly anybody doing creative work, Glazer adds.
"If I had had it when I was 19 years old, I'd have saved myself a lot of grief and questioning and wondering," he says. "I'm glad, at long last, I lived long enough to see it happen."
Glazer maintains an active performing schedule, with appearances at Bates, elsewhere in Maine and across the nation. Recently featured on the American Public Media's popular program The Story, this Topsham resident has had a distinguished international career that includes numerous recordings, solo recitals and performances with orchestras and chamber ensembles.
With his wife, Ruth Glazer, he founded the Saco River Music Festival, held for many years in Cornish, Maine. A Philosophy of Artistic Performance is dedicated to Ruth, who died in 2006.