Composer and Bates music professor Hiroya Miura already had plenty on his plate when a music festival in the Czech Republic made him, as they say, an offer he couldn't refuse.
In addition to teaching at Bates and directing the college orchestra, Miura was composing an opera — his first — when the International Shakuhachi Festival, in Prague, asked him to write music for a participating ensemble, the BERG Orchestra. But in its particulars, the commission was really asking him to tackle not one, but two more professional firsts.
The commission was for a concerto, a type of orchestral work in which one instrument (rarely, two or three) plays a virtuosic leading role. And the proposed concerto would feature a traditional Japanese flute called the "shakuhachi."
Miura had never written for shakuhachi nor composed a concerto. "I initially was going to turn down the commission," says Miura, who's on sabbatical this academic year.
"But the BERG Orchestra is the only orchestra dedicated to playing contemporary music in the Czech Republic, and is known for adventurous programming and a high quality of music making. I couldn't say no." Still, with only six months to write the concerto on top of everything else, "it was a bit like jumping off a cliff."
As it turned out, it was one big jump that had two happy landings. On Sept. 16, with Miura in attendance, the International Shakuhachi Festival premiered his concerto Galactic Monarchs, performed by the BERG Orchestra with shakuhachi master John Kaizan Neptune as soloist. The performance, which won Miura four curtain calls, concluded the five-day festival.
Then, a few weeks later, in three performances Oct. 5–6 in San Francisco, the Left Coast Chamber Ensemble and guest artists premiered the Bates professor's Sharaku Unframed, a 25-minute, one-act micro-opera featuring Hidejiro Honjoh, an acclaimed innovator on the "shamisen," a traditional Japanese three-string instrument.
Video: Hidejiro Honjoh and the Left Coast Chamber Ensemble perform "Sharaku Unframed" on Oct. 5 at the San Francisco Conservatory of Music (Courtesy of the Left Coast Chamber Orchestra).
"The Left Coast Chamber Ensemble has a wonderful audience base and the opera was extremely well-received," says Miura. "The whole experience of working with the Left Coast musicians and Hidejiro was a sheer joy."
He adds, "It was probably the first time in my career that I produced this much music in such a short period of time."
The inspiration for Miura's operatic debut was one of the more mysterious figures in Japanese art history. Tōshusai Sharaku was a woodblock printmaker known for producing some 140 images of Kabuki theater actors during a 10-month period in the 1790s. But few other biographical details survived.
That changed in 2008, when Sharaku was identified as the creator of a fan drawing in a museum on the Greek island of Corfu. This revelation led to additional sleuthing that convinced researchers of Sharaku's real identity: He was Saitō Jurobei, a samurai in service to the Hachisuka family and an actor who played only insignificant, non-speaking parts in Noh theater performances.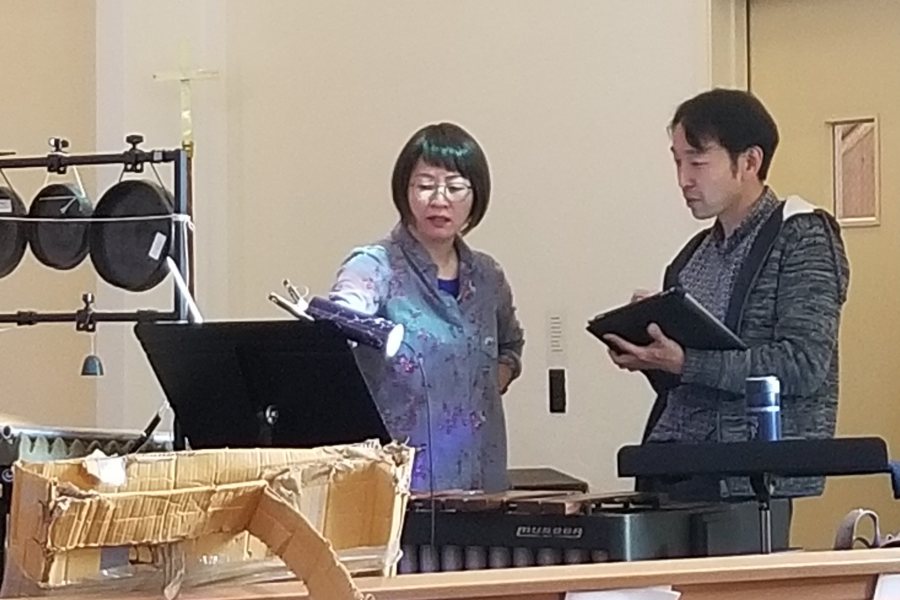 Note the Noh vs. Kabuki distinction: The former was associated with the ruling class of samurai, who regarded Kabuki as common, even vulgar. If Saitō, aligned with the ruling class, was nevertheless drawn to the latter, it would have behooved him to conceal his real identity when frequenting Kabuki playhouses.
Miura based his opera on Ghost of Sharaku, a short play by Arthur Davison Ficke, an American poet and aficionado of Japanese woodblock prints. The play takes place during the opening of an actual Sharaku exhibition in New York in 1940 — and in play and opera alike, all the characters are ghosts, just as many Noh characters are.
The play even includes a brief appearance by Jurobei's master, Lord Hachisuka (sung by shamisen player Hidejiro Honjoh), and a silent attendant.
The opera is scored for two singers; a flutist who doubles on bass flute and piccolo; violist and bassist; percussionist; and Honjoh, of course. "This was my third piece for Hidejiro," Miura says.
As a musician, Honjoh belongs to a school of shamisen that, among other attributes, "focuses on the timbral expression and its varieties. He talks of the universe which exists within a single utterance of a sound," Miura explains. "I strived to create the orchestral backdrop using the lean instrumentation I was given to match the sensuality of the shamisen's timbre."
He adds, "The timbre is so important that the player has to string the instrument right before the performance. This unusual practice says so much about the shamisen aesthetics that focus primarily on a timbral quality that can only come from brand-new silk strings." But it does mean constant attention during the performance to keeping the still-stretchy strings in tune.
As for the concerto for shakuhachi, the bamboo flute? Well, that instrument and the concerto form may have been new to Miura, but he was well-acquainted with the organizer of the shakuhachi festival. That was Czech musician and impresario Marek Kimei Matvija, and Miura had previously written a piece (for shamisen) for one of his projects.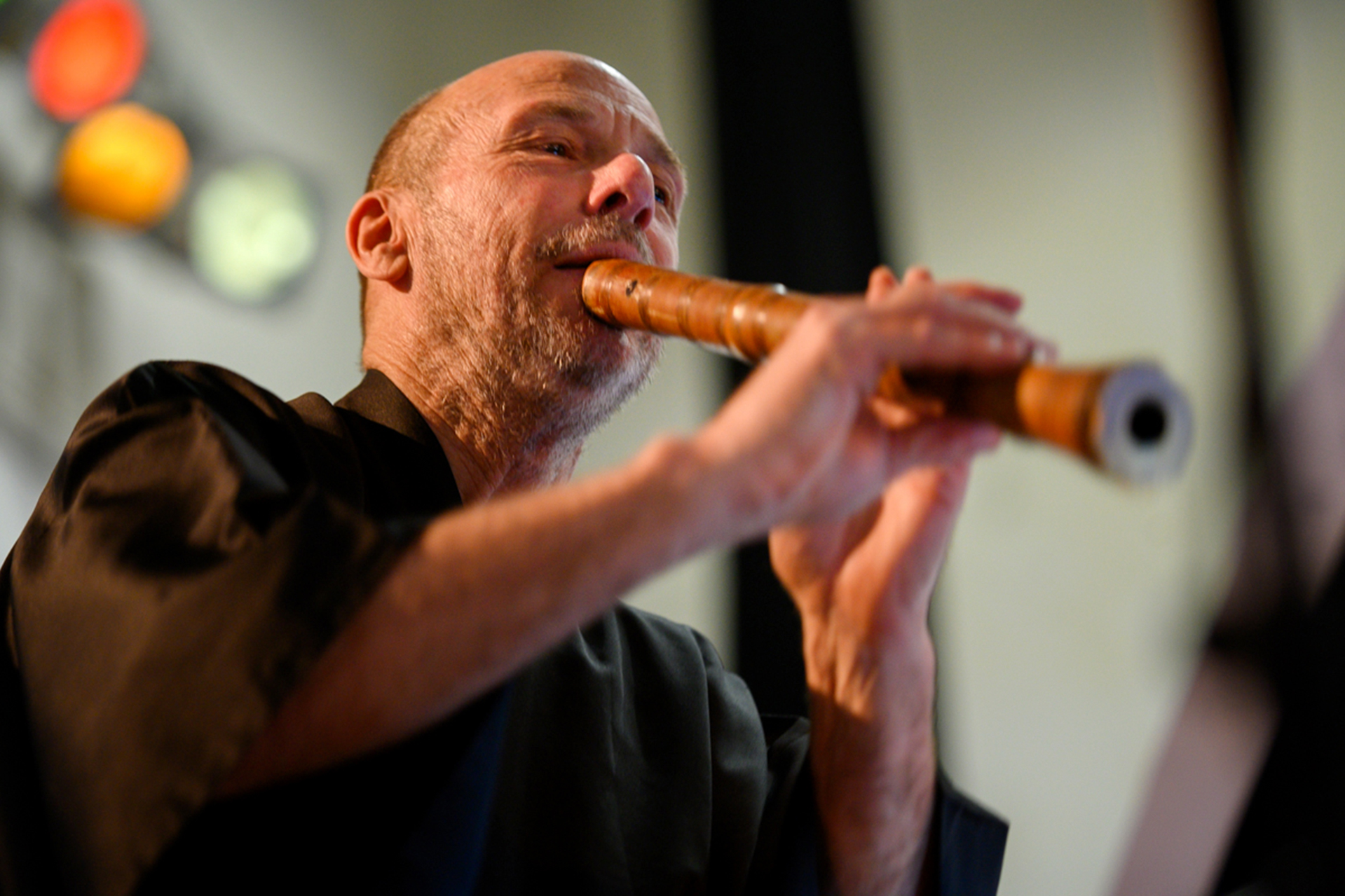 "I was moved by Marek's dedication to promote Japanese traditional music and his vision for keeping tradition alive by being unafraid to ask composers to write new works for those instruments," Miura says. "Sometimes the traditional music milieu in Japan tends to be conservative and overprotective of tradition, and I found his attitude refreshing and inspiring."
The shakuhachi has only five holes for fingering notes, but by partially covering the holes and varying the angle of blowing the flute, a skilled player can produce a nearly infinite variety of pitches.
"What also characterizes the color of shakuhachi is the sound of air — noise — going into the instrument. The tone is almost never 'pure' in the sense of Western music," Miura says. "The gradation of noise to tone is what makes the instrument so attractive to me."
A star of the shakuhachi, John Kaizan Neptune is a California native who attended the University of Hawaii primarily because of the islands' surfing opportunities. En route to dropping out of the university, he discovered shakuhachi in an ethnomusicology course — and ultimately moved to Japan and became one of that nation's best-known players of the instrument.
"I knew about John ever since I was a child," Miura says. "He's probably one of the first non-Japanese shakuhachi players who mastered the instrument. He's been living in Japan since before I was born — in some regards, he's much more Japanese than I am!"
In the course of writing Galactic Monarchs for the festival, Miura adds, "I went to John's beautiful dome house, which he built himself. He also makes shakuhachi from the bamboo around his house. I had so much fun getting to know the instrument and who he is as a performer. It was an eye-opening experience."
Galactic Monarchs is scored for string orchestra, harp, and percussion, as well as shakuhachi. Because of the flute's origins as a meditation tool for Buddhist monks, "classical shakuhachi music doesn't have a sense of meter or pulse — which creates a unique sense of temporal experience."
"It was a bit like jumping off a cliff."
Wanting to honor that tradition and the corresponding sense of timing that Neptune has developed, Miura wrote the shakuhachi parts in a so-called spatial or proportional notation, which situates groups of tones within specific time intervals but leaves the actual rhythm of the melodic line to the player.
And the title? Miura once "watched footage of a few million butterflies taking flight simultaneously in a forest in Mexico. The piece is inspired by the sound they create."
He notes that if mathematician-meteorologist Edward Lorenz "was right in saying that the flap of a butterfly's wings in Brazil can set off a tornado in Texas, I thought the flaps of a few million butterflies might stir up the stars in the Milky Way."
View Comments