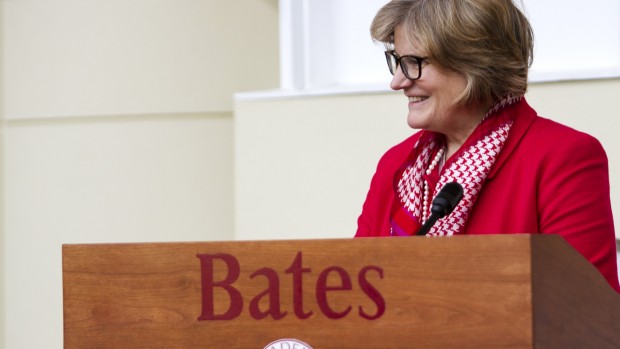 "We have ambitious goals for Bates, and I am inspired by this outpouring of support from the college community," said President Clayton Spencer.
Published on
Description

---

September 1, 2011
11:00 am

There's no ice at Underhill Arena yet, yet the flat expanse was in full use on Wednesday by the football…

May 26, 2011
2:58 pm

Through Commencement, we'll offer brief videos of Bates seniors reflecting on their Bates experience. Here, Emily Howe '11 of Carlisle,…

May 10, 2011
12:34 pm

Last October, Dave Cummings '89 landed on the front page of USA Today as a vivid example of how, as…

May 10, 2011
10:10 am

The Portland Press Herald and the Bangor Daily News, among other outlets, report that Maine's fastest finisher at the Boston…

April 29, 2011
11:48 am

This spring, new NCAA rules have literally taken the bat out of the hands of sluggers like Bates senior Noah…

April 27, 2011
8:16 am

Head coach for the successful Bates squash program, Patrick Cosquer '97, illuminates the powerful mind-and-body ethic that makes his men's…

April 5, 2011
10:45 am

Portland Press Herald sports columnist Steve Solloway writes about Bates' three new track and field All-Americans: David Pless '13, Ethan…

March 14, 2011
3:52 pm

In all of the proud history of throwers on the Bates College men's track and field program, the Bobcats have…

March 4, 2011
1:24 pm

In its preview of two major Nordic races in New England, The Boston Globe focuses on Justin Freeman '98, defending…

February 27, 2011
6:43 pm

The Bobcats' highest conference finish since they were sixth in 2003.