If you watch any of this year's World Series between the Philadelphia Phillies and the Houston Astros, at some point you may see a Phillies player take a deep breath. It might be a batter before stepping into the box, or a pitcher before his windup.
That deep breath is part of an important routine, and part of what Ceci Clark Craft '05 contributes to the Phillies organization as director of mental performance: "Helping players build a mental game."
And building a mental game begins with a player controlling and taking responsibility for what he can control, the "three feet around you," as she has said, and letting go of the rest.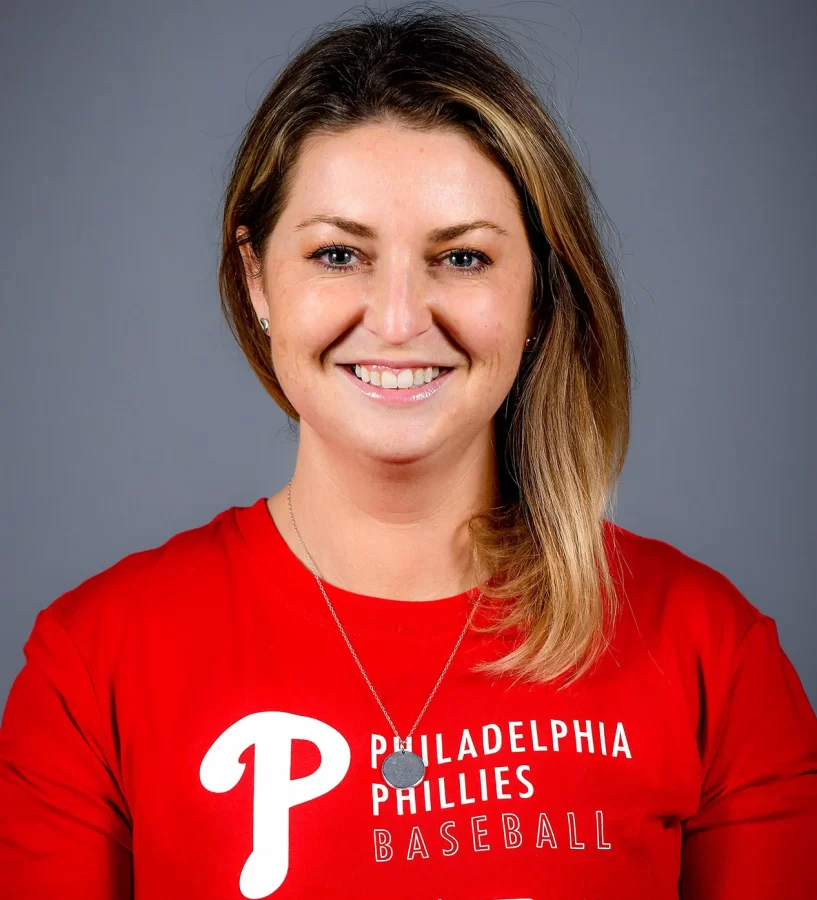 Craft's rise to Major League Baseball prominence mirrors, and in some ways has pioneered, the awareness by professional sports teams that helping players sustain peak mental performance through a grueling season, and keeping distractions at bay, is as important as coaching physical strength and athletic skills.
A misconception about the field of mental performance is that players only seek help when they have problems, like the yips. But with the Phillies and other teams, mental performance has become a key part of overall player development, from the organization's Dominican Academy up through the Major League team.
"That's the coolest part," says Craft, who leads a team of six coaches spread throughout the organization. "We recognize that mental performance, the same as physical strength, is something that you grow, you develop. We don't treat mental performance as counseling or therapy. We treat it like you're coaching any other skill set."
Craft, who joined the Phillies in 2021 as part of an expansion of their mental performance program, has been in Major League Baseball since 2014, when she was hired by the Cleveland Guardians as MLB's first female mental performance coach on the strength of an impressive resume: She had coached Army special forces soldiers in mental performance since 2008.
At the time, she knew very little about baseball. She referred to "overtime" in baseball instead of "extra innings" during her interview. "Cleveland was willing to bear with me," says Craft. "They took what I had to offer, taught me what I didn't know, and forgave me for the mistakes."
Clark has a master's from the University of Wales in applied sports science. She played soccer at Bates soccer and studied psychology, getting guidance from her Bates professors on careers in applied sports psychology when the field was just emerging.
Craft — who won't be traveling to the World Series because she just had a baby last week — spoke to Aaron Morse, host of the Bates Bobcast, this week about her Bates experiences and her path to a premiere job in Major League Baseball.
OK, first question. Why Bates?
My sister (Sascha Clark Danylchuk '00) and brother (Gabe Clark '02) both went to Bates. We grew up in Berkeley, Calif., which is very socially active, and during high school we all were very aware of the world around us and socially active. Bates gave us a chance to focus on our education and have just amazing professors, an amazing experience, and be in an amazing place.
As a soccer player at Bates, what were some memorable matches perhaps or some moments for you that stand out?
What stood out for me the most was the women that I got to play with — an absolutely phenomenal group of women.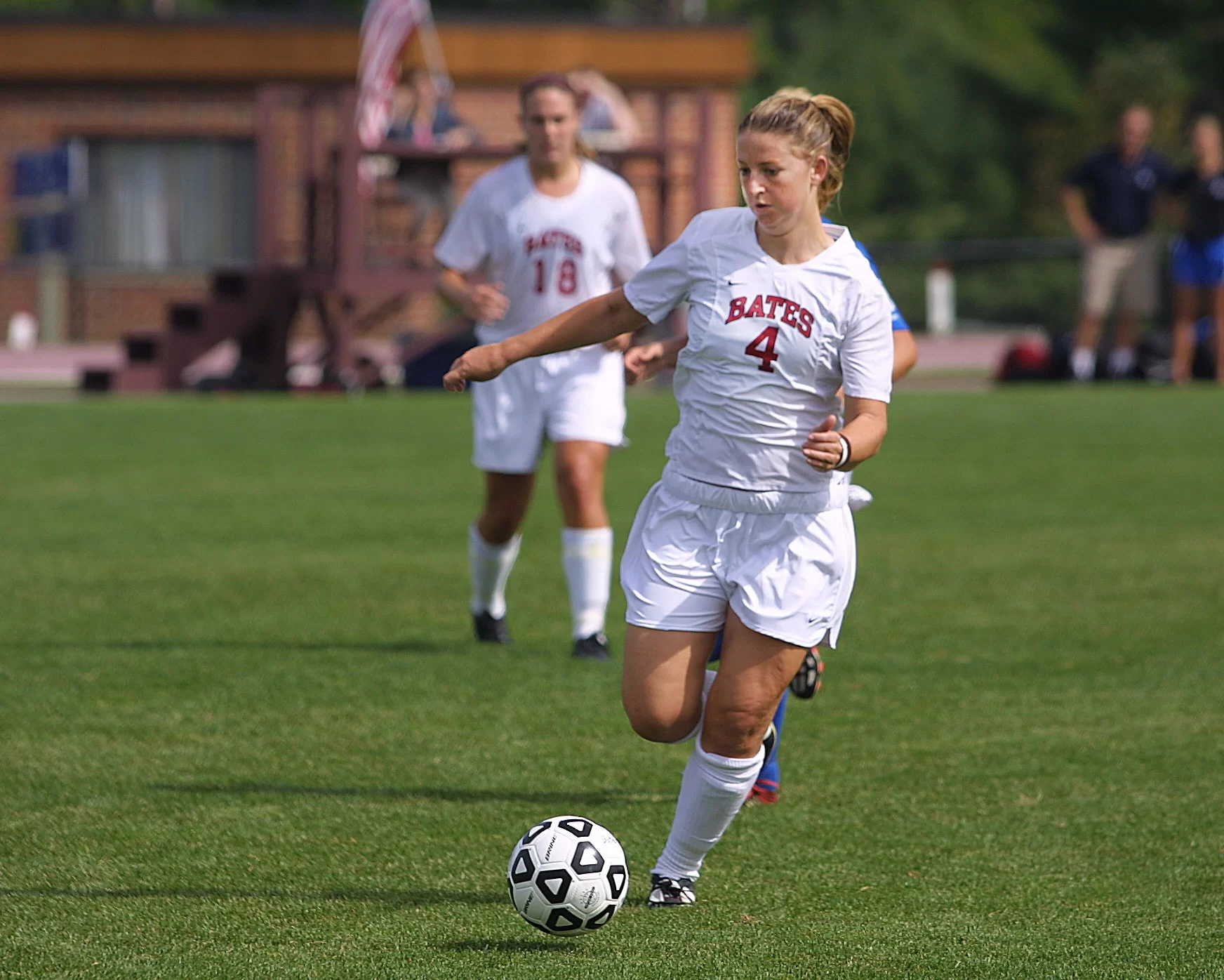 It was a time when NESCAC sports started to become more competitive, and we got into what it meant to train year round and contemplate that. It was an exciting time and just an amazing program to be part of — with Coach [Jim] Murphy ['69] and then amazing to hear about where it's gone since then.
What aspects of your Bates education do you still apply today?
Everything.
The professor who impacted my career the most is Su Langdon [visiting assistant professor of psychology]. I was so incredibly lucky to have her — she was my introduction to sports psychology. At the time, she was running some interesting research around task and ego orientation, and it was my first foray into mental performance in sports psychology.
Her support for my thesis was unparalleled. I looked at women playing female-genderized sports versus male-genderized sports and whether or not it impacted their self-efficacy, self-esteem, and body image.
Su was my advisor for that, and Georgia Nigro [now professor emerita of psychology] was my major adviser. Both of them were just an incredibly supportive team. The fall after I graduated, I presented at the annual conference of the Association of Applied Sports Psychology in Canada, and Su walked me through every step of it. And we keep in touch to this day. She changed the trajectory of my life.
What led you to grad school in Wales?
Sports psychology, when I graduated in 2005, really wasn't an applied field. There were professors who might have a small private practice on the side.
At the time, sports psychology and mental performance in the U.S. was into sportsmanship and life skills learned through sport, and I was into how to make people faster, stronger, and jump higher. I was a student athletic trainer at Bates. I had this belief that you couldn't separate the mental side of the game and the physical side of the game and that you should understand both.
After World War II, the British, Aussies, and New Zealanders invested in sports psychology and physiology in a way that maybe we didn't to support their Olympic athletes. So their programs were a little older than ours and very science- and research-based. So after looking at programs both domestic and internationally, I ended up at the University of Wales.
It was a science-based program, and thank God for the experience of a Bates thesis. It was an amazing experience, getting to study under people like Lew Hardy and Nichola Callow and Callum Arthur. For my thesis, I came back to the NESCAC to gather my research on coaching behavior and how it impacts teams' performance or teams' role acceptance and role satisfaction in sport.
It seemed like you were on a sports track and then all of a sudden you were working with the military.
There weren't a lot of full-time applied-sports psych positions in 2008, and certainly not in pro sports. And I wanted to do applied work. I saw a military posting, applied, and they called for a phone interview, and the phone interview turned into an in-person interview at West Point.
I just was blown away by the caliber of both the soldiers I interviewed with and the performance staff. Bernie Holliday was leading a lot of it at that point. He's now with the Pittsburgh Pirates and is just phenomenal.
I worked at Fort Bragg for around six years with the special forces community. I loved it, which, growing up in Berkeley, surprised me! I remember telling Nichola Callow that I was happy that the contract said I could quit tomorrow and they could fire me tomorrow because I wasn't sure what kind of fit it would be. She said she thought I'd fall in love with the people and that it wasn't going to be what I thought it was. And she was very right. I did fall in love with the people.
It's just an absolutely amazing community and the work taught me so much. I feel honored and blessed to have gotten to work around soldiers for so much time and they allowed me, I think, to go back into pro sports and be a much better practitioner.
How did the Cleveland opportunity arise coming from Fort Bragg?
Bernie Holliday told me that Cleveland was looking for somebody. In my interviews, Terry Francona, the manager still of Cleveland, was absolutely amazing. The front office was amazing. And I just got the opportunity to work with an elite club and an elite major league staff for six seasons there. I made a lot of mistakes but they stuck with me.
What was some of the learning curve for you? Because you were familiar with sports, obviously.
Major League Baseball has a lot of unwritten rules. In baseball they talk about having good "feel," which is a great nebulous term for something that you can't define! So if you don't have it, it's really hard for anyone to describe how to get it. And you can imagine if you didn't grow up in baseball or were not a baseball player, that's a wonderful thing to try to figure out.
Tito and the staff watched me make a lot of mistakes. When I interviewed, I talked about games going into overtime, which in soccer makes sense, but in baseball we don't have overtime, right?
The first major league player I ever worked with was a pitcher. Tito said to the player, "I don't care if she doesn't know what a double play is, that's not why we brought her here. She knows, excuse my language, her shit. She worked around guys that are tougher than you with special forces. So just teach her what she needs to know and bear with her."
And they all did; they were absolutely awesome. They took what I had to offer, taught me what I didn't know, forgave me for the mistakes. And sometimes I had to dig myself out of holes, but six seasons gives you some time to do that.
So this was a crash course in baseball?
Yeah. Probably my trend across my career is that I love people and I end up in contexts and locations where I probably have no business being.
I didn't ever serve in the military and I certainly didn't grow up around soldiers. You have to learn and you have to be curious. You throw yourself into it and you recognize that you're a novice and you find the people that are willing to answer your questions.
Tom Wiedenbauer was an amazing person in Cleveland. He was the field coordinator and is now part of the player development staff. I asked him probably a million and two stupid questions, and he sweetly answered all of them. But you throw yourself in and learn and you care deeply about the people and you stay curious. You learn pretty fast though when you go into a ball field every day, so I stopped saying "overtime" pretty quickly.
I read an article saying how you would be able to be in the dugout. How did that go?
Major League Baseball has a rule that you can have eight coaches in the dugout at any given time, and currently mental performance coaches are not allowed in the dugout. I got to sneak in last year, and everyone looked the other way.
But we women don't hide very well in a dugout. There aren't very many of us, so we got called out on it this year, although that's a rule we're looking to change. We're hoping Major League Baseball recognizes how important mental performance is and that these are players that across 162 games and 180 days, plus spring training plus postseason, endure a lot of stress, and we're hoping that mental performance coaches become a normal and accepted part of being in the dugout from here on out.
You don't have to name names, but is there a success story of a player you've worked with that you're particularly proud of?
We had a young pitcher this year who was arguably one of the more talented pitchers for the Phillies throughout player development. Coming in, he kind of had a mentality that things happened to him. He wouldn't have a good outing and he would talk about what external things were not going right, and what around him didn't work.
And we talked a lot about how important it was that he owned his space and that he owned his mentality. And as you watched him begin to own that space, it was amazing to see how different it became on the mound for him. Because if you don't own what you're doing every day — if it's always somebody else's fault or if it's the context or if it's the environment or if it's something outside of you — then you have no ability to make it better.
When you do have the ability to make things better, when you own part of that space, it's both scary from an accountability level but it's also absolutely amazing in terms of what you then get to, as an athlete, own and grasp onto. Watching his maturation and what he was able to contribute across this season was pretty special.
You watch players grow up and you watch them build a mental game and have routines. When you see a guy take a breath or look at his bat or go through the same pre-pitch routine in the box or as a pitcher, those are all mental. Those are all routines these guys have built for themselves.
Much like the strength and conditioning coach, the work shows up in cool everyday ways. It just becomes a normal part of what all our players do to get better.
You have a full team of mental performance coaches. What's that like, being in that leadership role and directing the program.
Absolutely amazing. From our Dominican Academy all the way up through the Major League team, we have five other coaches beyond me.
One of the things that Philly has let me do and supported fully is to recognize mental performance in the same way as strength and conditioning or hitting: It is something that you grow, you develop.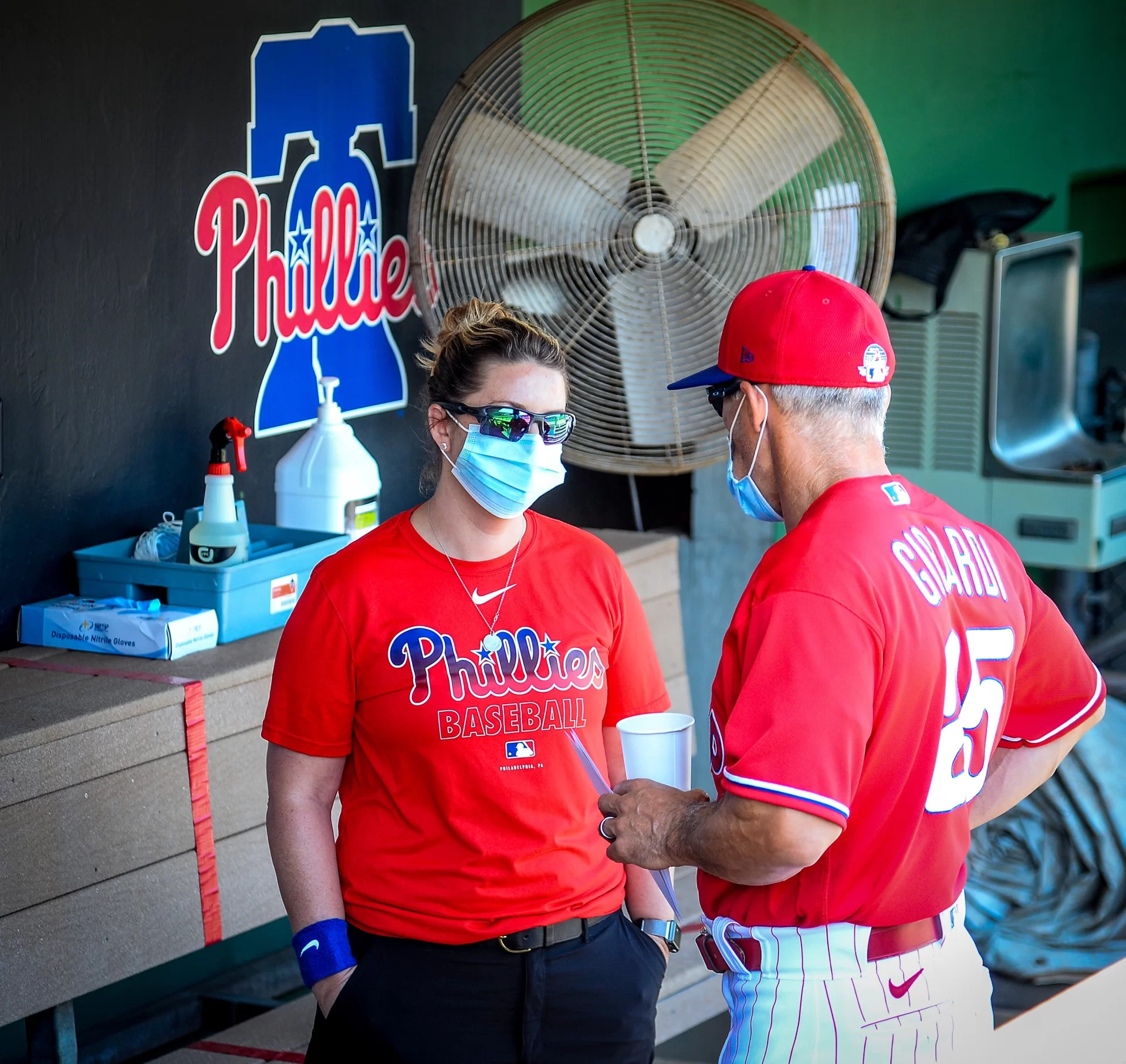 You talk about a growth mindset. If you believe that someone's mental game develops the same way anything else does, you have to give people a chance to coach it. People think mental performance is counseling or therapy. We don't treat it that way with Philadelphia. We treat it like a coaching staff, like you're coaching any other skill set and that our players are gaining skill sets for mental performance.
What's it like to be part of a second organization, after Cleveland that's now in the Fall Classic? Some people build their whole careers in baseball and never make a World Series.
I feel very lucky. I tell people when sports programs are interested in hiring them, particularly in mental performance, that you need to interview the program back, because you can be set up for success in pro sports or you can be set up for failure, and some cultures are better than others.
The Phillies culture is changing rapidly and changing in an amazing direction. And they're paying attention to people. They're paying attention to culture. They're paying attention to standards. And it's showing up on the field. I think you can see that with the way the guys are playing and how much fun they're having with all of this.
When you build strong cultures, and I think Bates knows this, you see people do things that they otherwise wouldn't be capable of.
I think it especially shows up in post-season baseball. I think a lot of intangibles, a lot of things that can't be quantified, come into play in postseason. And so it surprises people.
But I'm not surprised with our guys. I like to ask before the season for people to tell me the story of the season before it even begins and to see kind of what they imagine. And I think we knew that team chemistry was going to be a big part of what made the team play this year.
What happens behind the scenes really does impact how players perform, really does show up on the field. And it's not always quantified in WAR (Wins Above Replacement, a metrics-driven measure of a player's value). I wish there was a WAR for intangibles because I think it would change how people looked at player acquisitions and how people created team dynamics.
Any other thoughts you wanted to share about maybe your time at Bates and how it's connected to now here in 2022 and the Philadelphia Phillies, that path for you that we haven't gotten to talk about?
No matter what it is you think you want to do when you are "older," what you do throughout your life comes into play in ways that you never imagined.
The quality of the statistics program at Bates has come into play in my career.
My semester abroad in Cuba, and the fact that I speak Spanish, has come into play in my career. I never thought it would, but I used it to communicate with our Spanish-speaking players.
My Bates thesis, and the fact that that helped me go to grad school where I did, has come into play in my career.
So Bates has so many things that it offers, and I think it even took me a while to fully take advantage of that or to look around my senior year even and realize that nobody else was going to offer me all these things once you had paid tuition!
My advice? Do it all, do as much of it as possible, and take advantage of it. I've used so many facets of my Bates education in ways that I never would've imagined.
So Bates just was an amazing foundation to start from, and I'm so thankful and it continues to serve me to this day.