The Chronicle of Higher Education's 2022–23 Almanac issue is, as is typical of the annual publication, jammed with data about all things academic, from college and university finances to information about student enrollment, characteristics and diversity, financial aid and outcomes. Down to a state-by-state level, it's a meticulous snapshot of higher education today.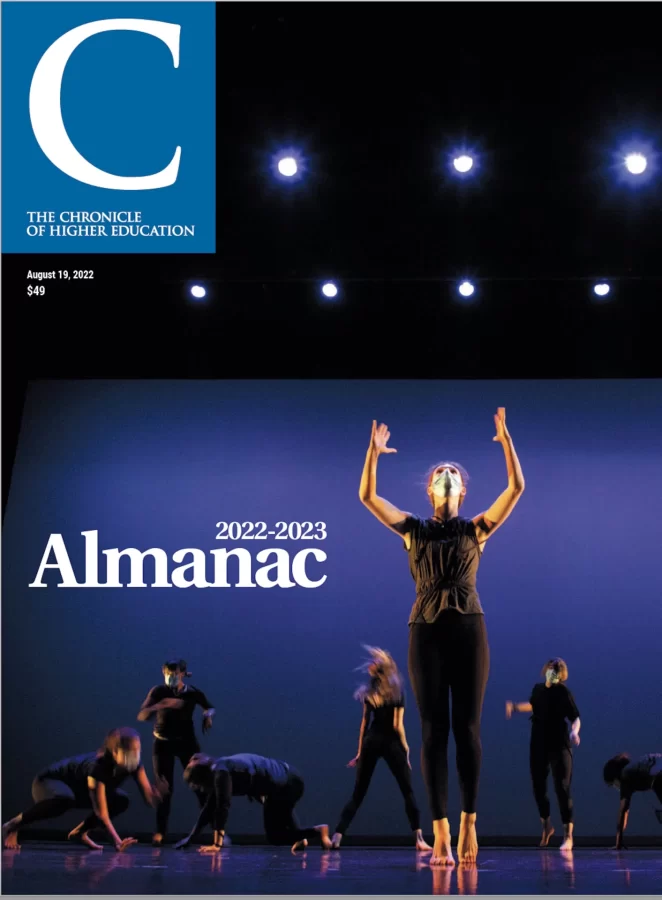 Beyond the numbers, Bates is well represented in this year's Almanac, which exclusively features photos from campus by members of the Bates Communications photography team, from the striking cover image by Multimedia Producer Theophil Syslo to a half-dozen images by Phyllis Graber Jensen, director of photography and video, as well as a dynamic piece of sports photography made by a member of the BCO student visual team, Matthew Hamilton '25 of Sudbury, Mass.
These scenes of life at Bates were chosen by Erica Lusk, senior photo and media editor for both The Chronicle of Higher Education and The Chronicle of Philanthropy. Some months ago, Lusk asked Graber Jensen if Bates would be willing to lend its work to illustrate the issue, to evoke the hybrid nature of higher ed in 2021–22, with the pandemic still weighing heavily on our minds —notwithstanding a highly vaccinated population — and changing the way we learned, taught, played, and danced. The Chronicle had used photography from a single institution last year, and she'd wanted to do so again.
Already familiar with Graber Jensen's work, and drawn to the deep storytelling of the college's photography-focused Exposure presence, Lusk asked if Bates would be interested in filling the same role. "I've been a fan of Phyllis and her work for years and was happy to have an opportunity to finally collaborate," Lusk says.
"We were honored to be asked," Graber Jensen says, adding that she had admired the way last year's issue featured imagery from photojournalist Charles Ledford at the University of Illinois at Urbana-Champaign.
But how does a photo editor like Lusk choose just a handful of images from the thousands of photographs that BCO photographers create each year? And how does she meet the added responsibility of summing up, in few photographs, a complex year at a small liberal arts college in Maine during year two of a pandemic, while also conjuring up relatable images that speak to a more generic sense of higher education itself?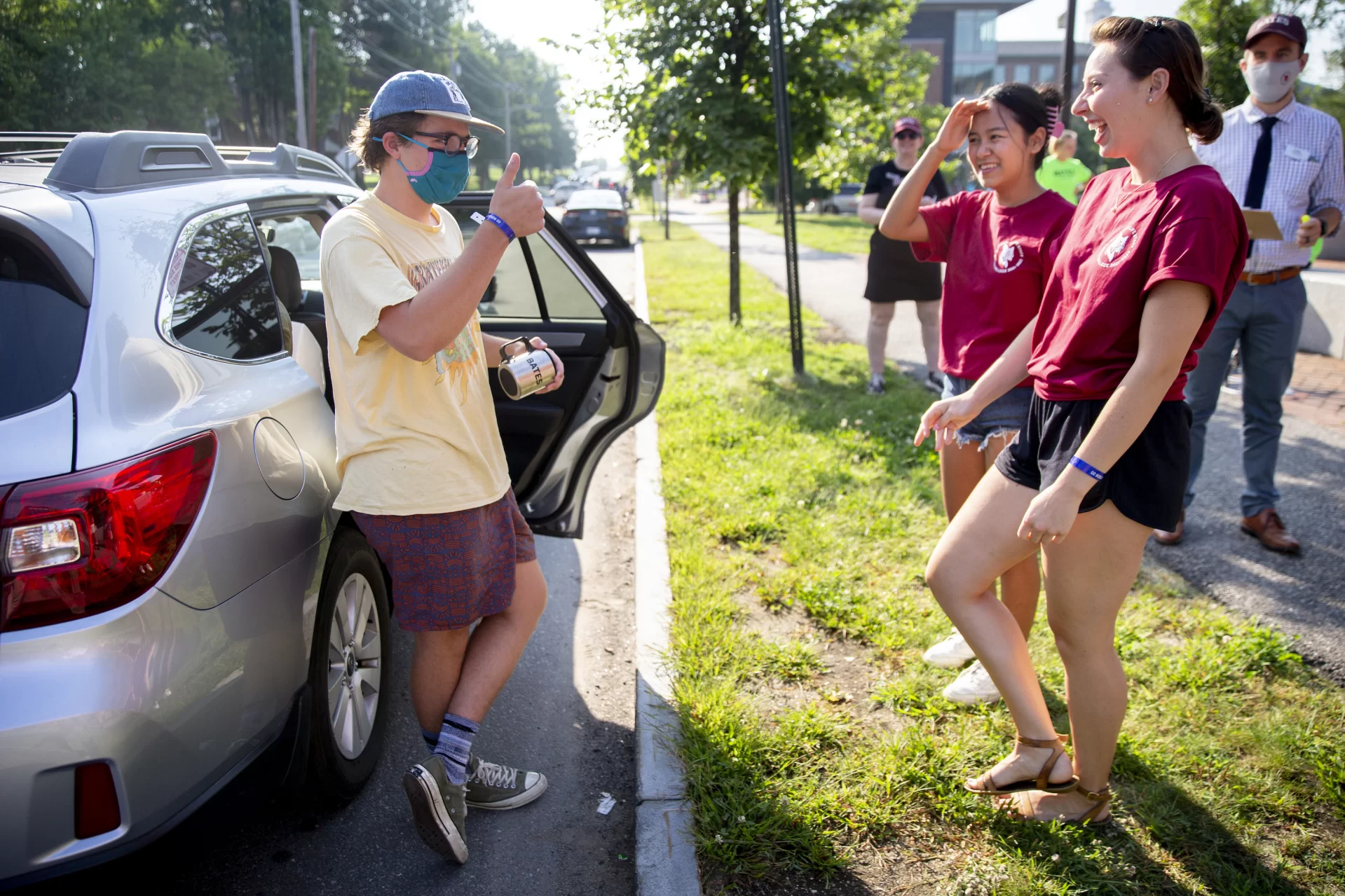 To get the project started, Graber Jensen shared links to photo-driven stories and features in Bates News, including examples of This Month at Bates, a monthly exploration of campus; a photo essay capturing the dynamic between a student cellist and his collaborative pianist; portraits by Syslo of students in their outfits for the annual Trashion Show; and images accompanying an in-depth story about senior studio art majors preparing for their Senior Thesis Exhibition.
"The images that we routinely share with our own audience document historical moments, the individuals who study and work here, and the seasonal geography of our beautiful campus," said Graber Jensen.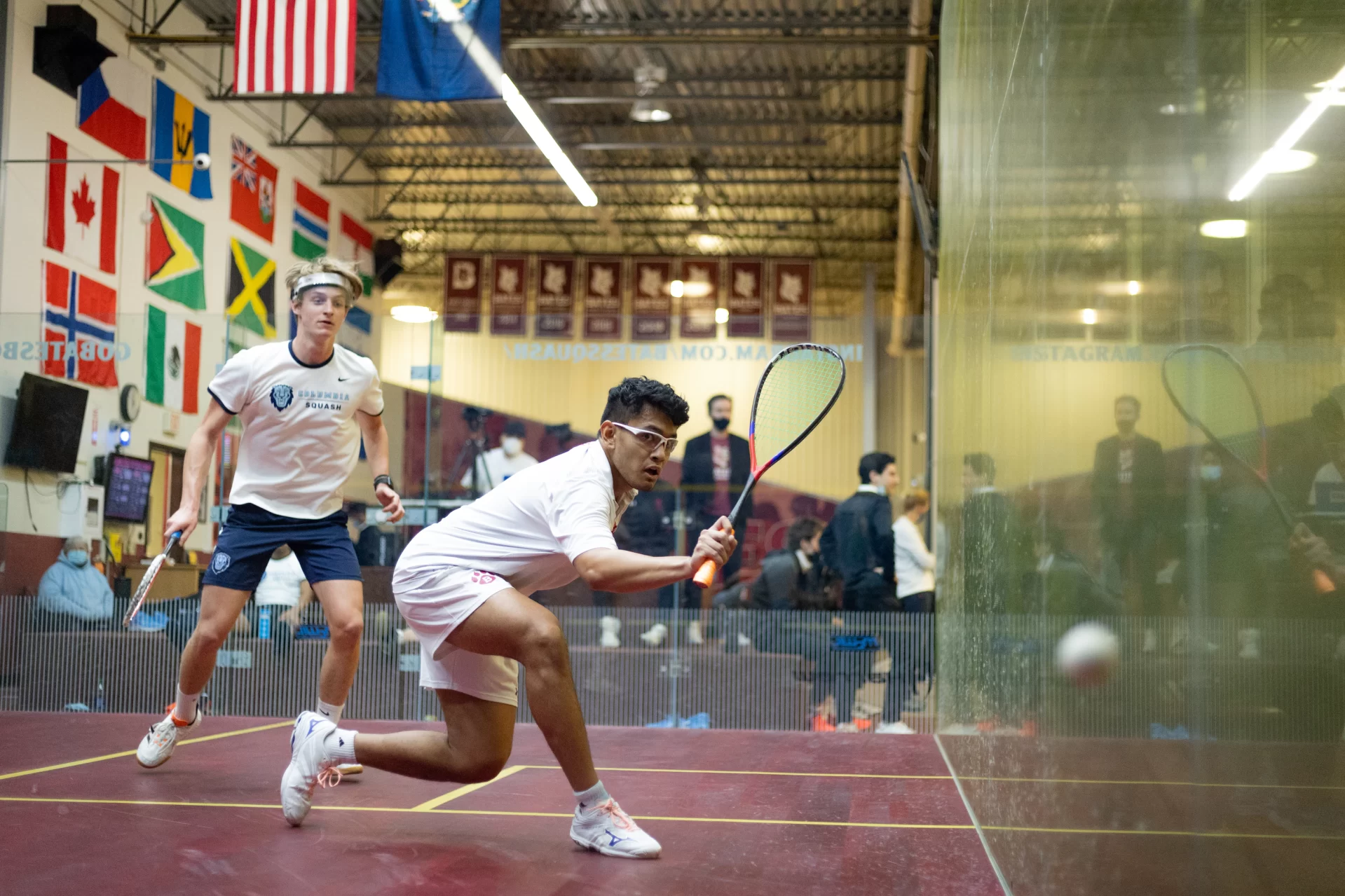 Lusk took over from there, winnowing until she had what she needed — nine images in all — including the cover, a photograph by Syslo of a masked dancer reaching skyward in a purple-lit Schaeffer Theatre, an image reflecting the hybrid year most institutions had found themselves grappling with: mostly in person but masked whenever COVID numbers spiked.
Lusk also asked Syslo and Graber Jensen to explain what 2021–22 was like for them as Bates photographers.
"We thought it would be, at a minimum, a better year than the last, and maybe even a very good one, for both us and all our communities," the photo team wrote. It turned out to be something in between: "The Year of the Hybrid, with a side of Variants."
The prior year's severe restrictions were mostly gone, "but we were still…vigilant and wary — mask on, mask off, with an occasional call from a contact tracer."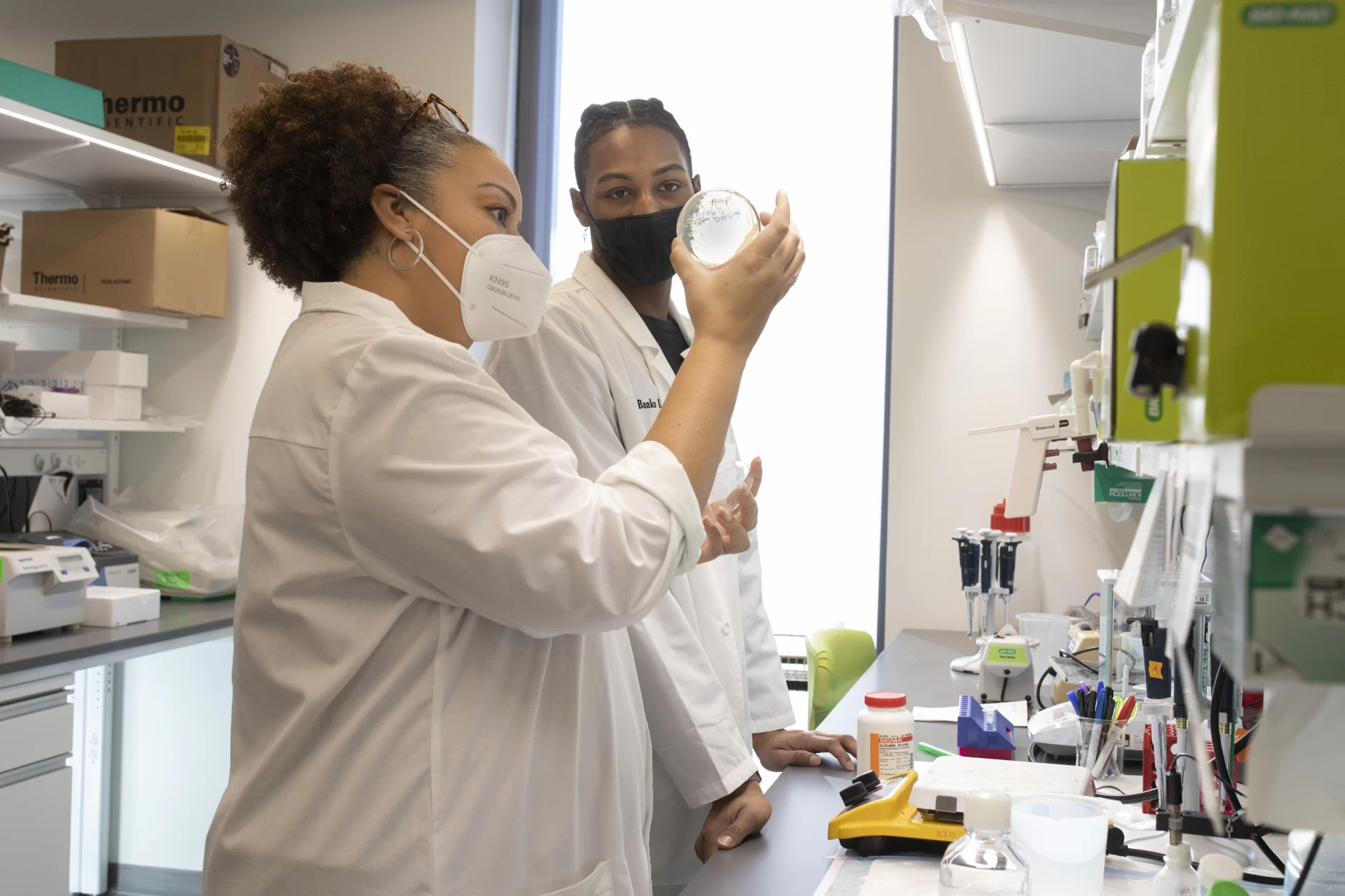 It was a challenge to be creative, they wrote, "but every day, we saw Bates students, faculty, and staff working to connect and reconnect, to restore the ways of community life. Joined by our student contributors, we sought to capture that commitment to community."
"We are in a new normal," writes Chronicle data coordinator Julia Piper in the editor's note that opens the issue, adjacent to an image Graber Jensen took of Bridget Fullerton, lecturer in humanities and acting director of writing, crossing the porch of Coram Library on a January day with her dog, Ruby, an 8-month-old Chinook.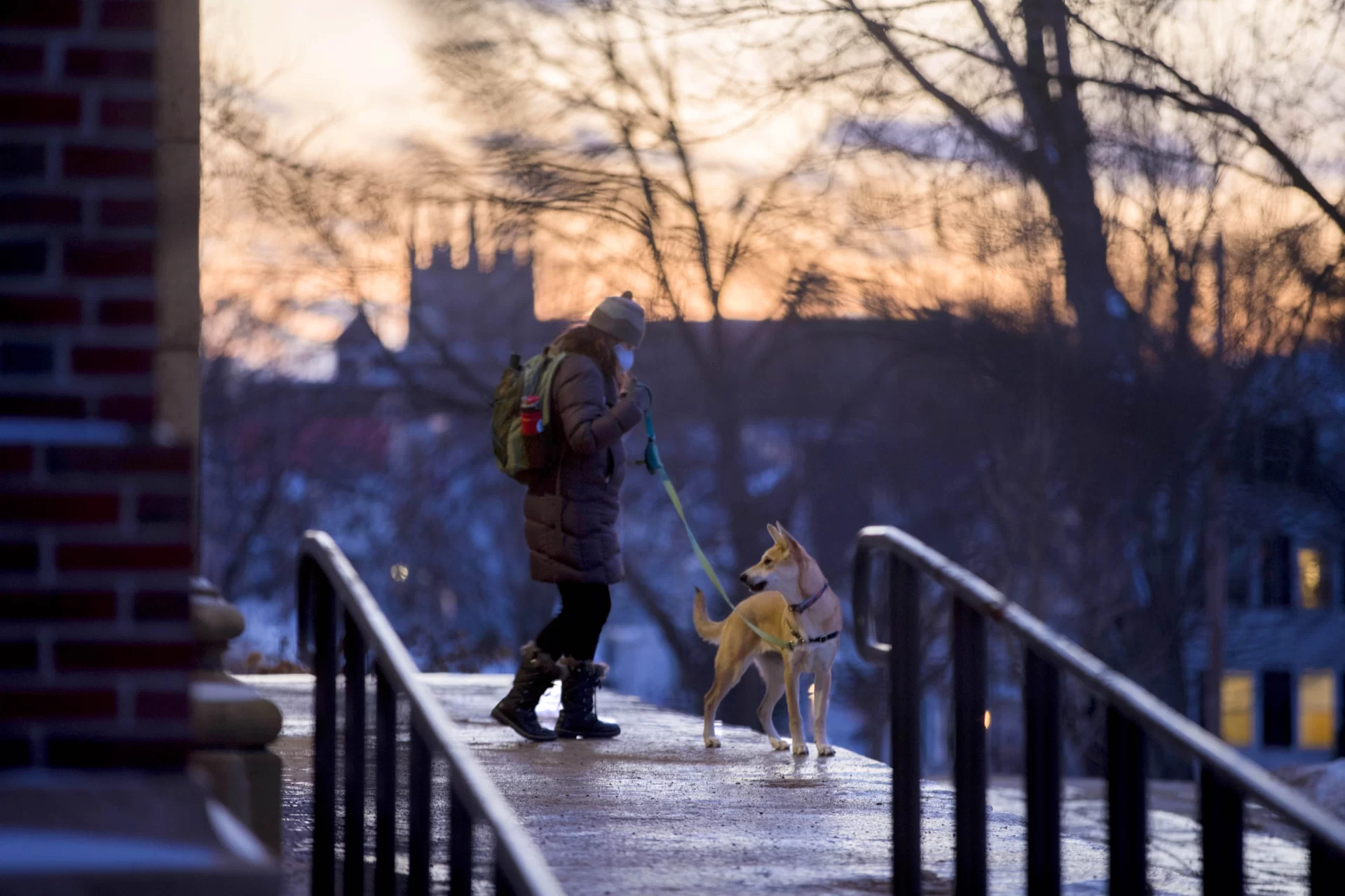 The image, shot at the magic hour of what is obviously an icy day, echoes the uncertainty evoked by Piper's description of "the tidal wave of the pandemic" continuing to impact higher education.
The Almanac, Piper writes, aims to provide "an overview of where colleges and universities, faculty and staff members, and students are as we head into the new academic year." And so it does. The numbers are all there, and this time around, Bates provided the faces that connect them to real life on campus.
For the section on student outcomes, the Chronicle chose an image Graber Jensen made of President Clayton Spencer on April 8 as she welcomed the Bates community to Pettengill Hall's Perry Atrium for the Mount David Summit, the first face-to-face (albeit masked) edition of student academic showcase since 2019.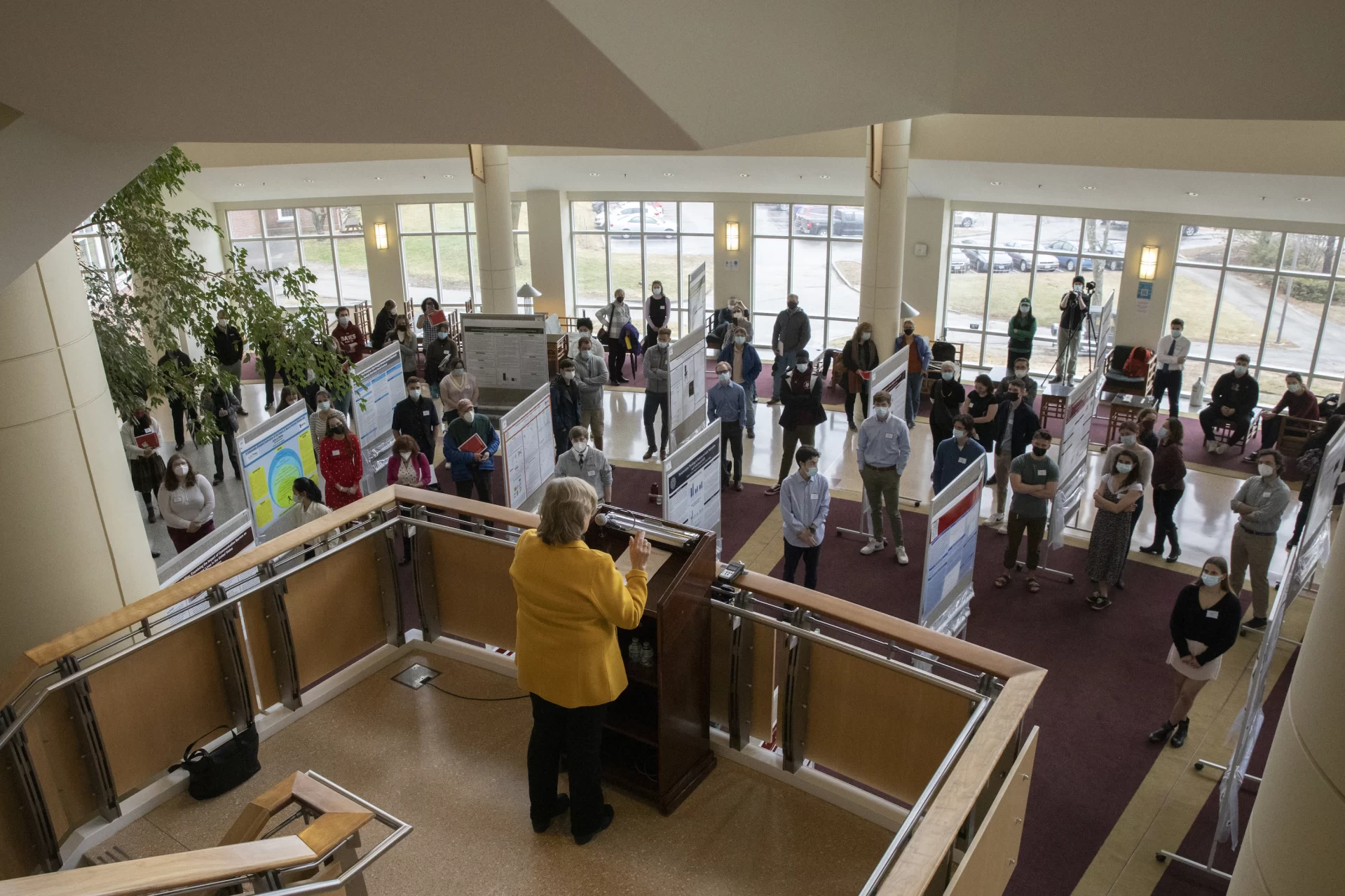 Another image of Graber Jensen's led the Administration section. It shows first-year student Miles Hagedorn of Yarmouth, Maine, helping senior history major Liv Silva of North Billerica, Mass., bind her thesis (titled "Excluded from the Gold Mountain: Anti-Chinese Misogyny and Racialized Immigration Restriction") in Ladd Library, each of them giving it a kiss to make it official. The two became friends while working together in the Bates theater production of 35mm.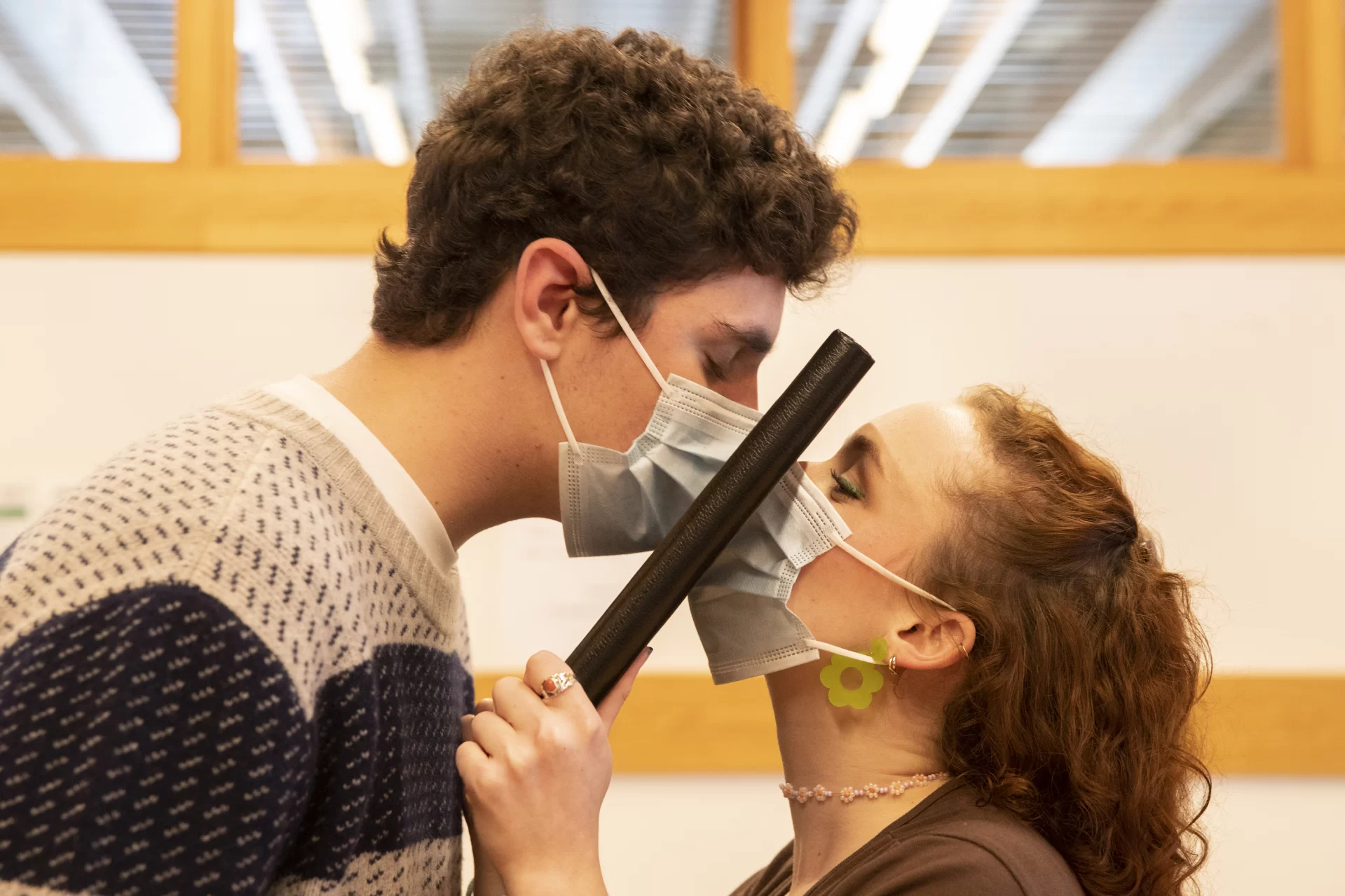 The section of the Almanac that covers institutional finances is led by an image Graber Jensen shot in May of the effort to get ready for Commencement.
It shows Jeremy Lavertu, horticultural lead for Grounds and Maintenance, planting spring flowers around the Class of 1932 Sundial with an assist from Charlotte Collins '22 of Woolwich, Maine, one of the student workers on the Facility Services grounds crew during Short Term.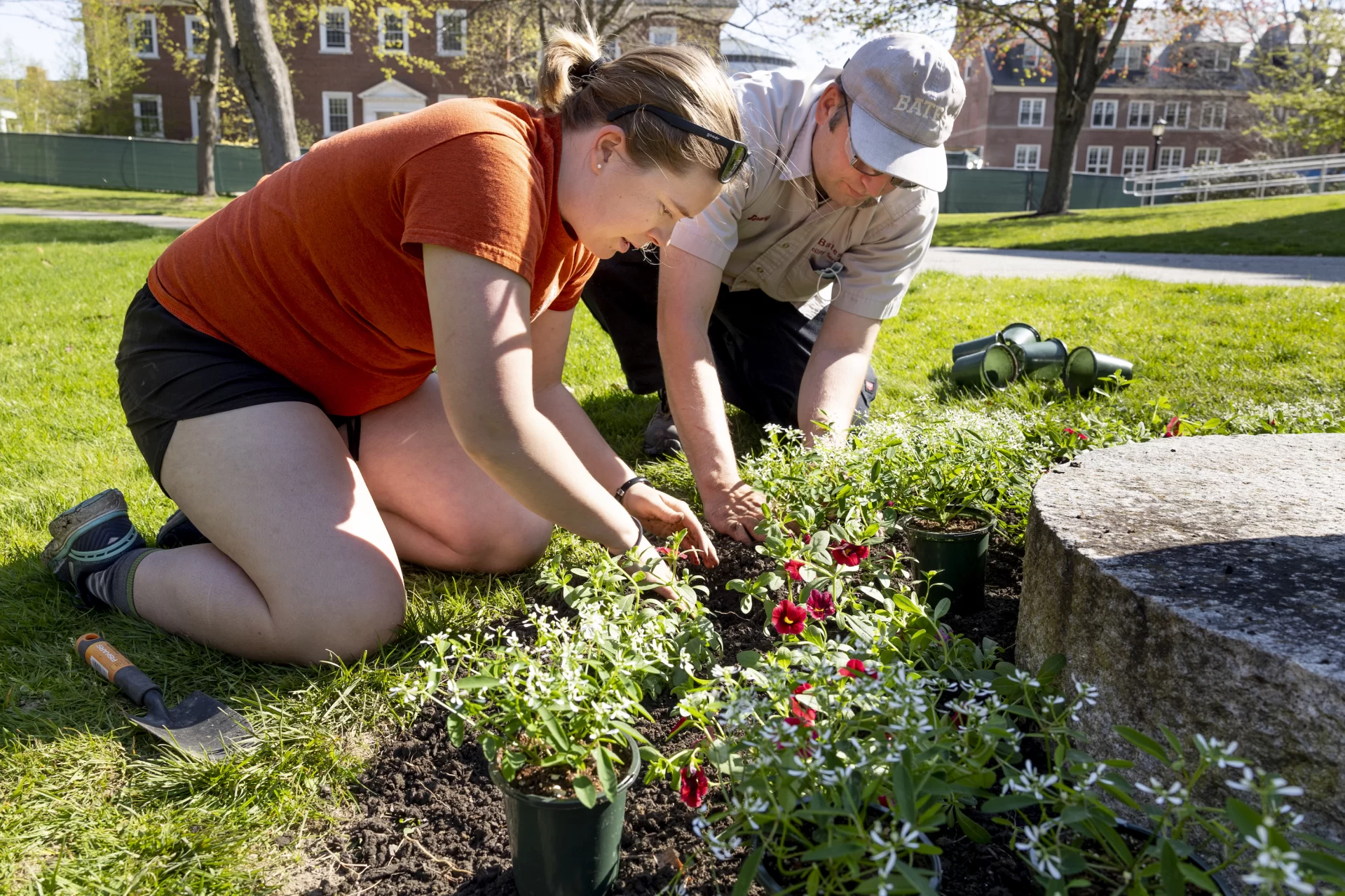 The final image the Chronicle selected is another of Graber Jensen's, featuring Sukanya Shukla '20 and her classmates tossing their mortarboards to the sky at the close of the long-postponed, in-person graduation celebration for members of the Class of 2020.
Two years ago, on their official Commencement Day in 2020, the pandemic meant the ceremony had to be entirely virtual. But on June 4, 2022, Bates delivered on its promise to bring the class back.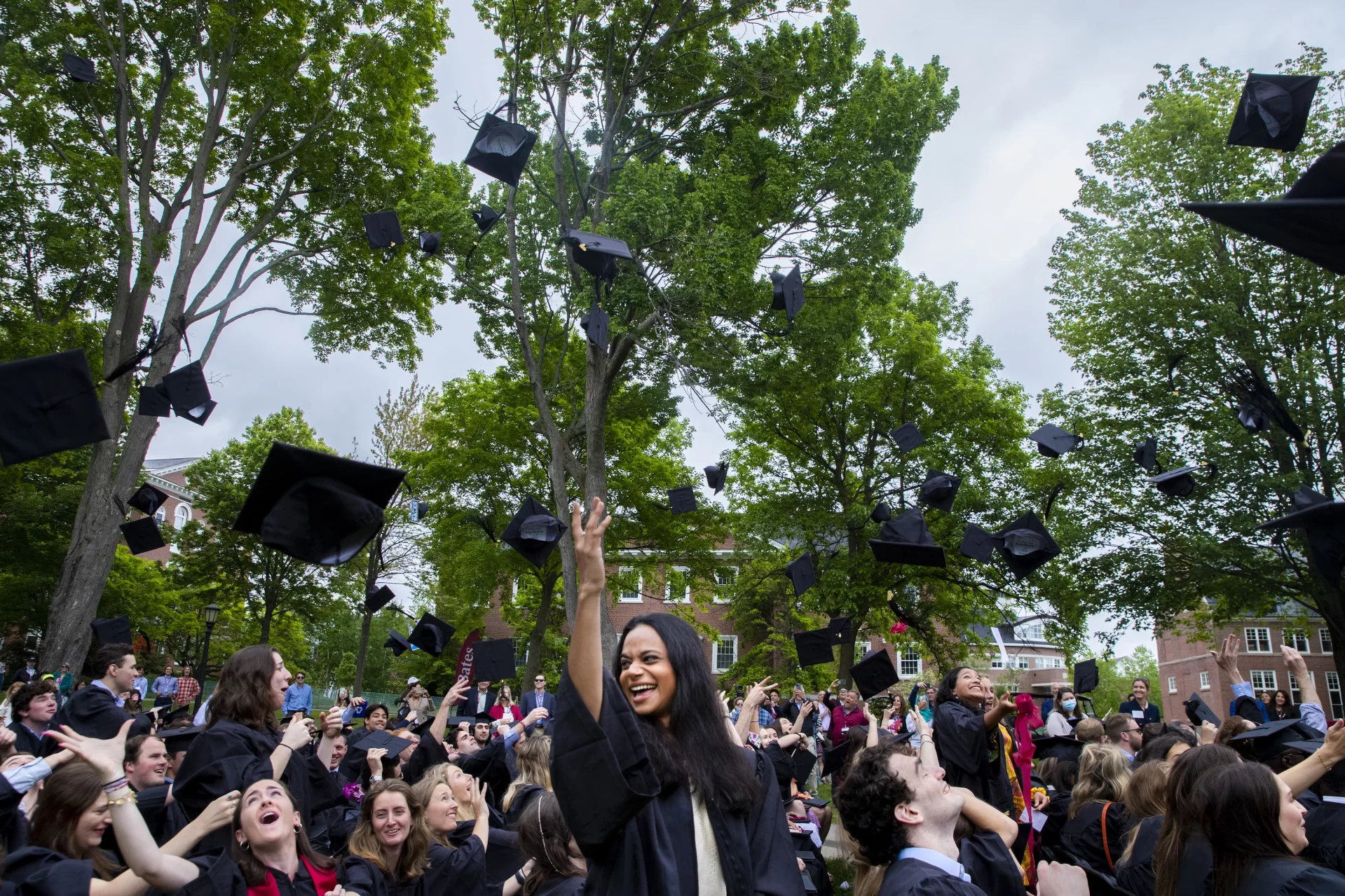 That event, and the Class of 2022's Commencement the week before, marked another step toward a return to normalcy, "all of us together, smiles visible as masks were shed," wrote Syslo and Graber Jensen. "Sharing their joy was good for the soul, a reminder that things can get better.
"As visual historians, dedicated to documenting Bates with passion and integrity, we wouldn't have missed any of it — ups, downs, and in-betweens — for the world."
View Comments