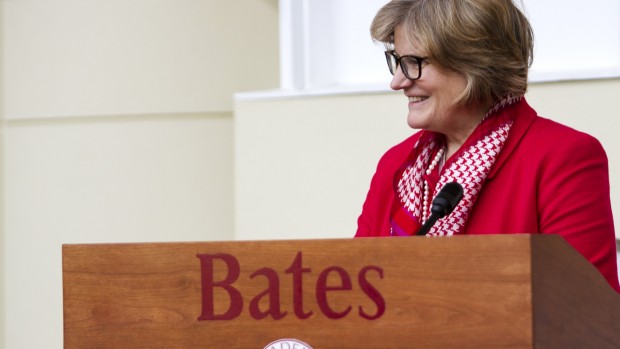 "We have ambitious goals for Bates, and I am inspired by this outpouring of support from the college community," said President Clayton Spencer.
Published on
Description

---

April 26, 2013
11:01 am

Maine Campus Compact will honor two members of the Bates community for their commitment to public involvement.

February 21, 2013
9:29 am

Two Bates sophomores are among finalists in a letter-writing competition designed to teach college students effective advocacy.

January 16, 2013
2:58 pm

The anniversary program featured Heather Lindkvist, special assistant to the president, and community organizer Sarah Davis '10.

November 12, 2012
6:49 am

Marshall Ganz, a public policy expert at Harvard, delivers the annual Andrews Lecture on Nov. 14.

October 31, 2012
4:29 pm

Bates is one of two higher-education institutions nationwide to be honored by the American Psychological Association for a distinctive culture of service to the field of psychology.

October 15, 2012
4:45 pm

On Oct. 20, the Olin Arts Center hosts the daylong event Villages, produced by Maine's independent organizer of TED-style presentations, TEDxDirigo

October 2, 2012
10:07 am

Laura Fortman, Maine's former commissioner of labor, gives the lecture "Frances Perkins: New Deal Legacy and Lessons for Today" on Oct. 10.

September 26, 2012
4:28 pm

Bates presents a panel discussion exploring the history and future of the Clean Water Act on Oct. 1.

September 26, 2012
4:16 pm

Bates College alumni with careers in social activism offer a panel discussion titled "The Path From Activism to Leadership" Sept. 29.

September 10, 2012
4:00 pm

Bates marks the 40th anniversary of the federal Clean Water Act with a Sept. 20 talk by an influential environmental historian.