The 98-year-old man leaned forward in his wheelchair and slowly poured a glass of champagne onto the hull of the newest Bates rowing shell. In a soft but steady voice, he said, "I christen thee Ralph Sylvester."
With that, a big cheer erupted from the crowd gathered in Pettengill Hall's Perry Atrium on April 29 — the loudest coming from members of the Bates rowing teams.
That's because it was a hope come true for the Bates rowing program: to name a Bates boat in honor of the man who sat before them, Ralph Sylvester '50 — nonagenarian, World War II combat veteran, and beloved member of the Bates and Lewiston-Auburn communities.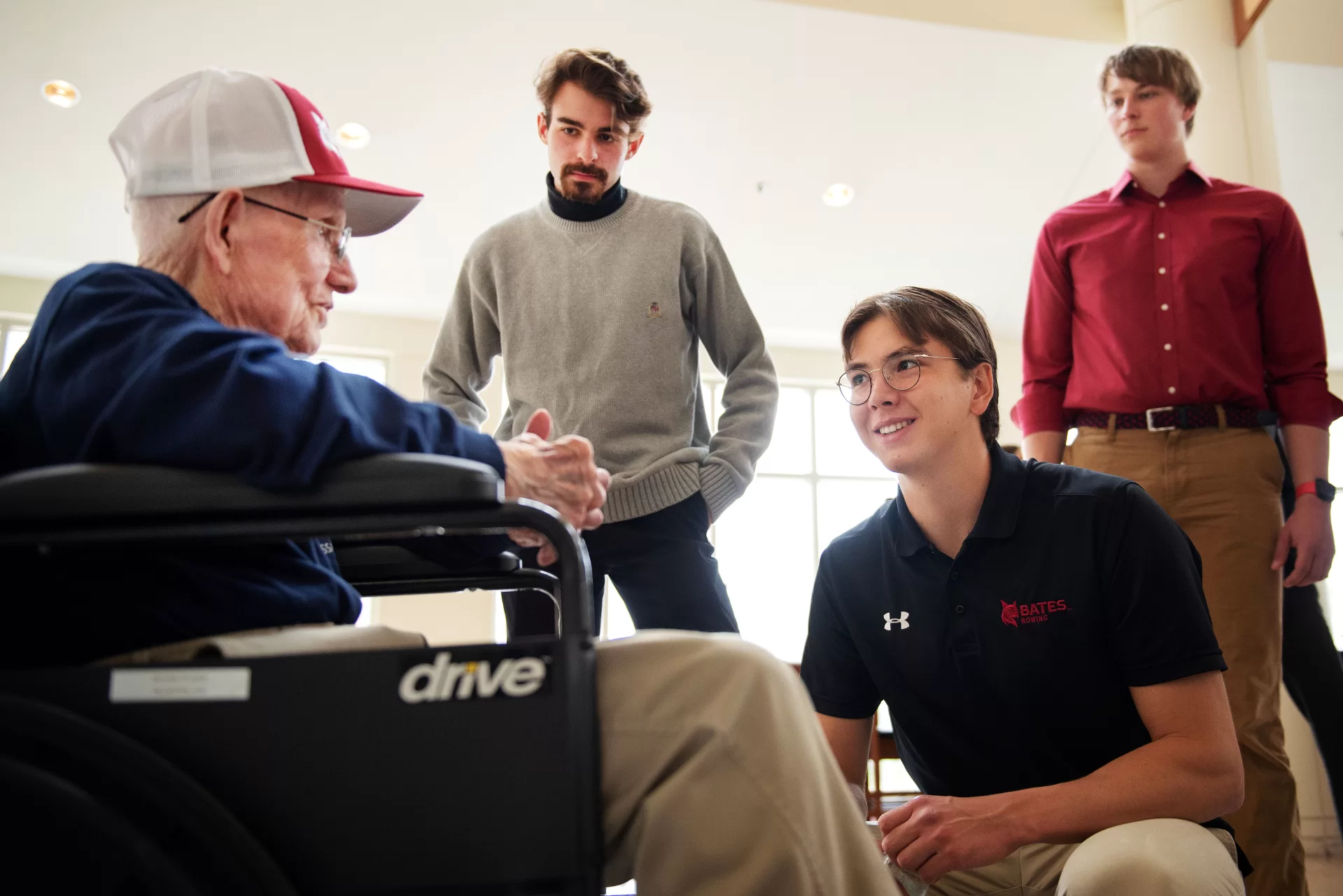 "He embodies what Bates rowing is about," said Aidan Braithwaite '23 of Milton, Mass., who learned about Sylvester from Peter Steenstra, the men's and women's teams' head coach. "The consistency and hard work shown by his military service and being a part of the community that you're in. It's a quality I think he and others have that we should strive toward."
Sylvester was born in Lewiston in 1924 and has lived in Auburn for most of his life. He was a "newsie" for the local paper, graduating from Edward Little High School and attending Bates for a year before being called to serve in World War II.
With the 295th Combat Engineers, he landed on Omaha Beach five days after D-Day, when the beach was still covered with the bodies of dead American soldiers, and later fought in the Battle of the Bulge.
After the war, he returned home to Auburn, attended Bates, then went to work in local banks and in telecommunications and married a local gal, Elaine Miller, in 1949. After retiring, he and Elaine started a morning routine, coming to campus for breakfast at the Den. (Everyone remembers how Elaine always made sure that Ralph had his napkin in the right spot.)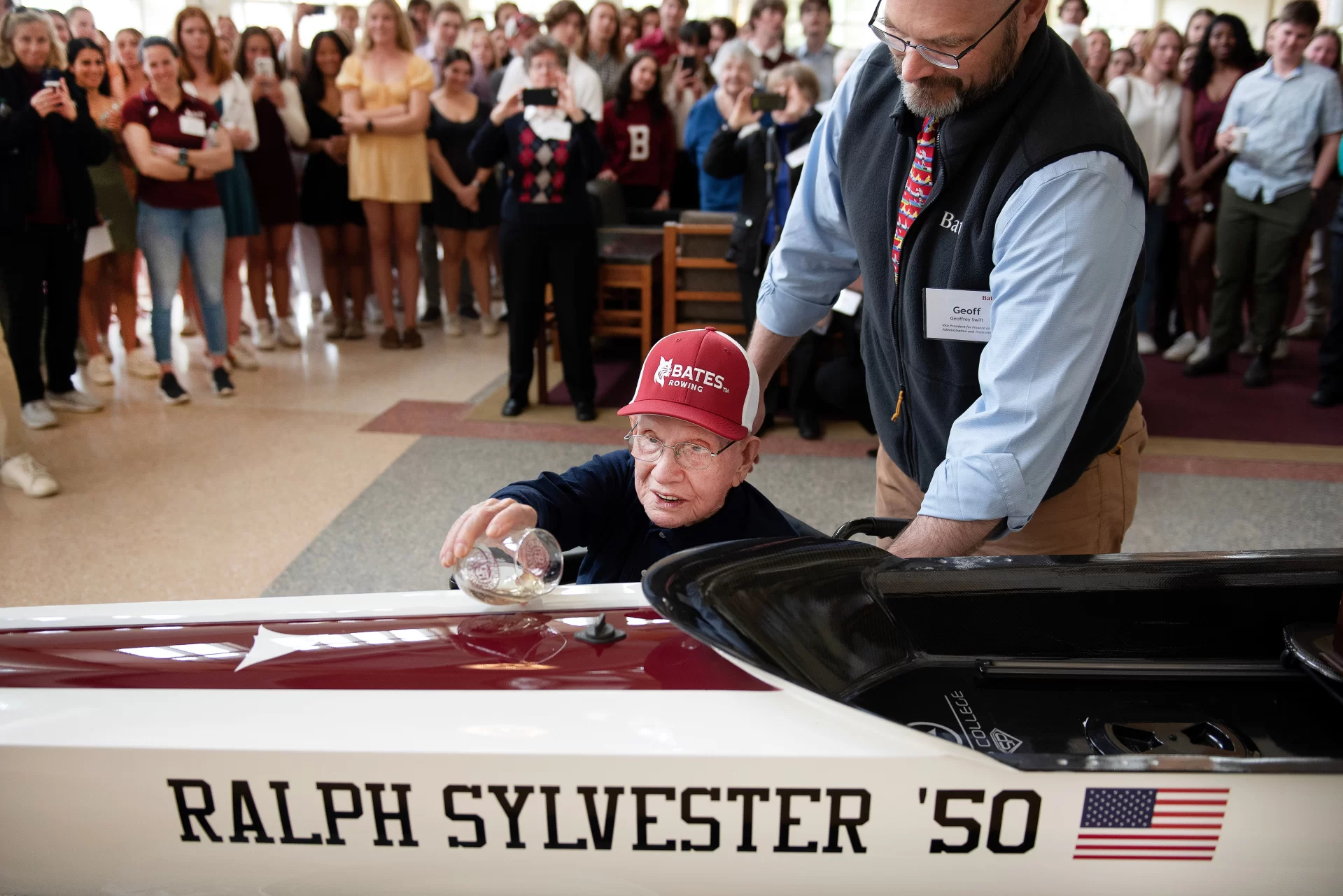 And that's where they met Steenstra, who would head to the Den for breakfast after his team's early morning rowing practice on the Androscoggin River.
"I'm having scrambled eggs and toast, and I got to talking to him," said Steenstra, turning toward Sylvester during the dedication event. "Probably to you it seemed like just kind of chatting away over some breakfast, but to me it meant quite a bit. Being able to chat with someone who had such a vast experience in the world helped me keep things in perspective."
In recent years, Sylvester has slowed down a bit, understandably. Following the 2019 death of Elaine after 70 years of marriage, the staff at Dining Services has helped Sylvester keep his Bates morning ritual going.
Rather than the Den, with all its stairs, Sylvester was invited to take breakfast, and sometimes lunch, in Commons. More recently, during COVID, the staff delivered a hot meal to Sylvester each day at home on Josslyn Street. (Sylvester has recently moved to the Veterans Home in South Paris.)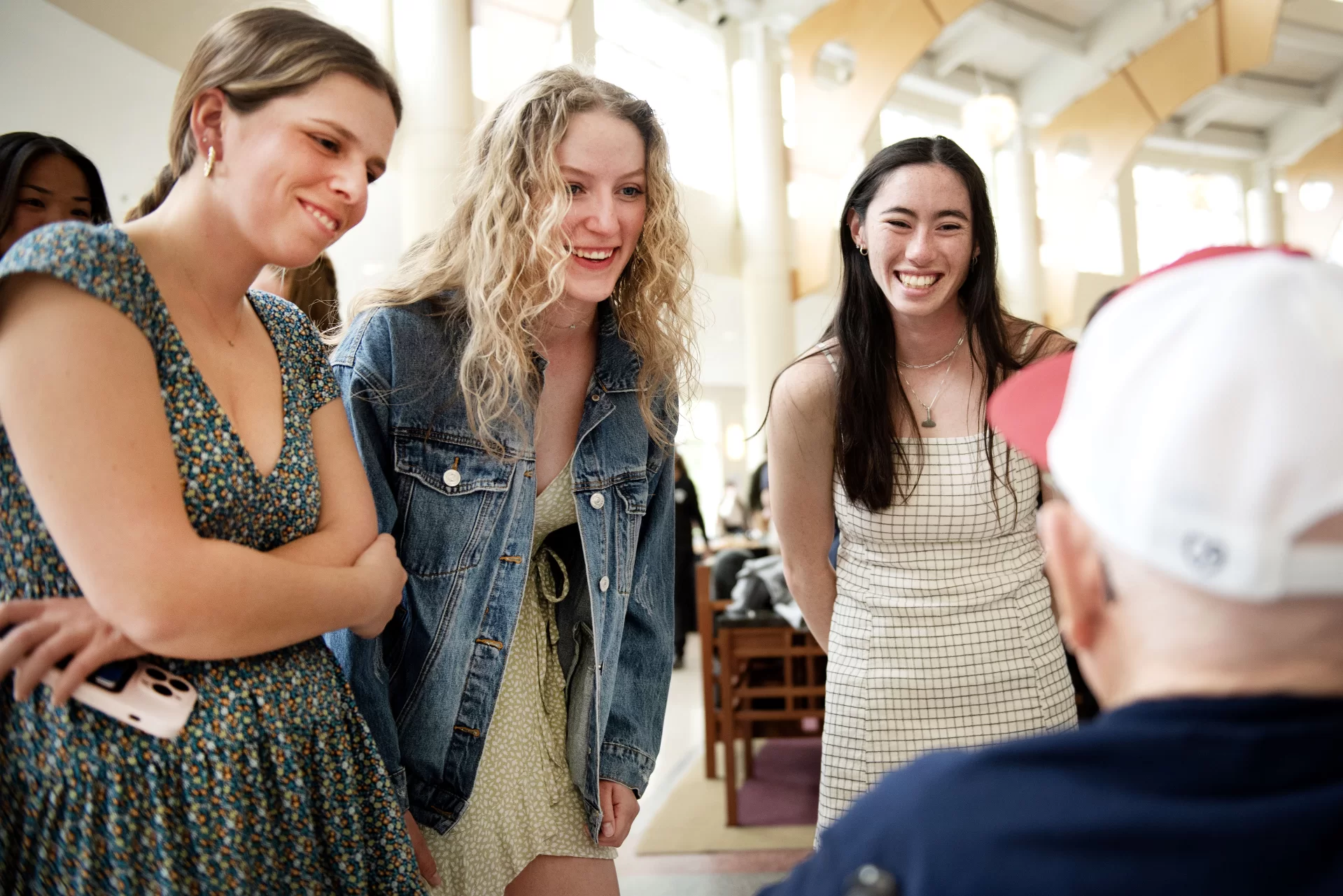 In Commons, everyone knew Ralph's table, up front near the desk station for Dining Services staff. There, staff brought him his breakfast: Eggs (omelet, over easy, or scrambled, they're all good); a bowl of oatmeal with brown sugar, milk, and raisins; and a cup of coffee, with a little cream.
And that's where students, including hungry rowers returning after their morning workouts, got to know Sylvester. He recalls with a chuckle how "they'd come in and shout, 'Hi Ralph, How you doing?' The guys on the football team were the loudest." The students would come and go from Ralph's table, an endlessly rotating conversation from morning onward, and Sylvester had no shortage of stories to tell.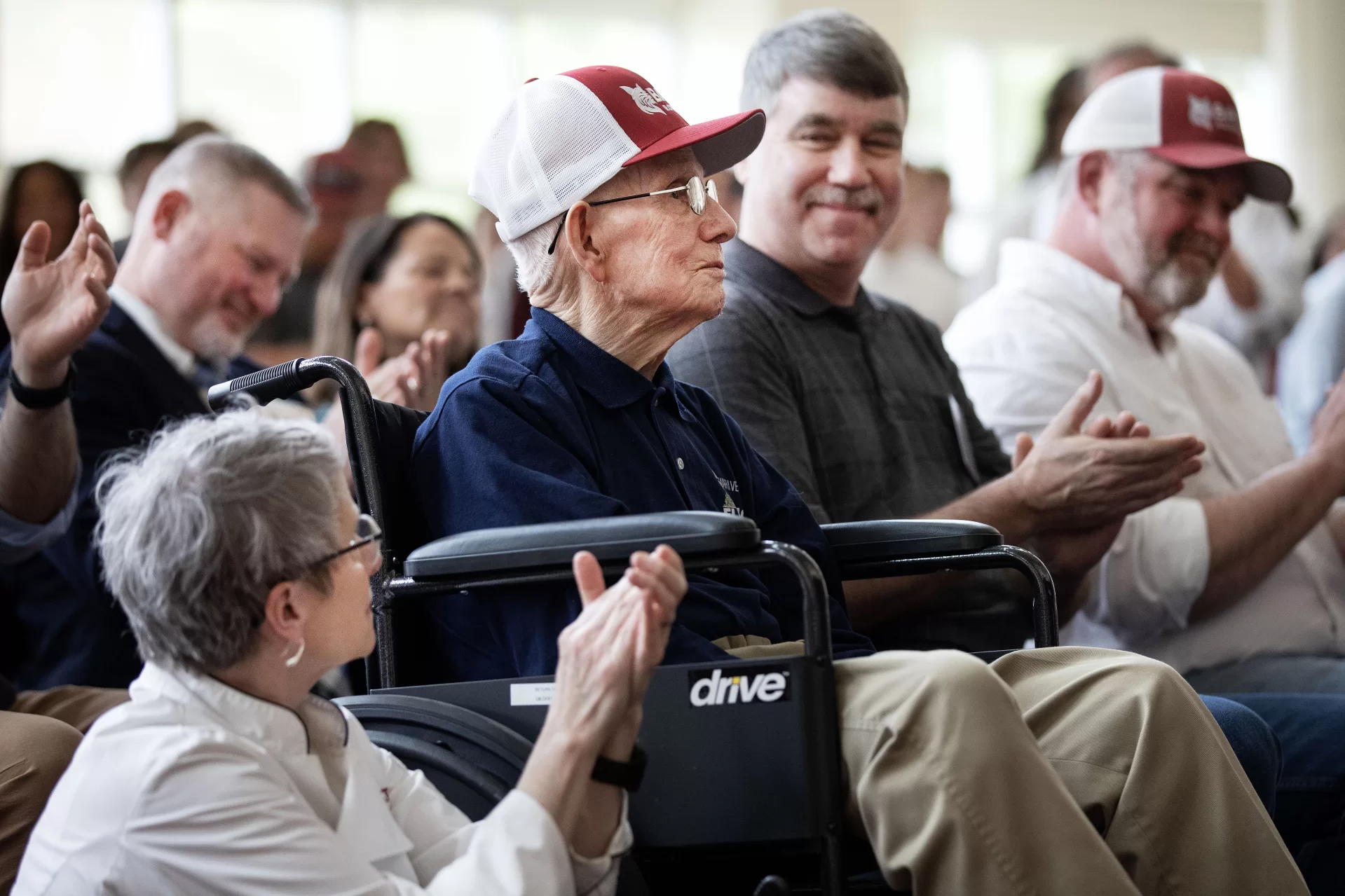 When the new boat arrived, Steenstra asked his captains to think about a name, something meaningful to them and their college. "They came back a week later or two, and said they didn't have anything that really dug deep for them." That's when Steenstra suggested naming it for Ralph Sylvester.
Presented with that idea, the captains eyes widened, recalls Steenstra, quickly asking their coach, "You mean that older gentleman who's in Commons quite a bit? The one we've all seen?"
Steenstra, looking at Sylvester during the dedication, said, "It was a great sense of pride for them to discover more about you. They couldn't have been more happy and more proud to put your name on the shell."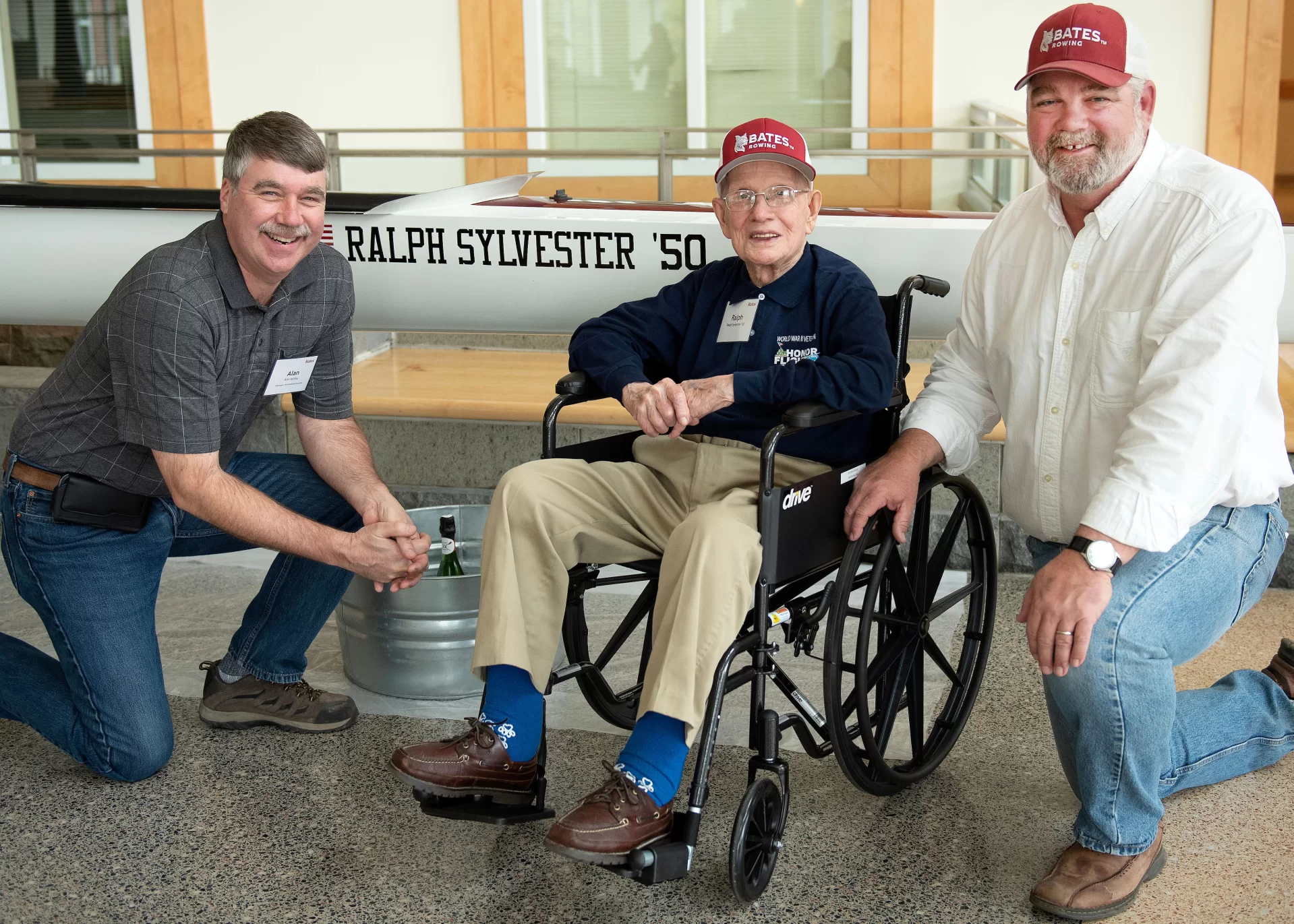 Before the boat christening, Steenstra had a surprise gift for Sylvester: a Bates rowing blade. Senior Bates rowers receive a blade at graduation to recognize "commitment to the program from the start to the finish," Steenstra explained to the audience. "The honor is 100 percent attainable but by far the most difficult thing to achieve."
"We have never given one of these to anyone who was not a rower for Bates. But there is no question in my mind and the team's mind that if anyone deserves it, it's you."
Finally, speaking for many in the audience, Steenstra said, "This is by far the least that we, in this little school, in this little town, can do to say thank you for everything you've done and everything you are."