News Archives
Thursday
August 27, 2015 3:24 pm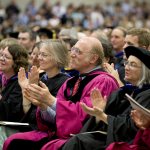 Recent faculty promotions at Bates include four professors earning tenure and three being named full professor.
Thursday
May 21, 2009 3:45 pm
A Bates College junior from Maine and a senior from New York state presented biochemistry research to a U.S. representative from Maine this month as part of "Posters on the Hill," an annual event designed to remind Congress of the importance of undergraduate research.
Monday
March 22, 2004 10:02 am
Paula Schlax, an assistant professor of chemistry at Bates College, has received a National Science Foundation grant for nearly $272,000 to support her research into bacterial responses to environmental stress.