Anita Charles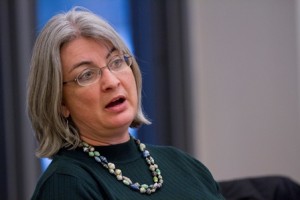 Anita S. Charles
207-786-8349
Education
Lecturer/Director of Secondary Teacher Education
Pettengill Hall, Room 308
Anita previously taught high school English for over ten years. In the past, she has taught a wide variety of ages and abilities, from first graders in Jersey City, NJ, through adult learners, teaching subjects as diverse as French and Alternative Education programming.
She has mentored many new and student teachers, has presented statewide workshops on classroom management, and continues to teach distance education courses through St. Joseph College in Standish, Maine.
Anita has a B.A. from Dartmouth College in French and Education, and an M.Ed. from Harvard in Human Development and Psychology, with a special focus on Language and Culture. She has a Ph.D. from University of New Hampshire in the area of "Adolescent Literacy." Her interests in the field of education include Early and Adolescent Literacy as well as At-Risk/Resilient Youth and Special Education.
She has had a chapter published in an anthology about teaching entitled The First Year of Teaching: Real World Stories from America's Teachers, and has had several articles published in recent years.
Anita lives in Auburn with her husband and five children.