On & Off Campus
Turn that Music Up!
As you might expect, Mstislav Rostropovich, who received an honorary doctor of humane letters degree at a Founders Day Convocation on April 2, doesn't play just any old instrument. His is a 236-year-old cello made by a student of the great Stradivarius.When it came time for the maestro to fly to Maine, at first the airline balked at carrying the precious instrument, and arrangements had been made for a Portland musician to lend his cello for Rostropovich to play after receiving his honorary degree.
In the end, the contingency plan was not needed. Rostropovich, by his own admission, badgered the airline into giving his cello a seat on the flight from New York to Portland. "Three people, one cello," is how the maestro recalled the passenger cabin of the small commuter plane.
And if Professor of Physics Eric Wollman looked unusually happy that day, it's because the amateur cellist was given the honor of guarding Rostropovich's instrument.
"(Rostropovich) told me it's unusual for him to let anyone else touch his cello," said Wollman. "I know what he means. I don't let anyone touch my cello, and it's really not anything worth worrying about."
Rostropovich spent two days at Bates, leading a master class the day after Convocation. He spent the night at nearby Farnham House on Main Street. Most of the time, hotel guests who hear music coming from another room are quick to call the manager and complain. This time, guests at Farnham House wanted Rostropovich, who was putting in some practice time in his room, to pump up the volume.
"He was concerned his playing would disturb the other guests," said Barbara Laprise, owner of the popular bed-and-breakfast. On the contrary, she said, "They were asking him to play louder!"
Olga Demin '99 and her family emigrated to the United States from Siberia three years ago and settled in Waterboro in York County. Back in Russia, Demin said, Rostropovich was a hero in her household.
She could scarcely believe it when she was asked by the President's Office to meet Rostropovich at the Portland airport and accompany him to the campus.
Her parents attended the Convocation. Unexpectedly, they were able to meet Rostropovich after he asked Demin to stay by his side and serve as his interpreter at a press conference. "My mother cried," Demin said. "It was one of the great moments of our lives."
The Few, the Proud, the Honoraries
In addition to the honorary doctor of humane letters degree awarded to cellist Mstislav Rostropovich at the April 2 Founders Day Convocation, the College awarded honorary degrees to a novelist, a preacher, a human-rights advocate, and a scientist at Commencement on May 27.
Chinua Achebe, one of the world's most celebrated novelists and an articulate champion of the peoples and cultures of Africa, received an honorary doctor of letters degree (Litt.D.) and was the Commencement speaker.
Peter J. Gomes '65, Plummer Professor of Christian Morals and Minister in the Memorial Church at Harvard University, received an honorary doctor of divinity degree (D.D.). Recognized as one of the nation's most influential preachers, Gomes has been an insistent voice of conscience, addressing contemporary concern for the physical and spiritual welfare of Americans.
Natalie Webber Gulbrandsen '42, president of the International Association for Religious Freedom, a worldwide organization based in London that promotes human rights, interreligious cooperation, peace and justice, received an honorary doctor of laws degree (LL.D.).
Edward O. Wilson — entomologist, evolutionary biologist, naturalist, professor, and author — received an honorary doctor of science degree (D.Sc.). His development and defense of sociobiology in the 1970s overturned many previously unassailable positions in the "nature-nurture" debate regarding the study of animal and human development.
A complete report on all Commencement activities will follow in the summer Alumni Newsletter.
Bad Posture
Ginny Harrison '63 cringed when the producers of the student documentary Say, 'Cheese!' asked if they could interview her about her time at Bates.
"Every few years, I get dug up and held up as an example of women at Bates in the late fifties and sixties," laughs Harrison, associate director of admissions at the College.
But this time, the producers — Greg Arata '96, Amy Geller '96, Josh Rosenblum '99, and Michael Yecies '97 — had a more intriguing project lined up. They were researching a practice common at Bates and other U.S. colleges during the middle part of the century: the taking of nude photographs — so-called "posture photos" — of incoming men and women students.
The posture photos taken at Bates and other schools were to be used by eugenics researcher W.H. Sheldon for his Atlas of Women, a companion to his earlier Atlas of Men, a eugenics textbook containing thousands of male posture photos (also taken at U.S. colleges) with text explaining how a given body "type" could suggest specific personality traits. After objections to Sheldon's research arose, the book on women was never finished.
The student documentary, produced as part of Professor Robert Branham's "Documentary Video Production" class, focuses on the late fifties and early sixties at Bates, when only women students were having posture photos taken.
The Bates alumnae interviewed express disappoinment that as students they neither objected to the humiliating practice nor recognized it as being exploitative. "We were cowards," said Regina Abbiati Lucas '56.
Harrison and others interviewed, including Sally Carignan '62, suggest that posture photos were an example of how the Bates culture at the time "controlled" women.
The documentary talks about how women faced tighter curfews, stricter rules, and more severe punishments than the men. The male students, meanwhile, often lived under a boys-will-be-boys mentality. "That's just the way Bates was then," said Geller. "Women were perceived as needing the College's protection."
The film also outlined the sinister aspect of eugenics. In a quick leap, the film goes from discussing the Bates posture photos to comparing eugenics to the Nazi Final Solution.
Yecies said it was a "legitimate theme" to compare the theories of Sheldon and fellow eugenics researcher E.A. Hooton to Hitler's master-race propaganda. "Hooton and Sheldon were suggesting that there could be an `ideal' body type. That was appealing to Americans in the 1950s, that they could aspire to some sort of Donna Reed moral and physical correctness," he said. "It's basically the same thing that Hitler said in Germany."
Indeed, the students interviewed Associate Professor of History Steve Hochstadt, who said that the first people Hitler targeted in the Holocaust were not Jews, but rather the physically handicapped.
The film takes a critical look at Bates in the fifties and early sixties, and Arata says that's just what the College expects of its students. "A Bates education is supposed to give us the ability to think critically. And that's what we did."
A Happy Admission
Admission to Bates has never been a more sought-after prize among high-school seniors.
Two key admissions statistics — the number of applications and the so-called "yield" rate — point to the unavoidable conclusion: Bates is on a roll.
Bates received 3,845 applicants for the Class of 2000, a record number and an 8.3-percent increase over last year's figure of 3,550. Some two hundred high schools were represented in the applicant group that weren't in last year's pool.
The second statistic (and one that's perhaps more impressive) is the unprecedented admissions "yield" — the rate at which accepted students decide to matriculate at Bates. In recent years, Bates could expect around 35 percent of the admitted students to matriculate. This year, that rate jumped to 40 percent. "It's huge shift," said Dean of Admissions Wylie Mitchell.
Mitchell said the eventual class size will come in at around 500. "It's an extraordinary class. We have students attending from forty-five states — the highest number ever in one class — and from around the world," he said.
An unusual addition to the services provided for admitted students was a site on the World Wide Web especially for them. It allowed them to get access to information about Bates and to chat with prospective classmates around the world.
Mitchell's brainchild, the site received hundreds of "hits" before the May 1 decision deadline. It may have been the first such site for admitted students anywhere in the country, and it drew favorable notice from The New York Times, USA Today, and the Maine media.
They Like Kirk Read! They Really Like Him!
Kirk Read remembers his reaction to winning this year's Kroepsch Award for Excellence in Teaching, an honor that arrived right on the heels of the Academy Awards, a broadcast he watches faithfully each year. "They like me," he said with a grin, recalling Sally Field's infamous response to her triumph several years ago.Read, assistant professor of French, responded with momentary panic as well. When Read saw the fat envelope from the dean of the faculty's office, he thought, "They're taking it back," thinking of the tenure he had been awarded two months before.
Because the Kroepsch Award is student-initiated, Read feels especially honored. "It's wonderful, a delight," he said. Apparently, students feel the same way about him. "Kirk was excited about the subject matter, conveying the information in a very elegant manner," said one student who nominated Read.
Read said he has taught "literally since the fifth grade, when I tutored second-graders in reading. I've taught the whole gamut," referring to his pedagogical experiences with day-care charges, students abroad, elementary, middle, and high schoolers, as well as alumni learners.
"Teaching is a vocation for me, a call to engagement with others," he said.
The award, established in 1985 by Robert H. Kroepsch '33, LL.D. '71, is made "without regard for faculty rank, in recognition of outstanding performance as a teacher during the previous twelve-month period." Last year's winner was Bonnie Shulman, assistant professor of mathematics.
The two-part prize includes $1,000 in cash and a $1,500 discretionary fund to support the honoree's teaching efforts.
College Posts Lowest Fee Increase in Twenty Years
Bates parents and students heard some good news recently: the smallest increase in the comprehensive fee in more than twenty years. In fact, the percentage increase has declined each year since 1991-1992.
The 1996-1997 Bates comprehensive fee is $27,415, an increase of 4.24 percent over the current fee of $26,300. The College has boosted its financial-aid budget by 11.8 percent, with nearly $9.8 million going to grant aid from the projected $56.7 million College budget.
"Without a doubt, the success of the Bates Campaign in increasing both the endowment and the Annual Alumni Fund is one reason Bates has been able to hold down recent tuition increases," said Ron Joyce, vice president for development and alumni affairs.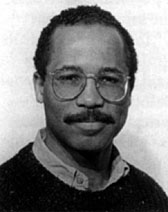 Marcus Bruce '77 Studies a Good Citizen
What's it mean to be a U.S. citizen? The answer to that and other contemporary questions about citizenship might be in the writings of a little-known American educator from the early part of this century.Marcus Bruce '77, associate professor of religion at the College, has been awarded a $40,000 fellowship from the National Academy of Education to study Horace Kallen (1882-1974), who spent his career grappling with intertwined questions of citizenship, ethnicity, and democracy.
Kallen was preoccupied with those questions nearly from the day in 1887 when he arrived in America as a Jewish immigrant, said Bruce, whose fellowship spans the 1996-1997 academic year, during which he will be on a leave from Bates.
It was Kallen who coined the term "cultural pluralism," which he defined as "the right to be different." But Kallen, a founder of the New School for Social Research in 1919, was also concerned with the practical questions of just how different kinds of people can live together in a democratic setting. "It remains a rather contemporary problem," said Bruce.
His interest in questions of citizenship stems from "what I sense to be a growing anxiety in American society regarding the state of civic culture," he said. "Some Americans lament the loss of shared notions of what it means to be an American citizen. Others insist that their particular ethnic traditions should serve as a model for civic responsibility."
On the Beam, in More Ways than One
The week of March 26 was a busy one for Christopher M. Beam, director of the Edmund S. Muskie Archives.
No sooner had the College heard of the death that day of Ed Muskie '36 — making Beam a key source for journalists seeking insight into Muskie's distinguished career — than the National Archives announced an agreement that will result in the public release of previously secret Nixon White House tapes. The trove includes many Watergate-related tapes whose existence, when revealed, helped bring down the president.
It was ironic timing. Nixon's reelection campaign is believed by many observers to have been responsible for the forged "Canuck letter" that contributed to Muskie's emotional outburst in front of the Manchester Union Leader building in early 1972. Muskie's presidential campaign stalled and he was out of the race within months.
What does this have to do with Chris Beam? Before coming to Bates, Beam worked at the National Archives and was one of a handful of people to listen to and catalog hundreds of hours of Nixon tapes. Since Nixon's death in 1994, few people know what's on the tapes. Beam is one of them.
Beam, bound by confidentiality agreements, won't talk about specific tapes until they are released to the public, starting later this year. He was, however, quoted extensively in a New York Times article on the agreement, and once the tapes move into the public domain, he may once again be recalling for reporters his days as a young archivist in Washington.
What Does "Outing" Mean to You?
The College may have to include a brief glossary with its news releases.
Earlier this year, as is customary, the office sent out releases to the hometown newspapers of newly elected officers of the Outing Club. What could be more routine? But the weekly paper in Pacific Palisades, California, pronounced itself puzzled at the name of the organization.
"This being the '90s, we weren't sure if the club's purpose was politically or socially motivated," said the brief item, headed "Changing Connotations," in the Palisadian-Post.
The editors apparently satisfied themselves about the club's bona fides, because it ran the release, which did mention that the club sponsors hiking, cycling, canoe and ski trips — not announcements of people's sexual orientation.
One for the Byrds
Who says today's students don't appreciate the classics?
At the memorial service for Ed Muskie '36, College Chaplain Wes Avram greeted the large Chapel gathering with verses from Ecclesiastes: "To every thing there is a season, and a time to every purpose under the heaven."
The account in The Bates Student, however, described how the "lyrics of the Byrds' classic `Turn! Turn! Turn!' resonated throughout the memorial service."
Muskie, a deeply religious man who was devoted to peace in the strife-ridden sixties, would perhaps have appreciated the confusion.
Maybe in the Next Campaign
In the 1930s, Bates's fund-raising priorities included many of the same ones outlined in today's $50-million Bates Campaign (which, by the way, is near a rousing, successful conclusion): scholarships, professorships, new teaching spaces.However, not all College needs are timeless, like this one outlined in the 1933-34 Catalogue: "a campanile for the summit of Mount David from which will peal forth at every setting sun the old familiar hymns that will awaken forgotten memories of God's love and grace and will remind all who hear that truth and faith, education and religion, are inseparable."
Recognition Fete Honors Employees
From their attention to buffing and shining to their work with thousands of Bates athletes, retiring employees from a range of campus departments were honored at the Employee Recognition Luncheon April 18 in the Gray Cage.
This year's retirees were Donald E. Bowen, Facility Services; Maurice E. Carrier, Facility Services; Frank E. Ford, Facility Services; Carmen E. Godin, Facility Services; Lorette A. Goulette, dining services; Lois M. Griffiths '51, Muskie Archives; Constance G. Picard, Facility Services; Mary M. Riley, library; Eva F. Rouleau, dining services; Walter Slovenski, physical education; Donald J. Smith, Facility Services; Arlene Spugnardi, dining services; Liette C. Vachon, Facility Services; George L. Wigton, physical education.
A Busy Campus
Here's a rundown on some of the lectures, concerts, and other events that took place recently at Bates:
For the second straight year, Bates hosted the touring Black Maria Film Festival, which features some of the best independent films and videos.
Famed anthropologist Napoleon Chagnon, foremost expert on South America's Yanomamo people, delivered three lectures on his work.
Jazz great Chick Corea, reggae star Ziggy Marley, folk legend Mike Seeger, and fast-rising rock band God Street Wine performed.
Mathematician and author Howard Eves delivered the annual Richard Sampson Lecture in Mathematics and theologian Vincent Harding presented the annual Rayborn L. Zerby Lecture.
Just a few days after the death of Ed Muskie '36, former Sierra Club executive director David Brower gave the annual Muskie Environmental Lecture on what would have been Muskie's eighty-second birthday.
Political pros David Keene (Republican) and Tad Devine (Democrat) opined on the New Hampshire and Maine primaries.
Bill Tucker '67 spoke on his work in the field of racial research and the misuse of race in social science.
Choreographer Bill T. Jones, recipient of a MacArthur "genius" grant, lectured on his experience with HIV and AIDS and the impact of AIDS on the arts world.
The Remarkable Rachel Henault Wins Watson
Rachel Henault '96 of Naugatuck, Connecticut, is one of sixty students nationwide selected to receive a Thomas J. Watson Fellowship this year.The $16,000 award will support a year of travel and research in Peru, Ecuador, and Mexico during which Henault plans to study tropical forest plant products as a sustainable source of income. A devoted conservationist, Henault is interested in exploring how conservation strategies affect the individuals most dependent on the rain forest. "It's important to investigate all the elements," Henault says. "It's exciting stuff."
Associate Professor of Biology Sharon Kinsman, who served as Henault's thesis adviser, described her as "a remarkable young person." Kinsman cited Henault's "committed interdisciplinary and international view, her extraordinary eagerness to learn and live, her sense of fun, of wonder, of moving onward. She inspires me."
Since the Watson program was begun in 1968, Henault is the sixteenth Bates student to receive one of the prestigious fellowships, which are only awarded to students enrolled in the country's top liberal-arts colleges.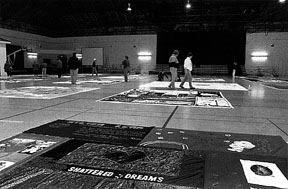 Edited by Rick Denison