Horror Hits Home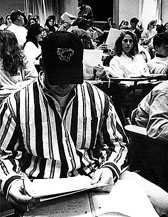 At first glance, it seems like a typical lecture class: the professor up front lecturing to students-turned-scribes, who take pages of notes with trusty Eberhard Faber number twos.Every Tuesday and Thursday afternoon last semester, nearly ten percent of the Bates student body crowded into Pettigrew Hall's Filene Room for Professor Steve Hochstadt's course "The Holocaust in History: The Genocide of European Jews." Aside from a few introductory courses in math and the sciences, History 229 was the largest class at Bates last year, with 139 students signed up.
But despite the unwieldy enrollment, Hochstadt managed to "personalize the course for every student in that class," an observation made by Peggy Kociubes, who's neither a Bates student nor one of Hochstadt's colleagues on the faculty, but the parent of a senior who took his class.
That a Bates parent could offer such insight illustrates how deeply Hochstadt's course permeated his students' lives. In the end, Hochstadt fulfilled a charge outlined in the course syllabus: "This course consists of gathering information about the Holocaust, facing it squarely, and discussing its significance for us as a society and yourself as an individual. I cannot face the Holocaust for you; I can barely do it myself."
Michael Talmanson '96 of Holliston, Massachusetts, remembers that the confrontation began early in the semester. "One day, all of a sudden he tells us to run around and form discussion groups" of five to ten people. "He gave us just five minutes." When the din died down, everyone was in a group.
Like other professors, Hochstadt breaks his courses into discussion groups that meet in addition to regularly scheduled sessions. "It lets us have more meaningful discussions about the readings, and I can have more contact with individual students."
That's the ideal. But sometimes, say students, they use the discussion sessions to score points with the prof, framing their comments for the teacher, not for one another. The result is precious little give and take. "When you have a professor there, you're always looking to him, talking to him," said Talmanson. "I'll sit here and every answer I give is for the teacher."
The first time Hochstadt taught History 229 a few years ago, he realized he couldn't attend all the sections, unless he wanted to spend all his waking hours meeting with discussion groups. "I just didn't want to do that."
So Hochstadt experimented. He decided he wouldn't attend any of the sessions.
Hochstadt's absence from the discussion groups created a vacuum that forced the students to talk to each other. It also eliminated the fear of failure. "I think without a professor at the section, you don't worry so much about saying something that's wrong," said Beth Kantor '97 of West Simsbury, Connecticut.
The History 229 discussion groups met at the end of the week, with students in the group taking turns leading the discussion.
Talmanson's group initially expressed skepticism about the arrangement. "I didn't think we'd last an entire hour," said group member Leanne Franks '96 of Essex Fells, New Jersey. At first, they viewed the impending discussions as an opportunity for frivolity. "We were thinking, `We should make sure everyone's twenty-one so we can meet at the Goose.' We've come a long way from that," said Franks. "I can't even imagine meeting in a public place now. I didn't realize how personal it would all become."Like one discussion session on "faith, morality, and holocaust," when Talmanson said he wouldn't take pity if he came upon a former Nazi officer in danger of physical harm. "It was a hypothetical discussion of forgiveness. I'm Jewish, and I felt it would be absolutely impossible to help out someone like that. But it was clear that the Christians might not feel the same way.
"That was the best thing about our group," he continued. "We could challenge each other's viewpoints."
"The horrible things we read, it's not stuff you can just read and say, `Oh, now I know that,'" said Matt Tavares '96 of Winchester, Massachusetts. "It's hard to comprehend the Holocaust just by reading about it. To really understand you need to talk about it."
Even when the class met as a whole, Hochstadt often stepped back and let the discussion run free among his students. Midway through the semester, he asked if Nazi Germany in the mid-1930s — before the Holocaust but after the Nazis had stripped Jews of their civil rights — was comparable to how America treated blacks during the same period. The class nodded in agreement. Uh-huh. Sure.
But then, a student argued that what the United States did to Japanese Americans — forcing them into relocation camps after Pearl Harbor — was the same as what the Nazis did to the Jews during the Holocaust, minus the killing. "That statement sparked a lot of controversy," said Hochstadt. Some students agreed, while others defended the U.S. actions against the Japanese. Hochstadt let the discussion run. Then, later, he invited faculty colleague Atsuko Hirai, who offers a Short Term course that visits the former relocation camps out West, to discuss the period. "That discussion was an example of what went on throughout the semester," said Brian Quinn '96 of Canton, Massachusetts. "The class made you uncomfortable with yourself. It forced people out of their comfort zone, forced people to challenge one another."
"In this class, the important things are often said by the students," said Hochstadt. "This served a very important purpose: having students recognize that they have important things to say and they ought to listen to each other."
For Hochstadt, History 229 is his chance to create something positive from one of the most destructive chapters in world history. When it came time to conclude this year's class, Hochstadt looked out at his students and began to speak, but his voice faltered. "A course like this is really the reason that I teach: to provide you with information, but also to force you…maybe against your will…to think about things that humans do to one another."
That's why Hochstadt doesn't limit the number of students who can take the class: "It makes a difference to me to reach as many students as possible."
Inspired by Hochstadt's message, a group of students from the class spent Short Term talking at local schools about the Holocaust. Another student, Anne Fazio '98 of Gales Ferry, Connecticut, spent part of her Short Term talking to students in her hometown. "The class just made feel so motivated, so intellectually connected. I just wanted to go out and do something."
When Steve Hochstadt makes a point, his brown eyes widen and grow intense, like high beams coming on. When he talks about History 229, the eyes grow large: "This course is absolutely personal. The first lecture I give in the class, I talk about how I feel personally affected by the Holocaust and how it matters to me. I tell them I'm going to get emotional in the class, because I can't help it."
In 1939, Hochstadt's Viennese father, aunt, and grandparents fled the Nazis. "My grandparents were able to get a visa for my father to come to the United States," said Hochstadt, "but not for themselves." His grandparents and aunt sought refuge in the Jewish community in Shanghai. They spent a decade there before being reunited with Hochstadt's father in the United States. "They were the ones who got out," he said. "The rest of my father's family was wiped out."
Like a news reporter who takes sides and gives opinions, an academic who allows his discipline to become personal risks losing professional credibility. "We're taught, as academics, to be objective, to keep emotion from what we're doing — especially in history," said Hochstadt. "But from the beginning, I decided I wasn't going to do that in this course — I wasn't even sure I could. I have too much of a personal connection with the Holocaust. My emotional involvement is just as natural as their emotional involvement."
The personal slant of History 229 reflects a national trend in Holocaust education. Twenty years ago, the Holocaust might have been taught as part of a larger course on Nazi Germany. But in the last decade, Holocaust education has shifted its focus from what went on at Berchtesgaden to the horror endured by Holocaust victims.Part of the shift is due to the Holocaust survivors themselves. Nearing the end of their lives, they are now telling their stories after years of suppressing the memories."The other part of this phenomenon is the willingness of people at the college level to teach Holocaust courses," said Hochstad, who several years ago wrote the script for an Emmy-nominated video, 
Maine Survivors Remember the Holocaust.
"Today, the Holocaust is a public issue."As a social historian, Hochstadt turns the past upside down. Rather than seeking historical insight from the machinations of kings and presidents, a social historian analyzes the lives of everyday people, whose experiences often tell more about long-ago attitudes and motivations.
The readings in History 229 are raw with emotion and relentlessly personal, focusing mainly on the everyday people caught up in the Holocaust, be they victims, armed resisters, SS guards, or camp liberators. Students read Elie Wiesel's Night, Judith Magyar Isaacson '65's Seed of Sarah, Memoirs of a Survivor, Richard Plant's The Pink Triangle: The Nazi War Against Homosexuals, and Nechama Tec'sDefiance: The Bielski Partisans, which examined Jewish armed resistance.
Hochstadt offers few traditional readings on the "stars" of the Nazi movement. There's no Rise and Fall of the Third Reich, no Hitler biography, no obligatory discussion of Nazi architect Albert Speer. Indeed, Hochstadt stood in front of his bookshelf recently and wondered aloud "if my course needs some readings on the Nazi rise to power."
Hochstadt keeps the class focused on individuals because it's ultimately mind boggling to paint the big picture — six million people murdered in six years. It's like trying to imagine the end of the universe. In one class, Hochstadt handed out five hundred sheets of paper to his students. Each sheet was covered with twelve thousand tiny dots. "This is how many people died in the Holocaust," said Hochstadt. "Try to think of every dot as a full life lost."
To force his students to grapple with the tangled moral, emotional, and intellectual issues of the Holocaust, Hochstadt encouraged them to narrow their focus, exploring — especially in the term paper — specific people affected by the Holocaust. He urged his students to interview people affected by the Holocaust: survivors, camp liberators, or children of survivors.
Some students respond by looking inward, probing personal and family connections to the Holocaust. The result, he said, is that "the papers I get in this course are very different from the other courses I teach. There's a lot of `I' in these papers."
As a historian, Hochstadt does worry that as his students explore personal reactions to the Holocaust, they risk losing perspective. "There's a danger there," he said. "I really stress that whatever they do, they need to have historical material, they need to do historical analysis, just like any other paper," he said. "But if they want to put themselves into the paper, how things personally affect them, that's fine. There's no way to prevent it."
Lisa Kociubes's grandmother lost her entire family in the Holocaust, including her husband and their three young children, who were slaughtered by the SS in 1942. Her grandmother escaped to the Ukrainian woods and survived. After the war, she married another Holocaust survivor. They moved to the United States and had two children, Lisa's father and uncle.
A psychology major, Kociubes interviewed her whole family for her paper, specifically examining the experiences of her father and uncle growing up as children of Holocaust survivors who had lost dozens of family members. For the first time, her father and uncle told of the unbearable sadness and sense of loneliness in their home, of Jewish holidays with just four of them around the table, their parents remembering big, happy family celebrations of the past. They spoke of their mother's constant anxiety and insecurity, her "survivors' guilt," how she never was able to enjoy life after losing her parents, uncles, aunts, siblings, nieces, nephews, husband, and children.
"At first, I didn't want to do this paper," said Lisa. "I knew a little about what happened to my grandmother in the Holocaust, but when my brother and I would try to find out more, my father discouraged us. But the way Professor Hochstadt taught the course, making it personal, human, and emphasizing the importance of recording what happened, convinced me to try.""This class enabled Lisa to become the chronicler of our family," said Peggy Kociubes. "She took unspeakable events and, with nuance, feeling, and compassion, gave them form. I would say the class — and Bates — gave her the security and confidence to take on the project."Hochstadt remembers sifting through a stack of paper proposals his students submitted early in semester. "I'm sitting at my desk, and I take a look at one proposal and the first sentence is, `My family died in the Holocaust.' It's from a student whose family lost over twenty family members in Lithuania, and that's what she wants to write about. If I tried to say to her she shouldn't be emotional, it just wouldn't make any sense at all."
Hochstadt pauses and swallows. His brown eyes look away.