Phenom Comes Full Circle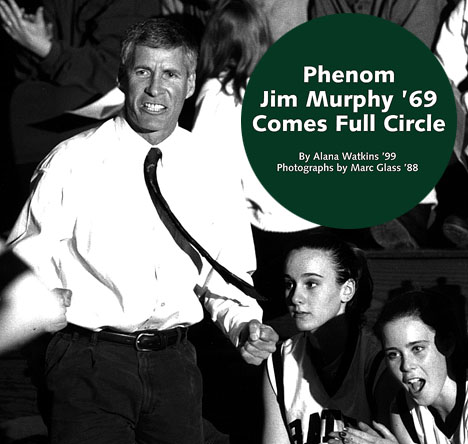 It's a great day to be a Bobcat. When the Bobcats are winning, this Bates-coined phrase is what you'll hear from fans on the sidelines or courtside.
You can also spot this slogan on the back of T-shirts worn by the women's basketball team. Indeed, when these Bates athletes took the court this past winter, it usually was a great day to be a Bobcat — not surprising, considering their coach is Jim Murphy '69, a Bates athletic phenom in his own right who is now coaching his women's soccer and basketball teams to their own success.
Murphy's long and winding success as an athlete and coach began with his four years playing Bates football and two playing basketball. Under now retired athletic director and head football coach Bob Hatch, Murphy put his name next to all the records a quarterback can hold at Bates, some still intact today.
Upon Murphy's 1969 graduation, Bates retired his number ten football jersey. Murphy is one of only five Bates athletes so honored. "His performance at Bates would be outstanding even by today's standards," Hatch said, "but thirty years ago it was amazing."
Some might think this would create egotism in a young college athlete, but, said Hatch, Murphy never acquired the typical enlarged ego of a quarterback.
"He was kind of humble about it all. He never considered himself a big star, even though he clearly was," he said. "I never detected an air of superiority in his personality."
This is evident when one hears Murphy speak of his record-holding career. The records he's most proud of? The ones that incorporated team effort. During Murphy's time at Bates, the Bobcats had four consecutive winning seasons for the only time in the Bates football history. They broke the record for total offense each of Murphy's four years.
"They are team records and those are the significant ones," Murphy said. After graduation, Murphy took an English teaching position at Masconomet Regional High School in Topsfield, Massachusetts. After several assistant coaching stints at Masco, he established the women's soccer program — and his own coaching reputation.
During Murphy's 1978-1993 tenure as Masco's women's soccer coach, the young women played to a 269-40-16 record and captured five championship titles. His team's performance reflected on Murphy, who was named coach of the year many times, including The Boston Globe's Soccer Coach of the Year in 1980, 1987, and 1991.
Murphy also brought success to the girls' basketball program at Masco. He coached the team from 1987 to 1993, compiling a 132-31 record. His 1993 team won the Division II North championship.
And now Murphy has brought his skills full circle, back to Bates, where he says he always wanted to be. "But if you would have told me when I graduated that I was going to come back as women's soccer and basketball coach, I would have looked at you funny," he said. After all, in Murphy's Bates years, "women's athletics" meant low-key intramural activities like bowling, square dancing, and archery.
"I have such a strong affinity for this place," Murphy continued. When he deals with prospective students, Murphy says his bias toward Bates really shows. Although he understands Bates isn't for everybody, he doesn't quite get it when students decide to go somewhere else. "I wish them good luck, but in the back of my mind I'm thinking, `You're nuts passing up the opportunity to go to Bates! There must be something wrong,'" Murphy said.
Murphy's love of his alma mater kept him involved with Bates while at Masco, and he and his family visited campus at least once a year.
"When I hit the Maine turnpike, I get more pumped up and more energized," Murphy added.
However, the road trip to his coaching career at Bates wasn't as swift and pothole-free as the drive back to Bates on the Maine turnpike. Murphy applied twice for women's head soccer coach in 1989 and 1990, but was rejected each time by search committees. "In '89 I was really, really disappointed," Murphy said. "I couldn't understand how Bates could conduct a nationwide search for a women's soccer coach and come up with no one."
In both '89 and '90, Murphy was supported by Hatch, but to no avail. "He's a persistent guy," Hatch said. "His third application is the reason he's at Bates now. He never gave up."
But he almost did. After being rejected twice, Murphy wasn't sure about applying for the position of head coach of women's soccer and basketball in 1993. But family, friends, and two former Masco athletes convinced him to give it a go.
"You come to a certain point in your life where you just have to say, `We'll do it one more time,'" said Susan Gangemi Murphy '70, Jim's wife of twenty-six years. "If he hadn't done it, he would have always regretted it."
And so would have Bates.
Since Murphy's arrival in the fall of 1994, his women's soccer and basketball teams have been among Bates's winningest. Last fall, the women bulldozed into the "Elite Eight" of the NCAA Division III tournament. The team set a Bates record for wins in a season and knocked off number-one tournament seed Williams before ending tournament play with a loss to Amherst.
Last year, the women's basketball team boasted a 17-7 record, but the Bobcats — newcomers to hoop success under Murphy — were snubbed by the ECAC tournament selection committee. That bitter disappointment helped drive this year's team to a regular-season record of 20-4, with losses only to Colby and UMaine-Farmington."Our goal was to have a record so good that there was no way a committee could not invite us," Murphy said of this season's ambitions. "We had to give them no choice but to invite us. To do that, we had to keep winning."
The team earned the College's first-ever NCAA Division III tournament berth in basketball, losing to Western Connecticut in the first round.
According to his peers, perseverance is only the beginning of a long list of reasons why Murphy is such a successful coach."Murphy has a lot of determination," Hatch said. "That has to seep into his teams, they sense it."
They do sense it. They sense it and they eat, sleep, and breathe it. The value Murphy places on teamwork, dedication, and hard work filters down into their pores and becomes a part of who they are: successful female athletes.
"The expectation is that they give one hundred percent, and they fulfill that," said Murphy. "In both basketball and soccer the players are not only physically tough and aggressive, but they are really mentally tough. They have the ability to dig down and exert themselves beyond original expectation. This is a special group that expects to win."
They expect to win, and they do.
Sarah Bonkovsky '97 finished her Bates career as the College's all-time leading scorer. That personal achievement — alone with a slew of others — pales in comparison to the lessons in teamwork she learned under Murphy. In Bonkovsky's junior year, the team played much of the season with just eight players. But Murphy turned the situation into a positive experience. "Before one practice, he sat us down on the bleachers. I think it's something I'll always remember," she said. "He talked about how the people we play with on the court are the people we'll remember twenty years from now and the people we'll keep in touch with. He said they're the people you sweat with, cry with, laugh with, and bleed with. These people and the memories will always be important."
"Jim places team agendas and team goals ahead of personal agendas and individual goals," said Suzanne Coffey, Bates director of athletics. The result, she says, is an atmosphere that demands athletic excellence. "Jim is often heard to say that `mediocrity is not acceptable.' Jim pushes his players toward athletic excellence with the same Bates philosophy that pushes students toward intellectual excellence."
John Cullen, head women's soccer coach and assistant athletic director at Bowdoin, has been watching Murphy from the sidelines for about ten years, initially while recruiting players from Masco, and, more recently, while feeding the age-old sports rivalry between the two colleges. Cullen says Murphy is the kind of coach he hopes he is.
"A long time ago a friend told me that this is the greatest compliment you can pay to a coach, and I pay it to Murphy: If I had a daughter, I'd want her playing for Murph," Cullen said.
Cullen's admiration doesn't affect the high intensity on the field when the Polar Bears and the Bobcats go head to head, though. But, according to Cullen, he and Murphy do have an unspoken deal worked out.
"He lets us win the regular-season games and then he wins the important ones, " Cullen joked. While Bowdoin holds the all-time series advantage of 21-5-1 over Bates, three of the five Bobcat victories have come in post-season tournament play. In 1996, after the Polar Bears beat the Bobcats in the regular season, Murphy's women beat Bowdoin, 2-0, in the NCAA tournament. Two years ago, Bowdoin again won the regular-season game, but Bates beat them out in the ECAC tournament.
"As intense as the rivalry is, Murphy and I have brought reason to the competition between Bowdoin and Bates on the soccer field," Cullen said. Not only have the two coaches been able to put up the white flags once the buzzer sounds, but Cullen says Murphy knows the difference between war and competition even when the clock is ticking.
"When the whistle blows, let's go as hard as we can," Cullen said. "But we're not enemies, and Murphy recognizes that we create friendships on the field as well as rivalry."
Although Cullen agrees that talented players are key for a successful team, he claims that Murphy's team has something more than just talent. "A major, major contributor is that he's got great players, but there are good players in all of the NESCAC programs," He said. "It's their enthusiasm for the game that is evident every time they come on the field."
Tiffany Poor, a 1988 graduate of Bowdoin, played varsity soccer for Murphy in her junior and senior years at Masconomet, then returned to coach junior-varsity soccer beside him from 1988 to 1990. She has similar thoughts on Murphy's enthusiasm for the game.
"He cares so much about what he's doing," Poor said. "He coaches with love and he cares a lot about his players; they are more important to him than the winning. He puts his heart and soul into what he does. When you love what you do, it's easy to be successful."
But for Murphy, the things that come easy aren't nearly as gratifying as those things which don't.
"Everything has to be earned. If you're a member of varsity or a starter, you should be proud, but come fall or spring, it's something you have to earn," Murphy said. "The things in life that are earned are to be cherished and treasured and are much more valuable than something that's given to you.
"Competing for your school is the greatest opportunity someone can have, and you have to earn the right to be on the team, or to get playing time, or to start."
Bonkovsky agrees. "He made me realize what a special thing it was to play on a Bates team, something not everybody has the opportunity to do."
Murphy talked about the women's soccer 1-0 loss against Amherst last fall, where he says, although they lost, he was more proud of his team on that day than on some other days when they won.
"We were working so hard to make something happen all game long. That's the great value of athletics — it teaches you that you just have to keep working and working. The fact that we were unable to leave the field as winners was, I think, insignificant, because on that particular day, there wasn't anything else we could do expect what we did: work as hard as we possibly could and accept whatever the outcome was. That day, Amherst was a better team."
For Murphy and his teams, that's what it comes down to: "Respect everyone and fear no one. All we do is play hard."