Coffey named Administrator of the Year by NACWAA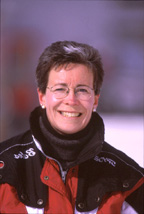 The National Association of Collegiate Women's Athletic Administrators (NACWAA) has recognized Bates College Director of Athletics Suzanne Coffey as its 2001 NCAA Division III Administrator of the Year. Coffey will be honored at the Jostens Administrator of the Year banquet Oct. 15 in Wilmington, N.C.
Coffey has served as Director of Athletics at Bates since 1991, after serving as interim director in 1990. She has been active on the national level of intercollegiate athletics, serving as Chair of the NCAA Division III Interpretations Committee and Legislative Committee. She has chaired the NCAA Lacrosse National Championships Committee, served on the Division III Management Council, and has served as an executive board member and as vice president of the Lacrosse Coaches Association.
Coffey received a Bachelor of Arts degree in Philosophy and Art from the University of New Hampshire and received her Masters in public policy from the Edmund Muskie School of Public Service at the University of Southern Maine. She came to Bates in 1986 as the Bobcats' third head coach of women's lacrosse. In 10 years coaching the Bobcats, Coffey compiled an 88-46 record, leading Bates to its only appearance in the NCAA Division III tournament in 1992.
Coffey has overseen the expansion of Bates' athletic facilities with the opening of the James Wallach Tennis Center and the Campus Avenue AstroTurf field in 2000 and the Russell Street Track and Soccer Field in 2001.
"We are both pleased and proud that Suzanne has received this recognition," said Bates President Donald W. Harward. "Her accomplishments and significant responsibilities are ample evidence of how deserving she is of this award."
The other administrators recognized for the 2001 award are J. Elaine Hieber, Iowa State University, Marilyn McNeil, Monmouth University, M. Dianne Murphy, University of Denver, Pam Gill-Fisher, University of California-Davis, Norma Dycus, Sinclair Community College and Carol Iwaoka, Big Ten Conference.
View Comments