Students receive awards for service-learning internships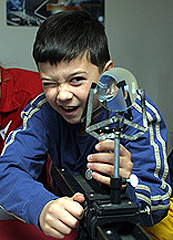 Fourteen Bates College students have received Arthur Crafts Awards to assist them in developing and implementing service-learning projects.
The Crafts awards provide up to $300 to qualified students who design an internship with a social service organization (preferably in Maine) during the academic year or who undertake an academic research project dealing with community issues, whether social, economic, educational or cultural.
The following students and projects received support:
— Senior Jenny Blau of Greenbrae, Calif., for her project, "Barriers to Access and Utilization: Health Education in the Latino Community." Blau conducted a health outreach program focused on self-esteem, the importance of annual medical exams and the prevention of illness.
— Sophomore Jennifer Blum of Forty Fort, Pa., for her presentation, "Reaching Real Peace — Students Teach Tolerance," presented jointly with the Auburn Middle School Civil Rights Team adviser at the National Middle School Association Conference.
— Senior Trung Huynh of Portland, Maine, for his tutoring program — staffed by Bates students — aimed at immigrant students in grades 3 to 12 at the Riverton Park Education Center.
— Senior Stephanie Lampe of Angleton, Texas; junior Kristen Brock of Bedford, N.H.; and junior Elizabeth Ormsby of Louisville, Ky., for "Space and Astronomy Day," a series of activities that allowed 65 Lewiston sixth-graders to explore science with Bates students and professors.
— Seniors Natalie MacDonald of West Lafayette, Ind., and Jennifer Sall of Gladwyne, Pa., for designing "Childhood Illness: The Difference between Bacterial and Viral Infection," an educational outreach program for a day care center staff.
— Junior Catherine Murray of Centerville, Mass., for coordinating an after-school program that provides homework help and an ESL program at the Auburn Housing Authority.
— Junior Laura Neff of Blue Bell, Pa., for developing a literature program that purchased multicultural resources and developed a curriculum for teachers and librarians.
— First-year students Lauren Rosenberg of Hollis, N.H.; Sarah King of Portland, Ore.; and Kelton McMahon of Noank, Conn., for studying — in conjunction with their "Positive Psychology" course at Bates — the psychological impact volunteering has on volunteers. The three students organized activities for children ages 7 to 15 at the Hillview Housing Development in Lewiston.
Bates has a long tradition of linking liberal learning and the cultivation of concern for others. In addition to the Arthur Crafts Service Awards, the Vincent Mulford Service Internship and Research Fund, and Community Work-Study Internships have been designed to help students experience first-hand the challenges faced by people of different backgrounds and to learn more about social service organizations that address community needs.
View Comments