WRBC-FM, 'Radio Bates College,' hosts Roots Music Festival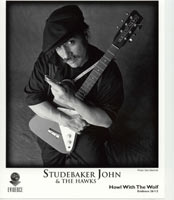 Featuring popular Maine acts and a nationally known headliner, the Bates College radio station sponsors the WRBC Roots Music Festival from noon to 6 p.m. on Saturday, May 11, at Keigwin Amphitheater, adjacent to the Olin Arts Center on Russell Street. The festival is free and open to the public. In the case of rain the event will be moved to the Clifton Daggett Gray Athletic Building, 130 Central Avenue.
Headlining is the Chicago blues band Studebaker John & The Hawks. Sharing the bill are such well-known Portland-based performers as the rockabilly combo King Memphis and the country band Diesel Doug & the Long Haul Truckers, as well as the 1998 Boston Music Award winner Laurie Geltman. Additional folk and bluegrass acts round out the program. Performer descriptions and a festival schedule follow on a separate sheet.
The festival celebrates the rich American heritage of "roots music" — genres such as blues, bluegrass, gospel and country that emerged from our folk music vernacular and evolved into the underpinnings for much popular music during the past 50 years. The recent popularity of the O Brother, Where Art Thou soundtrack illustrates our abiding love affair with roots music.
Michael Dixon, community representative to the WRBC-FM Board of Directors and the station's director of blues and roots music, is producing the festival. The festival, he says, is both an opportunity to showcase roots music and to welcome the greater community to Bates. "There is a strong community presence in WRBC, both behind the microphone and in our listening audience," he explains. "Plus roots music is a popular part of the WRBC schedule. The festival seems like a good way to further promote positive relationships between the college and Lewiston-Auburn, as well as to boost the station's visibility on and off campus."
WRBC broadcasts 24 hours a day, 365 days a year at 91.5 FM and is Webcast at http://wrbcradio.com/home/listen/. Its programming covers the musical map — metal and loud rock, punk and ska, rap and hip-hop, techno and electronica, garage and psychedelic, jazz and funk, soul and R&B, rock and pop, world and ethnic musics. (The station reaches beyond music, too — from 7 to 9:30 p.m. the same day as the festival, it will broadcast a production of Shakespeare's "King Lear" recorded specifically for WRBC by the Bates theatrical company, the Robinson Players.)
Roots offerings on WRBC include the popular "Folk Beat," hosted by Skip Mowry from 10 a.m. to noon Saturdays; Will Brucher's "Honky Tonkin'," 8-10 p.m. Mondays; and Dixon's own "Captain Boogaloo's Blues Extravaganza," 4-6 p.m. Thursdays. See the complete schedule on line at: http://wrbcradio.com/home/schedule/.
People attending the WRBC Roots Music Festival are encouraged to bring lawn chairs or blankets. Alcoholic beverages, pets and sound recording equipment are prohibited, as is on-site parking.
For more information, please call the radio station at 777-7915.
WRBC ROOTS MUSIC FESTIVAL
ARTIST INFORMATION (in order of appearance)
Sara Cox and Nate Schrock. Singer-songwriter/guitarist Cox, whose self-released EP is titled Firewater, is joined by Coming Grass guitarist Schrock for an hour of contemporary folk music.
Chairback Gap. This bluegrass quartet hails from the Milo area, and is named after the valley or "gap" between northern Maine's Chairback and Columbus mountains. Featuring banjo, mandolin, guitar and upright bass, the band has a CD called For The Good Times.
King Memphis. Maine's premier rockabilly band plays that driving hybrid of country & western and rhythm & blues that helped rock first get rolling in the 1950s. Based in Portland, King Memphis has an album appropriately titled Action! Action! Action! on the Broken White Records label.
Laurie Geltman. Perhaps the festival's most eclectic performer, Geltman won the 1998 Boston Music Award (BMA) for Outstanding Female Vocalist, has earned seven BMA nominations altogether and recently released her second recording, Motion Pictures.
Diesel Doug & The Long Haul Truckers. Fronted by Scott "Diesel Doug" Link, this Portland band infuses traditional country with humor and a rock sensibility. A fixture on the New England scene since the mid-1990s, the band has released two well-received albums, most recently The Fine Art of Carousing. Guitarist Charlie Gaylord produced the two Greetings From Area Code 207 compilation CDs whose proceeds have benefited Portland's St. Lawrence Arts and Community Center.
Studebaker John & The Hawks. Ending the afternoon with a howl is Chicago bluesman Studebaker John Grimaldi, accompanied by The Hawks on guitar, upright bass and drums. Grimaldi is a quadruple threat, writing and singing the songs and playing slide guitar and harmonica. Inspired as a youngster by blues masters performing in Chicago's famed Maxwell Street open-air market, he has been making his own style of blues for more than 30 years. His most recent recording is last year's Howl With the Wolf (Evidence Records).
View Comments