Gamelan Ensemble, pianist Glazer concert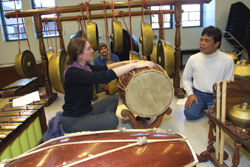 Music lovers have the chance to enjoy two distinctly different musical traditions at Bates College on Friday, April 5.
At 4 p.m. in Pettengill Hall's Perry Atrium, the Bates College Javanese Gamelan Ensemble performs the absorbing, percussion-based court music of the Indonesian island of Java.
A program in the Olin Arts Center Concert Hall features music by Beethoven, Schubert and Chopin, performed by Frank Glazer, a resident artist at Bates since 1980 and arguably Maine's best-known pianist. Please note that contrary to some published reports, the correct time for this concert is 8 p.m. Both concerts are free and open to the public.
The gamelan ensemble performance is directed by Rose Pruiksma, assistant professor of music at Bates. She and the 10 or so student performers will be joined by two guest artists. Pak Kuwat is a music master from Banyumas, a community in west central Java. Kuwat, who is accomplished on every instrument in the gamelan, has coached the Bates players since the beginning of March. Also performing is singer, composer and scholar Jody Diamond, director of the American Gamelan Institute, in Lebanon, N.H.
Gamelan music is played by a large ensemble using mostly percussion instruments — drums, tuned gongs and a variety of pieces akin to xylophones — along with voice, bamboo flute and a two-string device like a fiddle. Gamelan's roots go back at least to the ninth century A.D., and today's music also shows a variety of influences, notably Chinese, Indian and Arabic.
In structure and sound, gamelan is surprising to the unaccustomed ear. The percussion instruments create pure, sustaining tones that seem to come from all directions. The musical structure emerges from a sort of social order within the ensemble — one family of instruments laying out the basic melody, another elaborating on it, the different gongs cueing phrases and transitions.
The Indonesian islands of Bali and Java have distinctly different gamelan styles, although the two share instruments and musical fundamentals. "The Javanese style generally tends to be more mellow and stately," where the Balinese is typically harder-edged and busier, even frenetic, Pruiksma explains.
One reason gamelan is important in the academic setting, Pruiksma believes, is that "it gives students another way to experience making music. One of the nicest things, I think, about having the gamelan ensemble is that it is easy to incorporate students who have no prior musical experience."
"In fact, having no prior musical experience can actually be an advantage, because you don't have any of the preconceptions about how music is 'supposed' to go that you pick up when you train in Western classical music," she says.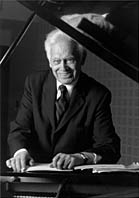 Glazer's program, meanwhile, traces a path through territory more familiar to Western ears, from the Classical to the Romantic eras in Europe. The oldest work he'll perform is Beethoven's Sonata in G major (Op. 79), from 1809. This light, melodious sonata is seldom heard but nicely represents the early Beethoven.
In 1827, the year before he died, Schubert wrote two sets each of four impromptus. This program features the second set (D. 935; Op. 142). The impromptus are introspective, lyrical works with an improvisational air, and as such make an appropriate stylistic bridge to the highly Romantic Chopin that ends the evening.
In fact, some commentators hear echoes of late Schubert in Chopin's Sonata No. 3 in B Minor (Op. 58), written in 1844. One of the Polish pianist's great masterpieces, this work's four movements cut a wide swath through the tragic side of the emotional spectrum, from the somber slow movement to the famed funeral march.
Glazer is an artist of international stature who taught at the Eastman School of Music for 15 years before retiring to Maine with his wife, Ruth, in 1980. The couple founded the Saco River Festival, which is held in Cornish every summer. A student of pianist Artur Schnabel in the 1930s and '40s, Glazer is one of the few proteges of that great musician remaining. Glazer's long career includes numerous recordings, his own television program in the 1950s and countless solo recitals and performances with orchestras and chamber ensembles, including the New England Piano Quartette, of which he was a founder.
For more information about the performances, please call 207-786-6135.
View Comments