Senior receives national humanitarian award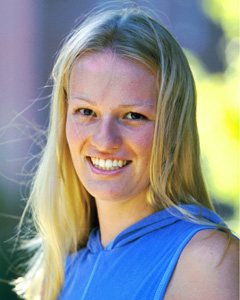 Bates College senior Jenny Blau of Los Greenbrae, Calif., has been chosen as a recipient of the 2002 national Campus Compact Howard R. Swearer Humanitarian Award in recognition of her work in providing quality medical care for Latinos in Lewiston.
Blau will be formally recognized for the Swearer Award at the Campus Compact's national summit meeting in Providence, R.I., Nov. 7-9. The Swearer Award recognizes outstanding contributions made by college and university students to the community. As one of five Swearer Award recipients chosen nationally from a field of 85 candidates, Blau will receive a certificate commemorating the award and a check for $1,500. She will use part of the award to create a permanent multilingual health education resource center at the clinic. The balance will establish a fund to support Bates students' continued work with the clinic.
"Jenny Blau's passion to provide quality medical services to the Latino population of Lewiston has taken her on an extraordinary journey of service and academic study as an undergraduate which has extended from Lewiston to Spain and Ecuador and back," said Bates President Donald W. Harward. "Her academic interests and service have been woven together to address large, important policy and social issues and have profoundly influenced the kind of health care that is received by many people in this community."
Blau began tutoring Latino middle school students while in high school. Fluent in Spanish, she arrived at Bates eager to prepare herself to study medicine, and through a shadowing opportunity with Lewiston physician Anne Brown '88, she discovered the Bates Street Health Clinic during her first year of college. Run by St. Mary's Medical Center, the clinic serves residents of Lewiston's downtown neighborhoods.
Initially serving as a Spanish-English translator during patient visits from Lewiston's growing Latino population, Blau developed outreach and patient recruitment programs to attract more Latina women to the clinic. She initiated and wrote several grants to create a Spanish educational program that included the provision of Spanish health pamphlets, informative videos and a lending library. By her sophomore year, she was the clinic's main link to area Latinos, forging a trusting relationship with that community. Blau also assisted St. Mary's staff in understanding the scope of the issues involved in serving diverse populations.
In recognition of her work, Blau received the 2002 St. Marguerite d'Youville Community Service Award, given by the Sisters of Charity Foundation to a local college student whose work has demonstrated an extraordinary commitment to service that has improved the quality of life in the community and beyond.
Interested in deepening her understanding of cultural differences in the lives of those she worked with, Blau spent the second semester of her junior year in Madrid. Working in two of Spain's largest public hospitals, she made weekly visits to the hospitals' psychiatric wards.
During summer 2001, Blau received a Bates fellowship for travel in Ecuador. There she worked closely with a Peace Corps volunteer and a local hospital to coordinate a six-week Families in Action program, serving three impoverished rural communities. Offering weekly discussion topics including family planning, HIV/AIDS prevention and pregnancy counseling, Blau deepened her understanding of women's health care issues and obstacles faced by rural communities. Her desire to be as effective as possible in her work at the Bates Street clinic and in the Lewiston community motivated her Ecuador project.
During her senior year at Bates, Blau created an interdisciplinary major, "Race, Poverty and Health," that focused on her interest in cross-cultural health care for the poor. Blau's senior thesis, informed by both her academic work and service within the community, explored the barriers to obtain health care by the local Latino community. As part of her thesis work, she organized a women's health care group that focuses on health education resources and support.
"Bates is the type of college that encourages creativity and passion as well as the opportunity to get out there and learn beyond the classroom," Blau said. She plans to continue her work with Latino communities after graduation, continuing her research on the barriers to the access and utilization of health care by Latinos. "I am planning to go to medical school in a year or two," Blau says, "but first I want to learn more about how racial disparities in health care are being addressed on a national frontier."
View Comments