Bates College student, Outright L/A receive justice and peace award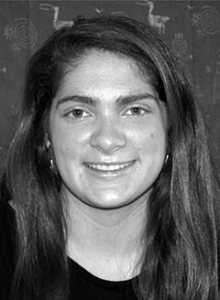 This year's William Stringfellow Awards for Justice and Peace will be presented to Kate Doria, a Bates College senior active in community service, and Outright L/A, a sex and gender support group. An awards ceremony and potluck supper will be held at 6 p.m. Sunday, March 14, in the Benjamin Mays Center, Bates College, 95 Russell St.
The ceremony is open to the public. For more information, please contact 207-786-8272 or this aberard@bates.edu.
The Office of the Multifaith Chaplain at Bates celebrates the 10th anniversary of the William Stringfellow Awards for Peace and Justice this year. The program includes a presentation by former Stringfellow recipients highlighting the work they have done and insights developed since receiving the award.
The awards recognize people or organizations that have dedicated their lives and work to the promotion of justice and peace, particularly through a courageous and sustained commitment to redressing systemic causes of violence and social injustice.
Doria's award follows years of community service in Lewiston and beyond. This resident of Middlebury, Vt., traces her interest in good works to childhood. She recalls watching her parents, who were market gardeners, share vegetables with neighbors and senior citizens at church.
"They encouraged me to be generous and share everything I had with others," she says.
Doria has been involved with Lewiston's Trinity Jubilee Center for a year and a half, first as a tutor in the afterschool program and later as a coordinator of that program, recruiting other Bates students to serve as homework helpers with Lewiston youth. Also in Lewiston, she has worked with the Lewiston High School Teen Parenting Center and Lots to Gardens.
"I like to focus on an attitude of sharing, because it evokes a sense of mutuality," Doria says. "Just as I show a student how to find the area of a triangle" in her afterschool work at Trinity, "the student teaches me new things, too."
Her overseas service work outside the United States has included volunteering at summer camps and nonprofits in Romania and Uganda. Doria is majoring in an interdisciplinary program that she designed to explore the reciprocal relationship between the environment and human behavior.
At the March 14 event, previous Stringfellow recipients include Lots to Gardens, represented by Ari Rosenberg '06 , youth programs coordinator of this St. Mary's Health Systems program; the Downtown Education Collaborative, represented by Erin Reed '08; the Maine People's Alliance, represented by immigration and federal issues organizer Ben Chin '07; and Margot Fine '03, a social justice educator
Outright L/A has worked since 1996 to create affirming environments for youth, ages 22 and under, who identify as lesbian, gay, bisexual, transgender and/or questioning. Dedicated to a philosophy of collaboration that encourages young people to be involved with every aspect of the program, the organization provides social, cultural and educational events that include weekly drop-ins, gay-straight alliance projects at local high schools, and training in intersecting oppressions and increasing safety for LGBTQ youth.
William Stringfellow, a member of the Bates class of 1949, is known as a formidable critic of the social, military and economic policies of our country and as a tireless advocate for racial and social justice — justice, he insisted, that could be realized only if it were pursued spiritually.
His career of activism can be traced to his junior year at Bates, when he organized a sit-in at a local Maine restaurant that refused to serve people of color. It was his first foray into social activism, and he never looked back. A gay white lawyer, he lived and practiced law in Harlem a decade before the "war on poverty."
Stringfellow's experiences there deepened both his legal and religious thought and shaped the message of his widely influential books, pleading the sustaining relevance of a universal ethic of human rights.
View Comments