McDuffee Memorial 5K Run/Walk to support youth-violence prevention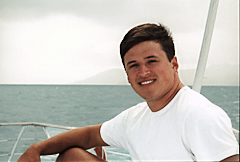 With proceeds destined for an American Red Cross program addressing issues of youth violence, a 5-kilometer run/walk dedicated to the memory of slain Bates College senior Morgan McDuffee will be held on Sunday, March 2.  Click here for online registration.
In a related commemoration of McDuffee's life, a memorial gathering organized by Morgan's friends will be held in the Chapel at 9 p.m. Monday, March 3.
The Morgan McDuffee Memorial 5K Run/Walk begins at 9 a.m. March 2 at the Clifton Daggett Gray Athletic Building, 130 Central Avenue, and follows a course past McDuffee's former home on Main Street. Proceeds will benefit the Morgan W. McDuffee Memorial Fund for Safe Schools, of the American Red Cross.
In the early hours of March 3, 2002, McDuffee was stabbed to death while intervening in a street fight near the Bates campus. He was a scholar-athlete who earned an A on his senior thesis in macroeconomics. His degree in economics was awarded posthumously to his parents, Regis McDuffee of Newburyport, Mass., and Lisa Freeman of Peterborough, N.H., at the Bates Commencement, in May 2002.
Captain of the lacrosse team at Bates, McDuffee was a star athlete as early as elementary school in Lyndeborough, N.H., where he belonged to the swim team. He went on to captain the lacrosse and football teams at Lexington (Mass.) High School, and spent winters at Killington Mountain Ski School as a junior Olympic ski racer.
"He struck me as one of the most mature, directed and kind young people I have ever met," lacrosse Coach Peter Lasagna told the Lewiston Sun-Journal a few days after McDuffee died. "He impressed me every day."
The McDuffee Fund for Safe Schools was founded in summer 2003 by Suzanna Andrew, McDuffee's fiancee. The fund is affiliated with the Safe Schools Initiative of the American Red Cross, which provides curriculum materials emphasizing violence prevention in elementary, middle and high school.
Lasagna calls the run/walk "a perfect and vitally important way of honoring Morgan's life and spirit." The circumstances of McDuffee's death, he adds, "just make you very, very aware of the thin line that separates whether a young kid has a chance at a great life or not. This program has grown out of Suzi's heart, with Morgan's spirit attached to it, to try to help young people learn how to resolve their differences without violence."
"Morgan would no doubt win this race and laugh all the way through the finish line."
Two Bates students, junior Graham Veysey and senior Kathleen Burke, are chairing the run/walk. (The event is not affiliated with Bates College.) A silent auction on race day will also benefit the McDuffee fund.
Entry fees are $7 for students under 13; $10 for students 13-17; $16 for all other entrants. Registration may be done on race day or in advance. Checks should be made out to the American Red Cross with "Morgan W. McDuffee Memorial Fund for Safe Schools" in the memo line. Contact:
Morgan McDuffee Memorial 5K Run/Walk
Bates College Box 783
Lewiston, ME 04240
E-mail: morgan5K@bates.edu
Telephone: 207-240-4670
Fax: 207-786-6035
View Comments