Bates Republicans host acclaimed gay marriage author Andrew Sullivan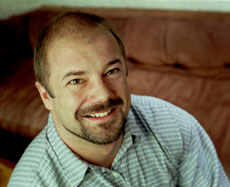 Renowned journalist and political activist Andrew Sullivan will speak at Bates College at 7:30 p.m. Thursday, March 4, in Chase Hall Lounge, 56 Campus Ave. His topic: The Politics of Homosexuality.
Open to the public at no cost, the event is sponsored by the Bates College Republicans, and co-sponsored so far by the Bates College Democrats, Catholic Student Community, Hillel, the Bates Libertarians, the John Galt Press, the Bates College Student Government, the Office of the Dean of Students, and the departments of theater and rhetoric, sociology and political science.
OUTfront, an organization representing gay, lesbian and transgendered students at Bates, hosts a post-speech reception and book-signing that is open to the public.
One of the most incisive political and social commentators writing today, Sullivan is an essayist for Time magazine and a columnist for the Sunday Times of London.
He is also editor of the Website www.andrewsullivan.com, a daily destination for readers seeking informed commentary on subjects ranging from international affairs and domestic politics to culture, religion and faith. Sullivan is one of the leading voices in the nation today calling for the acceptance of gay marriage.
"We are thrilled about Mr. Sullivan's visit," stated Andrew Simon, a Bates senior from Cincinnati and president of the Bates College Republicans. "With the recent events across the nation and the new political relevance of the topic of gay marriage, Mr. Sullivan's speech will be timely and provocative."
The former editor-in-chief of The New Republic, Sullivan was the youngest editor in the magazine's history and was acknowledged for making it more relevant to readers of his generation. He was named Editor of the Year by Adweek and received National Magazine Awards for reporting, general excellence and public interest.
A seasoned lecturer, Sullivan has spoken extensively on college campuses and appears on numerous television and radio programs, including ABC's Nightline, CBS Evening News, National Public Radio's Fresh Air, Hardball and Larry King Live. His articles have appeared in The New York Times, The Washington Post and The Wall Street Journal.
Sullivan is the author of Virtually Normal: An Argument About Homosexuality (Knopf, 1995), Same Sex Marriage: Pro and Con: A Reader (Vintage, 1997) and Love Undetectable: Notes on Friendship, Sex and Survival (Vintage, 1999). A practicing Catholic, he has challenged the Church's position on gay life and has written extensively on the crisis in the Church.
For more information about Sullivan, visit his Website, www.andrewsullivan.com. For more information about his Bates appearance, contact Simon at 513-503-4861 (cell).
View Comments