Filmmaker screens documentary about Chinese Cultural Revolution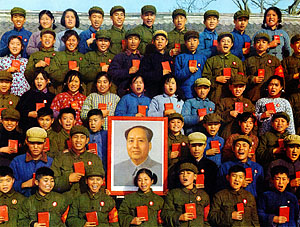 Chinese-born scholar and director Carma Hinton screens her new two-hour film about the Chinese Cultural Revolution, Morning Sun, at 6 p.m. Monday, March 22, in Room 104 of the Olin Arts Center, 75 Russell Street. Sponsored by the Asian studies program and the Freeman Foundation, the film and subsequent discussion led by the filmmaker are open to the public at no charge. For more information, call 207-786-8296.
Morning Sun is not a comprehensive or chronological history of the Cultural Revolution as such; nor is it a study of elite politics or of student factionalism. Instead, it presents a psychological history of the period as experienced by Cultural Revolution participants. It explores cultures and convictions as well as history.
"To my knowledge, there is nothing else like Morning Sun available that concentrates specifically on the Cultural Revolution," says Maggie Maurer-Fazio, associate professor of economics and chair of Asian studies at Bates, whose research focuses on labor market developments in China.
Morning Sun attempts to create an inner history of the Chinese Cultural Revolution (1964-76). The film provides a view of a tumultuous period through the eyes — and reflected in the hearts and minds — of members of the high-school generation born around the time of the founding of the People's Republic of China, in 1949, and that came of age in the 1960s. Others join them in creating in the film's conversation about the period and the psycho-emotional topography of China, as well as the enduring legacy of that period.
A BBC reviewer called Morning Sun one of  "the best studies of Maoism but also a strong contender for the award of most significant documentary about contemporary history."
Hinton co-directed Morning Sun with Geremie R. Barmé and Richard Gordon. Born in Beijing in 1949, Hinton lived there until she was 21. Chinese is Hinton's first language and culture. She has a Ph.D. in art history from Harvard University and has taught Chinese language, history and culture at Wellesley, Swarthmore and MIT. This project has been deeply influenced by Hinton's personal, first-hand understanding of the politics and history of the period, and her direct witness of and participation in many of the events of the Cultural Revolution, which began when she was 16 years old. All interviews were conducted by Hinton in Chinese.
View Comments