Pulitzer Prize-winning journalist to discuss Brown vs. Board of Education decision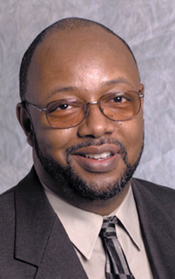 Syndicated Miami Herald columnist Leonard Pitts Jr., winner of the 2004 Pulitzer Prize for commentary, will give a lecture titled The Light That Failed about the 50-year-old U.S. Supreme Court decision Brown vs. the Board of Education at 7:30 p.m. Wednesday, May 19, in the Bates College Chapel. The public is invited to attend this special session of the Great Falls Forum, free of charge.
Pitts has been writing professionally since 1976 when, as an 18-year-old college student, he began doing freelance reviews and profiles for Soul, a national black entertainment tabloid.  Pitts' work has appeared in such publications as Musician, Spin, TV Guide, Reader's Digest and Parenting. He joined the Miami Herald in 1991 as its pop music critic. Since 1994, he has penned a critically acclaimed syndicated column of commentary on pop culture, social issues and family life. His most recent book, Becoming Dad: Black Men and the Journey to Fatherhood (Longstreet Press, 1999), was called "clear-eyed and searching" by Essence magazine.
Sponsors for the Pitts talk include the Office of the Dean of Faculty, the Lewiston Sun Journal, St. Mary's Regional Medical Center and the Lewiston Public Library.
View Comments