Elizabeth Wanless '04 heads for Olympic trials in shot put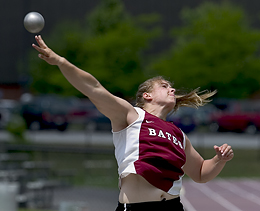 Elizabeth Wanless '04, a four-time All-America and two-time NCAA Division III champion in the shot put, will compete in the qualifying round of the Olympic trials July 15 in Sacramento, Calif.
"I know it's going to be the experience of a lifetime," says the Belleville, Ill., native. Since making the cut, Wanless has spoken with athletes who have competed in previous Olympic trials. No matter how they place, she says, "no one ever forgets their trials."
Wanless enters the U.S. Olympic qualifying round with a top throw of 53 feet, 2.75 inches, ranking 23rd out of 24 competitors. Olympic qualifiers in this event are named on the basis of the best throws from the last two seasons. The top qualifier, Laura Gerraughty of the University of North Carolina at Chapel Hill, enters with a mark of 62 feet, 10 inches.
"I can't wait to be a part of the trials. The atmosphere is contagious and inspiring," Wanless says. "People go in ranked, but it's what happens on the day that counts." Of the 24 competitors, 12 will advance to the final round, scheduled for July 16. (See a complete list for 2004 top women's U.S. indoor and outdoor track and field marks, including shot put.)
Beginning in fall 2004, Wanless will start a two-year graduate program in sports science, focusing on human performance, at the University of Florida, where she will compete for a year with the women's Division I track and field team. Wanless has one final year of eligibility remaining since she did not compete during the outdoor track season her first year at Bates.
"I am going to encounter girls who have been at Florida a long time and will introduce me to the system," she says. "They have 13 female throwers — one who throws 60 feet, and countless others who throw around 53 or 55 feet."
Wanless will fit right in that mix. She entered the outdoor national championships with a top throw of 53 feet, one inch, and backed that up by winning the national title with an NCAA Division III Outdoor Championships meet record throw of 52-0.5, beating her closest competitor by more than five feet. She also won the NCAA indoor title with a meet record and personal best throw of 53-2.75.
At Florida, Wanless will be able to train outdoors all year, something she could not do at Bates. The outdoor season will also be much longer, which will enable her to improve in a competitive setting. Wanless is eager to compete at the next level. Her ultimate goal is to become an NCAA Division I All-America.
View Comments