Bates Dance Festival presents 'Different Voices' from around the globe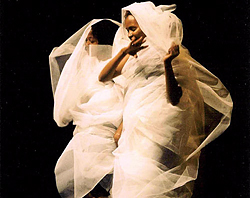 The Bates Dance Festival presents its Different Voices concert at 8 p.m. Aug. 12 and 13 in Schaeffer Theatre, located on College Avenue, Bates College. The concert showcases artists from the United States, Vietnam, Mexico and Cape Verde.
Rosy Tavares and Bety Fernandes of Cape Verde's dynamic troupe Rais di Polon present their acclaimed duet Duas Sem Très. Using voice, movement, rhythm and humor, they bridge contemporary performance with Cape Verdean traditions and 'batuque' (female song and dance chorus).
Mexican choreographer/actor Antonio Salinas brings his subtle, virtuosic and humorous solo work to the stage. Hanoi-based visual and performance artist Anh Khanh showcases a new work in progress with site choreographer Stephan Kopolowitz and composer Shamou.
Emerging choreographers Kristin Van Loon and Arwen Wilder
of the Minneapolis-based company Hijack showcase their unconventional
sensibility in Mr. Krushchev and Fetish, excerpts from their latest work that plays on the absurdity of war.
View Comments