Liz Wanless '04 Named Maine's NCAA Woman of the Year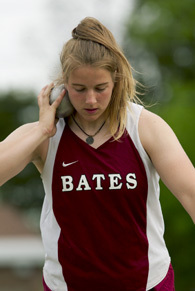 Liz Wanless is one of 52 state finalists for the 2004 NCAA Woman of the Year award after earning the title for the State of Maine. The award honors outstanding female student-athletes who have excelled in academics, athletics and community leadership, and have completed their collegiate athletics eligibility.
Wanless '04 (Belleville, Ill.), the 2004 indoor and outdoor NCAA champion in the shot put and an All-America volleyball player, is the third student-athlete to represent Bates as Maine's NCAA Woman of the Year. Amanda Colby '00 and Peggy Ficks '01 were also Maine winners of the award.
"Bates has been fortunate to have so many strong nominees in recent years," said Bates Director of Athletics Suzanne Coffey. "Liz continues that tradition, and we are happy that her achievements have been recognized with such a prestigious honor."
Wanless, who will compete for the University of Florida's women's outdoor track and field team as a graduate student this year, is eligible for the award since she has finished her career at Bates as an NCAA Division III athlete.
Wanless is one of just 11 Division III athletes to be a state finalist. A national winner – the NCAA Woman of the Year – will be selected by the NCAA Committee on Women's Athletics from among 10 finalists.  The top 10 finalists will be announced Wednesday, Sept. 15.
The national winner will be announced at the 2004 NCAA Woman of the Year dinner Sunday, Oct. 31, at The Indianapolis Westin.  This is the 14th year that the award – one of the top honors the NCAA bestows – will be given.
View Comments