Bates theater department offers 'House of Blue Leaves'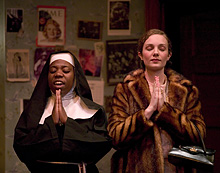 Often viewed as playwright John Guare's most popular and important work, The House of Blue Leaves is the major fall theater production of the Bates College theater department. Directed by Professor of Theater Paul Kuritz, "Blue Leaves" will be performed at 8 p.m. on Fridays and Saturdays, Nov. 5-6 and 12-13, and at 2 p.m. on Sundays, Nov. 7 and 14.
Admission is $6 for the general public and $3 for Bates faculty and staff, senior citizens and non-Bates students. For reservations and information, please call the box office at 207-786-6161.
Mixing black comedy with existential drama, The House of Blue Leaves premiered off-Broadway in February 1971. It's built around the historic visit to New York City by Pope Paul VI on October 4, 1965, and examines the human condition and the falsities of the American Dream through the lens of a middle-class New York family.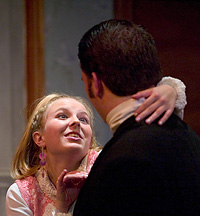 The plot deals with the pains and hardships of protagonist Artie as he juggles his often-crazy home life and his desire to make it big as a songwriter. In the Bates production, Artie will be played by Kevin Weiler, a senior from Anchorage, Alaska. Alexandra Hughes, a sophomore from Brookline, Mass., portrays his wife, Bananas. Brandt Miller, a first-year student from Westfield, N.J., plays their son Ronnie, and Emmy Spencer, a first-year from Canaan, Maine, is Bunny, Artie's mistress.
The play, says Kuritz, "forces the questions, 'Why is this family as it is?' 'Why is my family the way it is?' "
He says, "Fundamental to any actor playing a role is the question, 'What does my character want and what is he willing to do to get it?' That question animates the characters in 'The House of Blue Leaves,' and returns to each of us throughout our lives."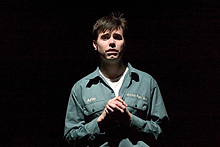 Blue Leaves" has received critical acclaim for its examination of the American family and the American way of life. It has been awarded a variety of prizes including four Tony Awards, the Los Angeles Drama Critics Award and the New York Drama Critics Award for Best American Play.
View Comments