Bates to raise scholarship funds for local students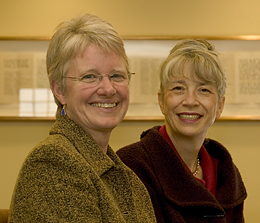 Bates College announced today a campaign to raise scholarship funds for local students who attend the liberal arts institution. Longtime Auburn resident and Bates parent Barbara Trafton will lead the fund-raising effort for a new endowment that will be dedicated to the financial support of students from Lewiston, Auburn and surrounding communities in Androscoggin County.
Bates College President Elaine Tuttle Hansen made the announcement to about 100 community members attending a Bates Community Breakfast, the first of the 2004-05 academic year at the Edmund S. Muskie Archives on campus.
"The new Androscoggin Scholarship Fund will help to ensure that talented and deserving students from our community continue to have access to the very special kind of education that our faculty and staff work hard to provide," Hansen said.
"It is very fitting that as we are about to mark the sesquicentennial anniversary of the founding of Bates, we reconfirm our commitment to the young people of the community that has been our home since 1855. This fund is meant to be a guarantor of opportunity for the next 150 years."
In her remarks, Hansen said that financial aid continues to be the college's most pressing challenge. "Today it costs about $10,000 more annually to educate each student than we charge in tuition. And many of our students cannot afford the full tuition bill due to their financial circumstances. We can only make up the difference between our revenues and expenses through earnings on our endowment or through fund raising."
Last year Bates spent more than $14 million in financial aid awards to students. Included in this total was nearly $260,000 in direct grants to 21 students from Lewiston, Auburn and other towns in Androscoggin County. But Bates has a lower endowment than its peers in New England, and so the college's resources are strained by the increasing needs of students and families. While alumni have been generous in their support of scholarship awards, rapidly escalating costs have persuaded college officials to appeal for the first time to the local community for help.
Trafton, who recently led the highly successful $7 million campaign to restore and expand the Auburn Public Library, will chair an organizing committee to plan how to best support the Androscoggin Scholarship Fund. "My family has deep roots in the Bates community spanning several generations," Trafton said. "As a parent I witnessed first-hand the extraordinary effects of a Bates education on my own son, Ben. As a member of the Lewiston-Auburn community I am excited to have this opportunity to make sure that others can benefit from a Bates education."
Trafton plans to begin recruiting members of the organizing committee in January. Donors to the scholarship fund will be able to join a new membership organization, the Alonzo Garcelon Society, which will provide special opportunities to participate in the social and academic life of the college. The Society is named for Lewiston native and former governor, Alonzo Garcelon, who persuaded the Rev. Oren Cheney, Bates' founder, to locate his new institution in Lewiston rather than in one of several competing towns.
According to Hansen, the college hopes to raise at least $500,000 for the fund locally over the next three years. "We intend to seek the support of businesses, foundations and individuals throughout the greater Lewiston-Auburn area to start building this endowment," she said. "Several faculty and staff members have already expressed interest in making gifts. Meanwhile, we are also actively searching for corporate or foundation sponsors to provide a dollar-for-dollar match and hope to have a total of $1 million invested in the fund by 2008."
View Comments