Hot streaks on hold for winter break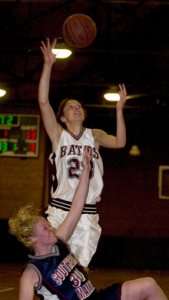 Athletic teams at Bates are on a brief hiatus for exams this week. Contests will resume on Jan. 3 with the women's basketball team heading to Williamstown, Mass., for the Williams Tournament. But it's been a tremendous first month of the winter sports season for the Bobcats, with several teams earning national recognition.
The women's basketball team remains perfect through eight games this season, moving up to 16th in the D3hoops.com national poll on Tuesday. Olivia Zurek '05 (Arlington, Mass.) scored her 1,000th career point in the team's 61-37 win over the University of Southern Maine, ranked second nationally at the time.
The men's basketball team has also gotten off to a hot start, posting a 9-1 record at the break. The Bobcats are the top-ranked team in Maine, and Brian Gerrity '05 (Augusta, Maine) scored his 1000th career point in a win over Husson on Saturday.
Kelly Godsey '06 (Parker, Colo.) opened the indoor track season with an impressive performance in the 20-lb. weight throw, breaking her own school record by three feet and one inch with an automatic national qualifying distance of 63-feet, 0.25-inches. Godsey posted a provisional qualifier in the shot put with a throw of 44-7.5. Scott Cooper '05 (Sherman Oaks, Calif.) and Dustin Gauthier '05 (Amherst, N.H) also hit provisional qualifiers in the 35-lb. weight throw to lead the men's track and field team.
Both squash teams are ranked in the top 10 nationally after a solid start to the season. The women are ranked ninth and have a 5-1 record, sweeping four teams at the Wesleyan round robin by 9-0 scores. Gary Kan '07 (Hong Kong) is ranked 44th as an individual to lead the men's team, which is ranked 10th at 3-1.
Both swim teams have started the season 1-1, with two members of the women's team hitting NCAA qualifiers. Kara Seaton '05 (Wayne, Pa.) qualified for the 1-meter diving event with a score of 265.80, while Vanessa Williamson '05 (Auburn, Maine) qualified provisionally for the 200 butterfly with a time of 2:08.26.
While the ski teams have been training for the last several weeks, the EISA schedule doesn't begin until January. The Nordic team begins on Jan. 14 at the St. Michael's Carnival, while the alpine season begins on Jan. 21 when Bates hosts a carnival at Sunday River and Black Mountain.
For the latest sports news, scores and updates, visit the Bates Athletics Web site.
View Comments