Basketball teams prep for playoff showdowns in Alumni Gym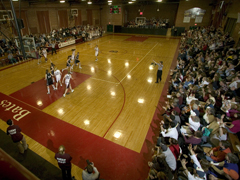 For the first time in Bates history, the men's and women's basketball teams both finished in the top four of NESCAC, giving the Bobcats homecourt advantage in two first-round playoff games this Saturday.
Ranked No. 3 in NESCAC, the men's team will host No. 6 Williams at 2 p.m. at Alumni Gymnasium. The women, ranked No. 2 in the conference, will play No. 7 Tufts University at 4 p.m. Admission to both games is free and open to the public.The men's team finished the regular season 17-7 and 6-3 in NESCAC. Against Trinity on Feb. 12, center Elliott Linsley '05 (Murrieta, Calif.) secured Bates' third-place finish, draining an 18-footer from the right wing as time expired. The Bobcats won 69-67.
Rob Stockwell '07 (Temple, N.H.) led the Bobcats this season, averaging 16 points and eight rebounds per game. Point guard Zak Ray '07 (Bangor, Maine) averaged 12 points with five assists, while senior Brian Gerrity (Augusta, Maine) averaged 13 points per game. On Dec. 11, Gerrity became the 26th player in school history to score 1,000 career points.
Finishing the regular season 22-1 and 8-1 in NESCAC, the women's team ranks No. 1 in the D3hoops.com national poll and No. 2 in the USA Today/ESPN Top 25 Coaches' Poll.
The Bobcats only loss came against then No. 1 Bowdoin on Jan. 14. The Bobcats won their next 10 games, including a 74-62 win over Bowdoin on Feb. 1, but the Jan. 14 matchup was a conference game, giving the Polar Bears top seed in NESCAC.
Bates and Bowdoin finished a combined 4-0 against Colby this season, meaning the Bobcats' win in February deferred the CBB title — and ultimate bragging rights — to the NESCAC tournament. Bates and Bowdoin could face each other in the NESCAC championship game next weekend for the third time in as many years.
Forward Olivia Zurek (Arlington, Mass.) averaged 16 points and 10 rebounds per game her senior year. She recorded 14 double-doubles in 23 games and was named NESCAC Player of the Week three times. She scored her 1,000th career point on Nov. 23 and finished the regular season as Bates' all-time leading rebounder (838). With 1,348 career points, Zurek ranks third in scoring.
Meg Coffin '07 (Westford, Mass.) provided a presence on the blocks this season, averaging 12 points and seven rebounds per game; she finished the year with three double-doubles.
The men's and women's teams faired well against their playoff opponents during the regular season. The men beat Williams on the road, 80-70, while the women beat Tufts, 76-66, also away from Alumni Gymnasium.
For the latest sports news, scores and updates, visit the Bates Athletics Web site.
View Comments